Canada's first Sikh Defence Minister Harjit Sajjan now has a chicken burger named after him and it is called 'The Minister of National Deliciousness'.
45-year-old Sajjan, who was in November named Canada's Minister of National Defence in Prime Minister Justin Trudeau's 30-member Liberal cabinet, stopped by a downtown Vancouver eatery on March 2 to sample the burger named in his honour.
Sajjan, who represents the Vancouver—South, was in town last week for the Liberal government's first ministers meeting, but made time to visit 'The Cannibal Cafe' and try out his namesake burger 'The Minister of National Deliciousness'.
"I approve," Sajjan said after taking the first bite.
"It's got pakoras on it. Who would've thought to put it into a burger? Now that — that makes sense," he was quoted as saying by CTV News.
The chicken burger also features a tandoori-spiced patty doused in butter chicken sauce and pressed yogurt with mint, cilantro and cucumbers.
It was introduced as February's 'Burger of the Month' but the eatery's owner said it was so popular they added it to the regular menu.
Sajjan, who called the experience "very humbling", also shook hands with the chef behind the burger, Zai Kitagawa, and signed off on a chalkboard featuring a drawing of him in sunglasses.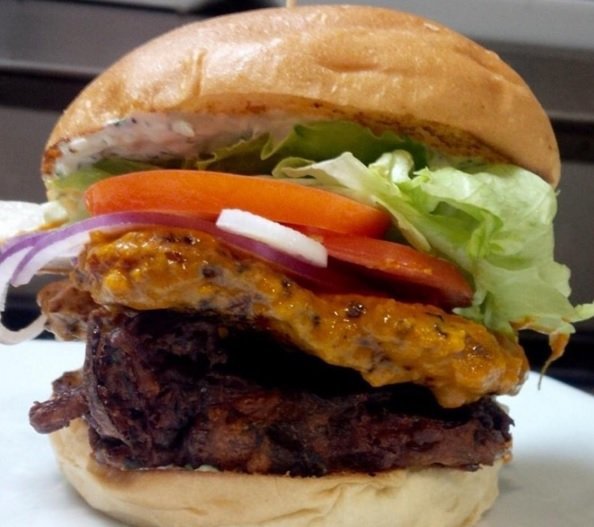 Kitagawa told reporters on Wednesday that he started thinking about the burger shortly after the Minister's appointment.
"If there's a man that a Canadian can be proud of, it's definitely Sajjan," he said.
Who Is Sajjan?
Born to Sikh parents in Bombeli, a village in the Hoshiarpur district of Punjab, Sajjan moved to Cana with family at the age of five. He is a combat veteran and has served in Bosnia and had three deployments to Kandahar, Afghanistan. He was born in India and moved to Canada with his family when he was five-years-old.
He was the first Sikh to command a Canadian army regiment — the reserve The British Columbia Regiment (Duke of Connaught's Own). 
According to Twitter Canada, the announcement that Sajjan would be joining the cabinet was the Liberal Party's most retweeted post of the day.
Since his appointment as Defence Minister, Sajjan has faced two incidents of apparent racism.
Soon after his appointment in November, he faced racist remarks by a soldier on social media, prompting the Canadian Armed Forces to launch a probe.
Last month, Sajjan was heckled in Parliament with an opposition member shouting that MPs needed an "English-to- English" translation as he spoke, an act dubbed as "racist".
Feature image source: Instagram