A Twitter user recently shared this image of a textbook page: 
The text describes 36-24-36 as the "best" shape for women and adds for good measure that it is this proportion of the female body that the judges of beauty contests like Miss World or Miss Universe appreciate.
This has obviously left people fuming and now the education minister has ordered a probe into it. If the premise that there is a "best" shape for women was not problematic enough, the text doesn't cite scientific study but Miss World contest guidelines to establish it as the 'best' shape. And all this in a school book meant to educate students on health!
@rishibagree Whosoever wrote and approved it had a bollywoodian mind.Medical Science could not conclude it but these white obsessed trolls are sure.

— V K Pande (@drvkpande) April 12, 2017
In a world where the advertising industry has set such unachievable targets that real women are killing themselves in their quest to achieve the perfect female body, imagine the horror that this book is unleashing on young impressionable minds. 
@Wheelerdeealer @rishibagree It can be true for Ms world or universe but seeding it in class XII student's mind would be disastrous. Girls would think their life is 1/2

— Archana Sharma (@Archnaaaa) April 12, 2017
Some might argue that an elaborate and famous research by a University of Texas professor in 1994 indeed specified proportions for the figure of a healthy woman and Sharma's book could be drawing on that. 
However, the research only talked about the ideal waist-hip ratio and not the ideal breasts-waist-hip ratio. (Professor Devendra Singh had concluded that the ideal ratio in healthy pre-menopausal women ranges between 0.67 and 0.8. This is produced by waists between 24 inches and 28 inches with 36 inches hips, and waists between 27 inches and 31 inches with 40 inches hips.)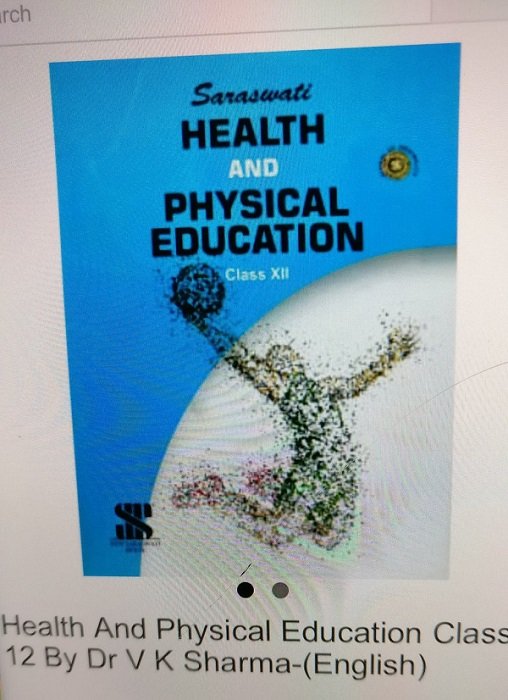 The book in question is titled 'Health and Physical Education Textbook' authored by 'Dr VK Sharma' (Professor, Dept of Physical Education, DAV College, Cheeka, Haryana) and published by New Saraswati House. It's being taught in many CBSE schools in Delhi.
We caught hold of the book and realised that the 36-24-36 bit is just one of the several gems in it. 
However, it has just been revised and some of these questionable ideas stand deleted in the latest edition – which means the students who have just entered Class 12 would be spared some of the nonsense it had earlier. 
For instance, here's how the above paragraph has been revised in the new edition: '36-24-36 has been changed to 'hourglass shape'.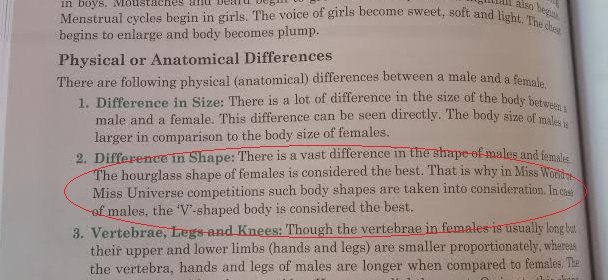 Here are a couple of other instances where the book goes horribly wrong:
The 36-24-36 has been glorified yet again…
…This time to lay out the uses of exercise. "The 36-34-36 figure does not come up by chance," the text reads.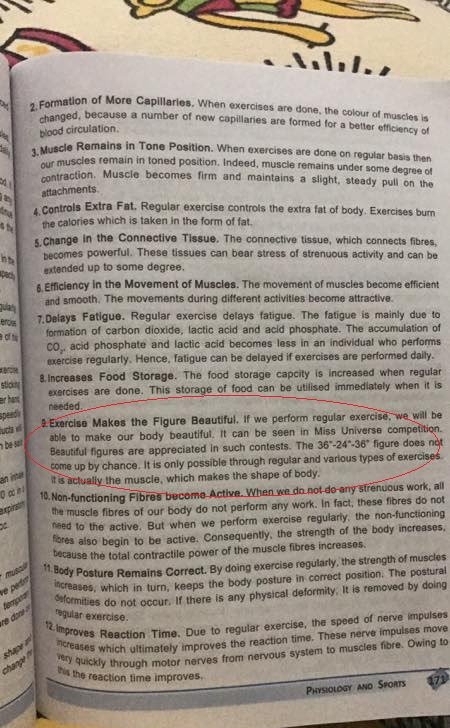 In the revised edition however, the '36-24-36 figure' bit has again been replaced with 'hourglass shape'.
Co-ed colleges = meet-up points for girls and boys  
In the same chapter titled 'Physiology and Sports', there is a sub-head 'Techniques of Motivation'. Amusingly, it specifies the presence of opposite sex as a key motivational factor.
The problem with this? The book seems to be telling students that a key idea behind co-ed colleges is to make girls and boys motivated through attraction. And that men and women strive to achieve romantic goals rather than those related to excellence in a field.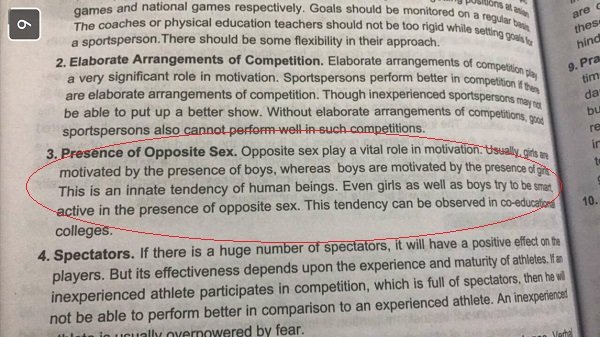 The revised edition strangely chose to leave this bit intact. Hopefully the book rectifies other problematic ideas.
Meanwhile, here are some of the reactions to the text on social media: