New Delhi: A student organisation of Delhi University is planning to file a defamation case against recently launched TV news channel 'Republic TV' for showing the footage of the outfit's posters during its coverage of pro-Islamic State graffiti in DU campus.  
"Our notice to the editor-in-chief of 'Republic TV' has received no response. Not even an acknowledgement. We are currently in the process of gathering logistics to file a defamation suit against the television channel for its irresponsible journalism," Simran, Convener of Disha Students Organization, told ScoopWhoop News. 
On Sunday, a member of ABVP-led Delhi University Students' Union (DUSU) filed a police complaint after pro-ISIS slogans that were allegedly seen in Delhi University's Delhi School of Economics. 
However, when the news channel 'Republic TV' reported the incident on the same day, it showed the footage of the posters pasted by Disha Students Organization on the walls of DU.
Here's the Republic TV's news report
The notice sent by the student outfit seeking apology from the television channel reads:
"While running the story your channel has very irresponsibly used the visuals of posters by Disha Student organization in the backdrop. As your anchor goes on stating the event, close-ups of our posters are pasted onto the screen wrongly insinuating and defaming our students organization."
It further says:
"As can be easily understood even by a cursory reading of the content of the posters by any sensible, sane-minded person that neither do they support ISIS or any other terrorist organization nor do they advertise any such thought. The posters are simply in keeping and carrying forward of the legacy and ideology of Bhagat Singh. The posters simply mention right to education for all and that we shall fight for our right to education."
On Wednesday, dozens of students from the organization protested in DU campus against what it called "saffron propaganda disguised in the form of journalism by the likes of Arnab Goswami."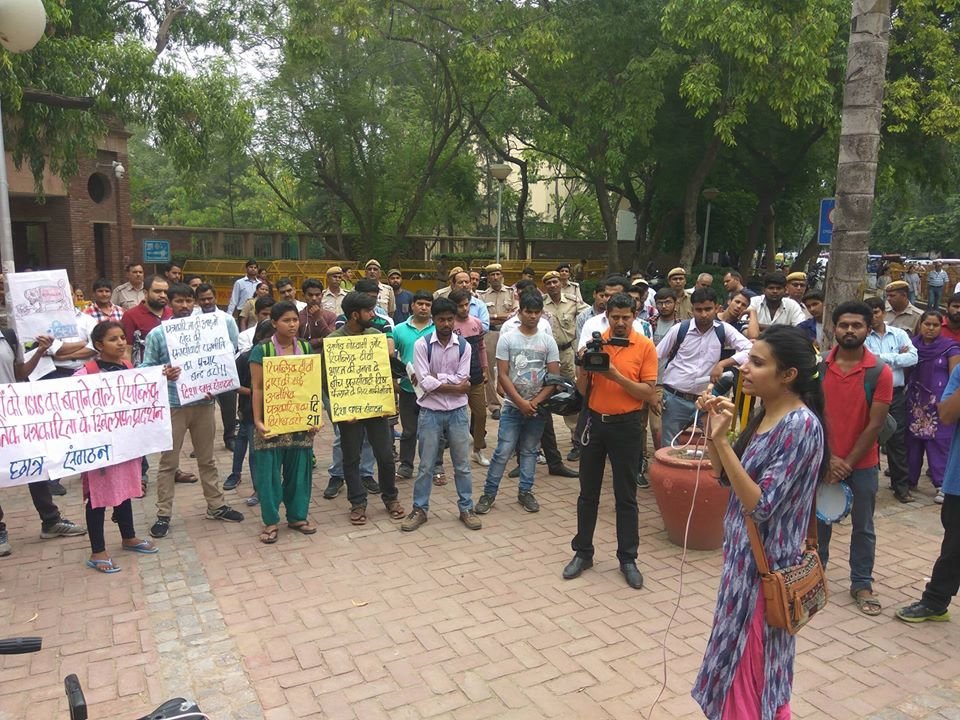 Terming it a "conscious" act on the part of Republic TV, the outfit said "linking of the posters of Disha to terrorist outfits like ISIS… [is] to propagate lies to further the agenda of Sanghi politics in universities."
Owned by NDA politician and Rajya Sabha member Rajeev Chandrasekhar, Republic TV has courted several controversies since its launch for its alleged hyper-nationalistic coverage and invasive reportage.
Recently, Congress leader Shashi Tharoor filed a defamation case against the channel in Delhi High Court for making defamatory comments against the MP while airing news related to the death of his wife Sunanda Pushkar. 
Claimed to be an "exclusive" report, the news report about Tharoor had also attracted a criminal case against Republic TV's anchor Arnab Goswami from his former employer Bennett, Coleman & Co Ltd, which alleged that he stole phone recordings related to Tharoor's report while working at group's TV news channel, Times Now.
Feature image source: Video Screenshot