PM Narendra Modi got a rousing welcome in a decked-up Surat as he embarked on an 11- kilometre-long roadshow on Sunday evening. 
People, waving the tricolour and chanting "Bharat Mata Ki Jai", stood along his route as Modi greeted them, standing through the sunroof of his vehicle. The state BJP left no stone unturned to accord a grand welcome to Modi, as this was his first visit to his home state after the party's impressive showing in the state assembly polls, including Uttar Pradesh.
People switch on their mobile flashlights as Prime Minister Narendra Modi proceeds with his roadshow in Surat, Gujarat. pic.twitter.com/nppQfKPVzQ

— ANI (@ANI_news) April 16, 2017
'Swagat points', hoardings, five gate structures, nine arch-shaped gate structures, 600 cutouts displaying government schemes, and recarpeted roads–all in his honour. An 11-km-long 'saree', with the names of government schemes printed on it, was also tied along the route.
But amidst the grand displays, the most striking exhibit was perhaps the giant 22-foot statue which was erected in his honour near the airport. 
Pictures and selfies of the statue soon found its way to social media and that's when the fun began. Well, the statue asked for it!
Just look at it…
Have a closer look…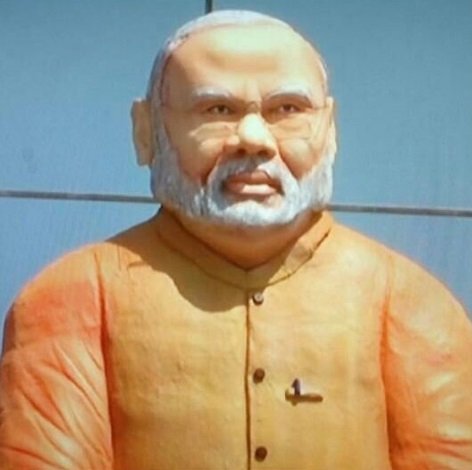 …And this is the hilarity that followed:
A lot of people thought the statue was Amit Shah + Narendra Modi rolled into one
Others were more adventurous:
And well, jokes apart, the statue has come under scanner for alleged wastage of money: