As Goa debates the ongoing coconut-tree-is-now a-palm-tree row  and its impact, a young musician has created a song in protest against the move. And it's going viral. 
The Goan government has passed a bill which classifies the coconut tree as a palm. This is expected to make it easier to cut the hundreds of coconut tress across the state. 
The song was uploaded on January 13 – the same day the Goa government passed a bill that reclassifies coconut tree as palm. It has already attracted an overwhelming 99,000 views as many people oppose making it easier to cut down coconut trees across the state.
Here is the video of the song 'Coconut Trees' put up by Goan singer Friz Love on his Facebook page:
His post says, "Let the message go to all. I love my Goa this is my little contribution to save Goa and to make Goans aware about the same."
What's the controversy about?
On January 13, the Goa Legislative Assembly passed the 'Goa, Daman and Diu Preservation of Tree Act', which seeks to hike the fee for cutting trees from Rs 10,000 to Rs 25,000. In the bill, it has also declassified coconut tree as 'tree' and instead categorised it as 'palm'.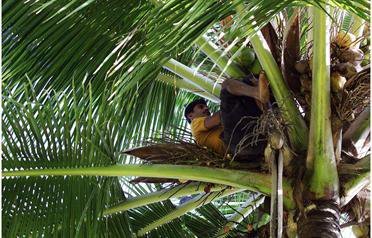 The opposition has claimed that the move makes it easier to cut down coconut trees now, and is aimed at benefitting businesses dealing in coconut.
In his defense, state environment Minister Rajendra Arlekar simply said the reclassification did not mean people could easily raze coconut trees.
"We had received representations from the government, due to which we decided to reclassify it (coconut) as palm and not as tree. But that does not mean we will give easy licences to destroy coconut plants," Arlekar said, as reported by Business Standard. 
The government's logic:
The Goa government's argument behind it is that coconut tree is actually not a tree but palm, because tree is a plant with main trunk and branches. The coconut, however, has no branches.