Meera Vashisht, an Indian-origin girl living in the US, has raised around Rs 1.4 lakh through crowd-funding to distribute LED bulbs to underprivileged sections in India.
The seventh grader has already donated the funds to Union Ministry of Power's Unnat Jyoti by Affordable LEDs for all' (UJALA) programme, as per PTI.
From the funds collected by Meera, 600 families will now benefit from 1,800 LED bulbs to be provided under the UJALA scheme.
It all started last year when Meera got to know about the Indian government's UJALA programme while she was working on a science project. Inspired by the idea of reducing greenhouse gases and lighting up the poorest of the homes, she wrote a letter summarising everything about the programme. She then sent out around 500 copies of the letter by post to everyone her family knew in the neighbourhood, requesting for donations to buy and distribute LED bulbs in India, as per a report by Economic Times. 
Soon, help poured in and she raised the said amount. Her mother then wrote a letter to Union power minister Piyush Goyal, expressing Meera's desire to visit India and to contribute to the UJALA campaign.
The ministry took notice of her effort and helped her buy bulbs using the funds. The bulbs were bought from Energy Efficiency Services Limited (EESL), a joint venture company of four power PSUs — NTPC, PFC, REC and Powergrid.
I am sure I am not the first person to tell you that our planet is undergoing the most serious environment challenge today and what happens in the next few years may decide whether we have a healthy planet or have set a course towards its destruction," the letter reads, as per Economic Times.
Project Manager of UJALA scheme in Delhi Jitender Kohli said, "It is inspiring to see the young generation taking lead in conserving the environment," reports PTI.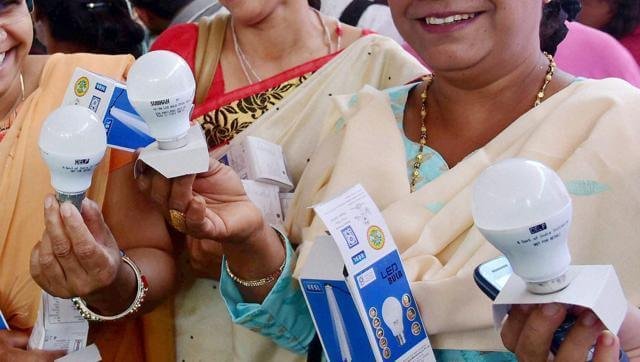 Under UJALA, over 12.60 crore LED bulbs have already been distributed across India, which is leading to a daily energy savings of about 4.48 crore kWh and resulting in avoidance of about 3,278 MW of peak demand. It also has helped in significant fall in electricity costs as the cumulative cost reduction of bills of consumers has been estimated to be Rs. 17.94 crore per day.
Born to a Punjabi father and Kashmiri mother, Meera who studies at Sartartia Middle School, in Houston, Texas, says she has inherited the passion for environmental causes from her grandfather.
"LED bulbs use less than half the energy of an incandescent bulb and runs for over 7-8 years. I am very happy to have been able to carry out the distribution of LED bulbs and hope to inspire young minds across the globe for working towards energy efficiency," she said.
(With inputs from PTI)