The ongoing JNU row has done the unthinkable: set up rival media channels against each other who are now openly spewing venom at each other.
Since the row started on February 9 when alleged anti-national slogans were raised at JNU campus, media houses seem to have taken strong stands over the government's handling of the incident. Nothing new with that, of course.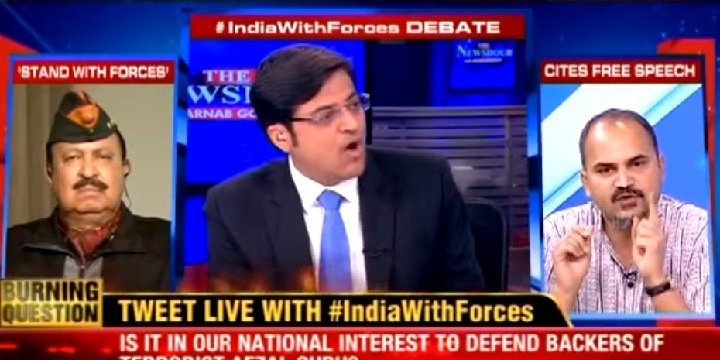 But, never before have India's top news anchors indulged in personal attacks on prime time television.
Arnab Goswami, editor-in-chief of Times Now, had been in the firing line from rival media houses over its coverage of JNU row. It began with NDTV anchor Ravish Kumar's remark in an interview to Newslaundry, "Who are these anchors to label anyone as anti-Indian?" – a clear reference to Goswami for his now (in)famous debate with Umar Khalid as a panelist.
Next came The Wire's editor Siddharth Varadarajan who accused Times Now of peddling forged 'evidence' against Kanhaiya Kumar. It hit a crescendo when Ravish Kumar, in his prime time show, played Goswami's voice from his recent debates to tell viewers this is not journalism.
All eyes were now on Times Now. And Arnab Goswami hit back on Monday evening, in a five-minute monologue before his debate show The Newshour. And how!
Can anyone defend the pro-Afzal lobby when 5 soldiers have been martyred in J&K? Arnab debates #IndiaWithForces https://t.co/JIFCXHvPwI

— TIMES NOW (@TimesNow) February 22, 2016
From the video, these are the bits he spoke specifically against other journalists. Any guesses who are the ones he is talking about?
If I am abused when I question why some people in the media do peripheral coverage of the Pampore attack, almost black it out, then I wear it as a badge of honour
If being abused by those who disgrace journalism, by acting as middlemen between corporates and politicians, if being abused by these people is a fallout of raising tough questions, then I wear it as a badge of honour
If being abused by people who accept sting operations, disgracing journalism – sting operations done by politicians – is a result of raising tough questions on Afzal, then I wear it as a badge of honour
If being abused by those who despite being journalists, and claiming to be journalists, never broke a real scam, never in their professional lives look a real stand against the powerful figures, if that's the result of asking questions on Afzal, then I wear it as a badge of honour