Every day, Bandana Das (45), takes the 5 am Basirhat local to the busy Sealdah station of central Kolkata. Bandana, who works as a domestic help in Kolkata households, has been taking the 64-km journey almost every day for the past 30 years. But this Tuesday was different. 
"When I arrived at the station, it was still dark. The sky was overcast and the station was almost empty. The stationmaster, who knows me, asked me to return home. I have never felt so unsafe in my own village before," says Bandana. 
Unbeknownst to Bandana, a storm was brewing on most social media platforms all night. A virtual storm spilled over to real life and engulfed the Muslim-dominated area. The clash began after a Class 10 student put out a derogatory post on Facebook on Monday. Police nabbed the boy the same day. Several shops and homes were vandalised and major roads were blocked by the mobs. They also demonstrated in front of Baduria police station in Basirhat. 
According to this Indian Express report, schools and colleges were shut on Tuesday following the riots. They also stopped local trains and bus services. Later in the afternoon, alleging police inaction against the protesters, the Bharatiya Janata Party (BJP) workers and supporters also started blocking roads in parts of the district.
Bandana, who has been a resident of the area all her life, finds this situation unbelievable. "We have been stuck in our houses for the past few days. No shops are open, no trains are running. How are we to survive? My son is a daily-wage earner, how can he survive without working for days?" asks Bandana, a resident of College Mod area of Basirhat.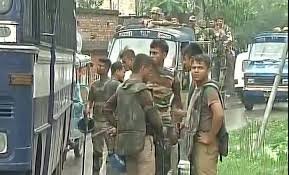 Jhantu Mondol, another resident of the College mod area claims that the situation can worsen tonight. "Though Basirhat in general has more Muslim residents, our part of the village has more Hindus. Things are very tense now. The Muslim families in our area are really scared and are keeping to themselves. We fear that Muslims from other parts might come here tonight and things can turn violent," says Mondol.
Basirhat, which largely depends on the metropolis of Kolkata for sustenance, supplies a steady stream of daily-wage labourers and domestic helps to the city. According to the 2001 Census, percentage distribution of main workers in Basirhat I CD Block was – cultivators 18.56, agricultural labourers 18.99, household industry workers 10.90 and other workers 51.55. 
"I have never seen such riots in our area before. Muslims and Hindus have lived happily in this area for ages. How can a Facebook post by a kid spark such a riot?" asks Sailen Nath, Panchayat head, Sayastanagar, Number II Gram Panchayat, Basirhat. 
Khalek Gazi, 33, a resident of Baduria area of Basirhat claims that a lot of misinformation is flying about. "Yes, the situation is tense but political leaders are also fanning the situation to benefit themselves. If a Facebook post can incite such violence, it's best we ban Facebook," says Gazi.  
SK Abdullah, a resident of Basirhat, echoes that thought. "I have realized that these communal clashes have been caused by religious leaders, but they have been propagated and encouraged by narrow-minded political leaders to achieve their bad intentions and come into power. Instead of pacifying the tensed situation, they are trying to provoke an angry mob and taking pictures and video clips just to show in news conference," says Abdullah. 
Today Section 144 was imposed in Basirhat. Panchayat head, Sailen Nath, claims that the Hindus and Muslims of the area will bring out a peaceful rally tomorrow at Basirhat. "All this should end. We should show the world that Basirhat is not about communal violence," he says.