So, it's been some time that we have been hearing just how awesome Yoga is. 
As if Baba Ramdev wasn't enough, we had PM Narendra Modi joining him in extolling the virtues of this ancient wellness practice. He even appealed to the United Nations to give it an international status and the wish was granted. On June 21, we celebrated the International Day for Yoga in a way that put all other national festivals to shame.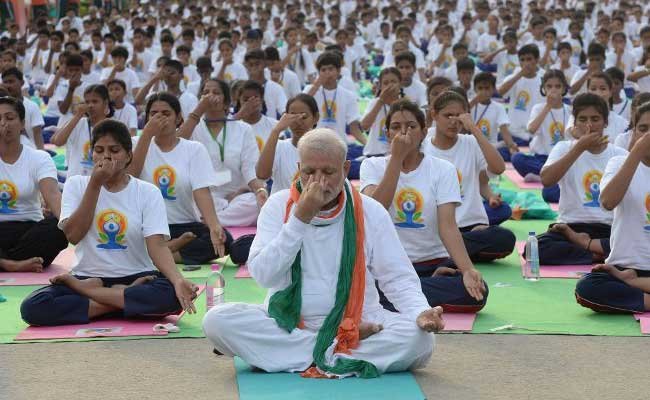 But, there are always those who disagree. We aren't talking about the Owaisi brothers here.
It's The Great Khali!
Doesn't he know he might just be the next to be labelled anti-national? Well, throwing caution to the winds, the seven-feet one-inch World Wrestling Entertainment (WWE) star recently said in an interview that Yoga is for old people. Not only old, but also lazy.
"Jo yoga hain – Yog – woh hain old bande ka kaam (Yoga is meant for old people)," he says in his characteristic dry style.
The wrestler further said yoga doesn't win you Olympic medals. "Kapalbhati karke Olympiad mein gold aate, Great khali bane jaate, phir toh logon ne yehi karna tha, bed pe baith kar. Uske liye proper gym chahiye," (If doing Kapalbhati could earn you gold medals and make you The Great Khali, everyone would be doing just that. You need gym for that)," he said.
However, he quickly clarified his statement saying he doesn't consider Yoga a waste of time.
Here, we must refer you to his recent face-off with Uttarakand's BJP unit when the latter criticised the 'The Great Khali Show' held in the Congres-ruled state, saying that the wrestling show in the name of promoting sports was a wrong idea. "In reality, this cannot be called a sport even. In the western countries this is a form of entertainment, " Munna Singh Chauhan, spokesperson of the state BJP unit had said.
Here's how Twitteratti reacted:
Yoga is for old people~ khali
Yoga does not get you a Olympic Medal says Wrestler KHALI. Now it is time to label KHALI as ANT-NATIONAL&ISI AGENT. @sahai_preeti @TanuNSUI

— pratik yadav (@pratikyadav22) March 19, 2016