Classifieds. 
What you usually put away while reading the newspaper. 
It's that section of the newspaper where you can procure anything: property, job, prospective husband/wife. You name it, you've got it.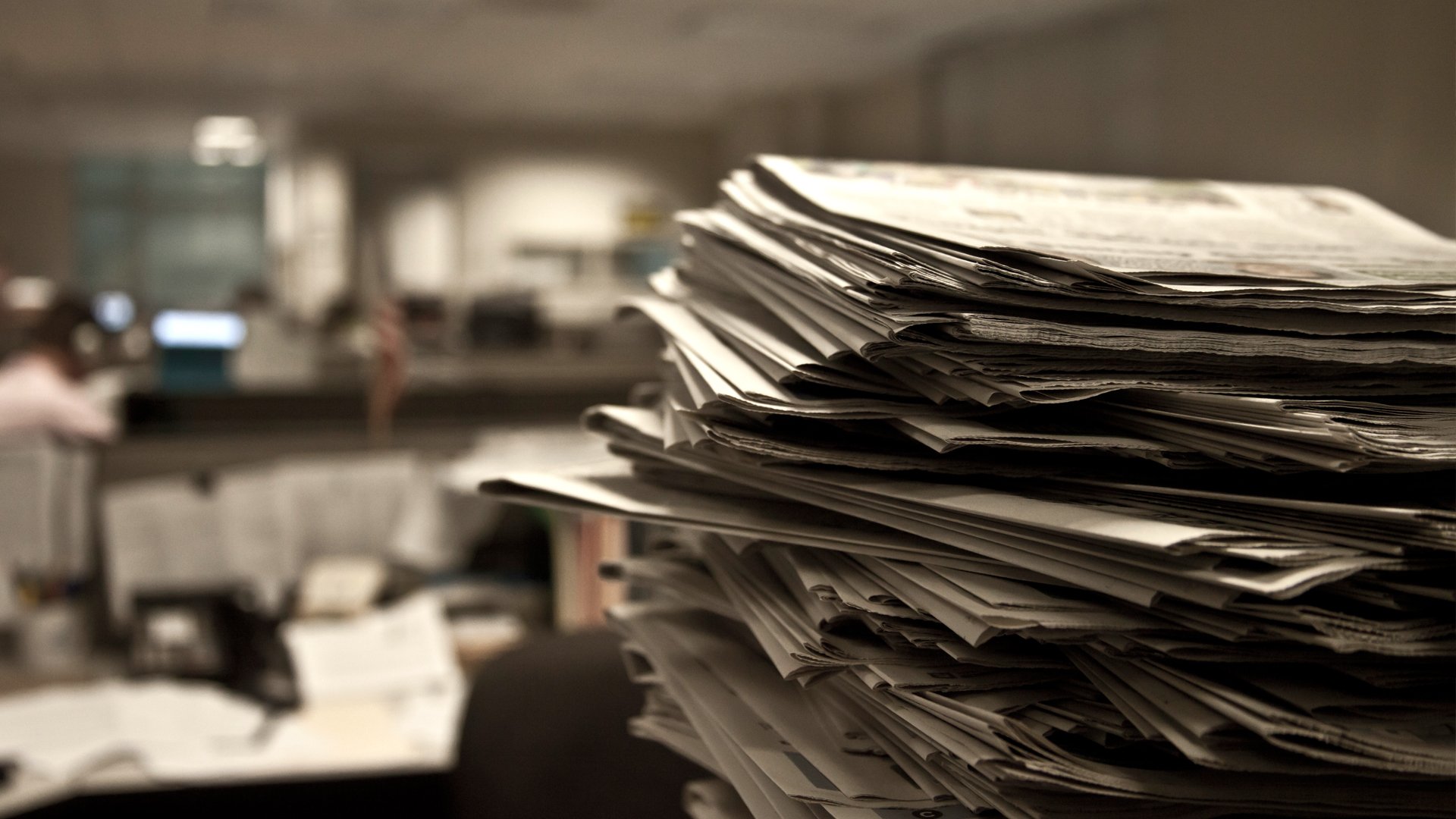 If you've been through the classifieds' section in a newspaper, you would know there are some shady-ass ads there as well. Massage parlours, unclear job prospects where you could earn a lot daily, some baba ads guaranteeing solutions to all your problems in life within hours and friendship clubs. It's not new for advertisements to be slightly misleading, but these aren't misleading ads that we are talking about. We decided to delve a little deeper and went a step ahead and called these numbers. Here's what we found out.
There were multiple ads stating you could make Rs 10,000-Rs 15,000 per day. WHO WOULDN'T WANT THAT JOB, right? But HOW? That remained unclear in all such ads.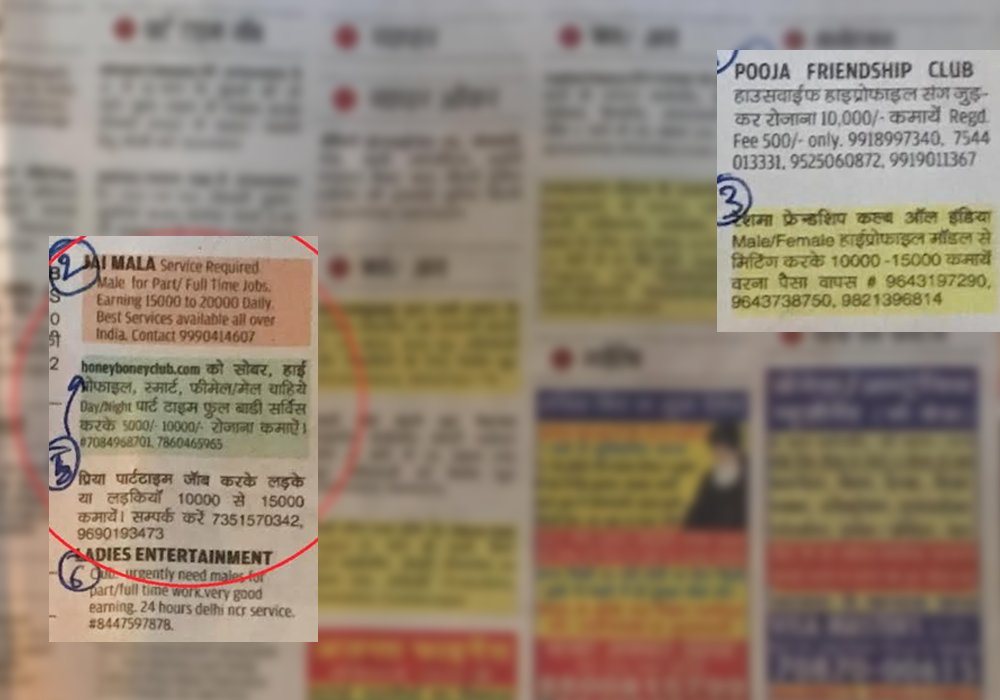 All the top national dailies and their classifieds section have one thing in common, they all are selling sex in the garb of 'massage parlours' and 'friendship clubs'. We investigated, and this is what we found out.
While most numbers remained busy when I tried calling them. when I did get through the number provided by Reshma Friendship Club, I was told that they did not 'require' girls. I asked them what the job exactly was and was told that girls were put in touch with male clients here. Before I could ask another question, the call was cut. 
Escort services. A legit ad for an escort service. Advertised in a national daily. Since, it was still not absolutely clear if the job mentioned was indeed of an escort, I made a male colleague call on the same number a little later. 
Sex karna hoga high-class ladies ke saath.
He told the person on the line that he saw their ad in the same newspaper and was looking for a job. He asked him what the job profile would be. He was told, loud and clear, "Sex karna hoga high-class ladies ke saath."
During this call, he found out that the 'office' was in Dehradun, but the work would be limited to a 5-7 km radius of where you stay.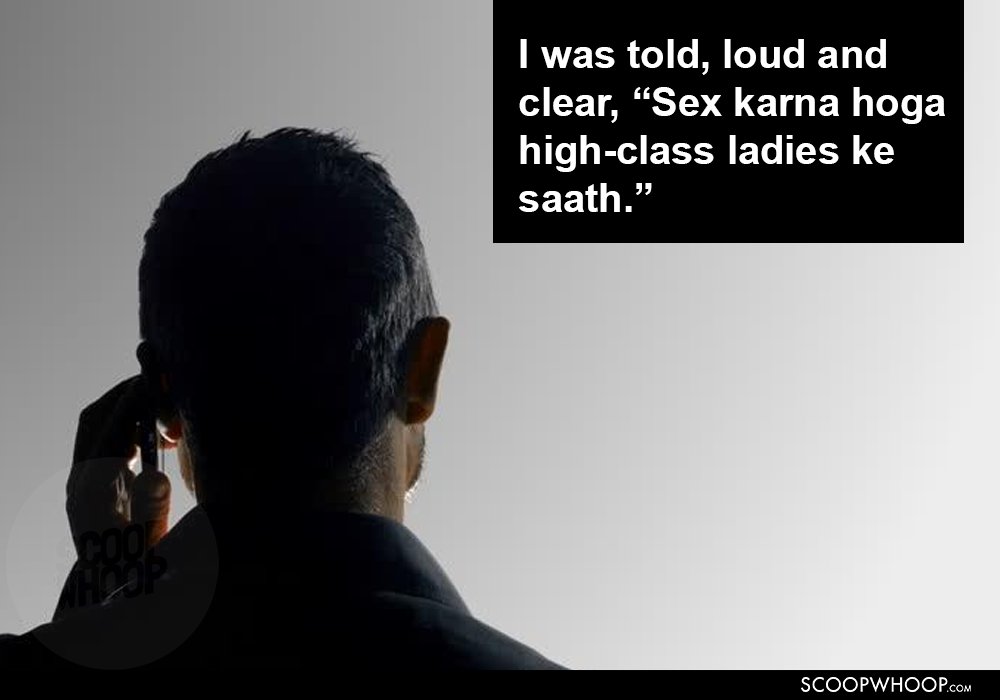 The person on the phone said, 
I will set you up with 3 such meetings a week. You will be picked and dropped by the client. For 2 hours, you will get Rs 12,000 and for an overnight assignment, Rs 15,000.
When my colleague didn't stop asking him questions, he said he will have to drop by at the Dehradun office to register himself (by paying a mere registration fee of Rs 1000) and he will get the rest of the information then.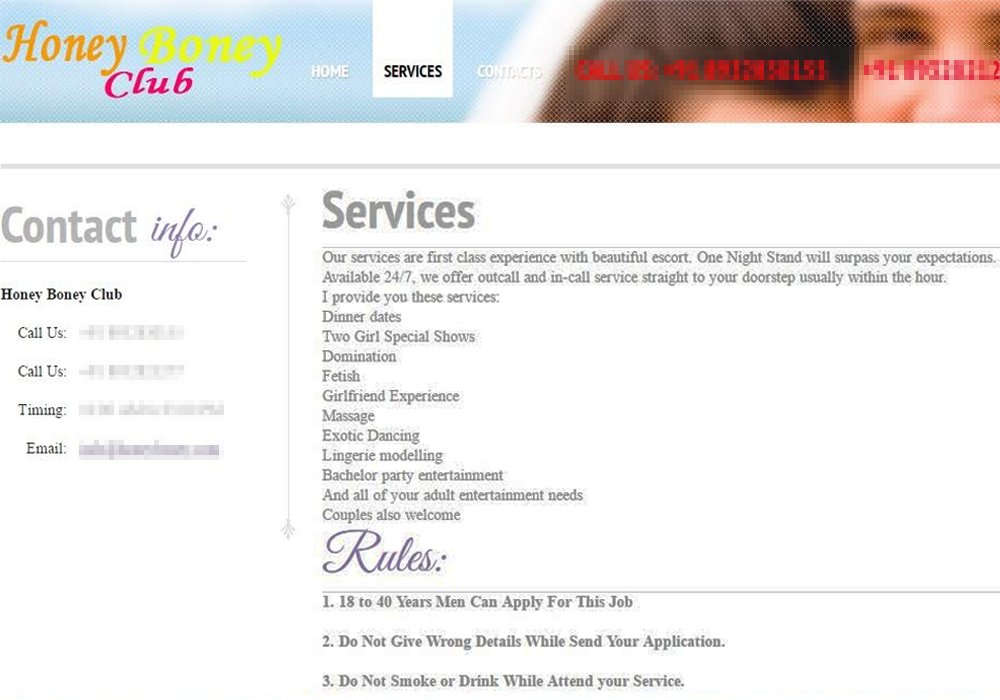 When I called the number, I was shocked to hear an automated message that actually, openly announced the 'how-tos' to me.
Then a company by the name of honeyboneyclub.com that needed high-profile/smart females/males for a job that would earn you Rs 5000-Rs 10,000. I figured this was also an ad for escorts, but I was shocked when I heard an automated call stating information such as the caller will be expected to have sex with people, will be able to earn Rs 5000 but will have to give half the amount as commission to the company. ALL ON AN AUTOMATED ANSWERING MACHINE.
I called Ladies Entertainment, who was actually offering jobs, as a client and said I needed a male stripper for a friend's bachelorette. I was told that they don't provide such services. I told him I was given the number by someone who has been served in the past. He then told me that they get girls in touch with male clients. 
I made some more calls, only to be told that girls weren't required. People would cut the call with that detail.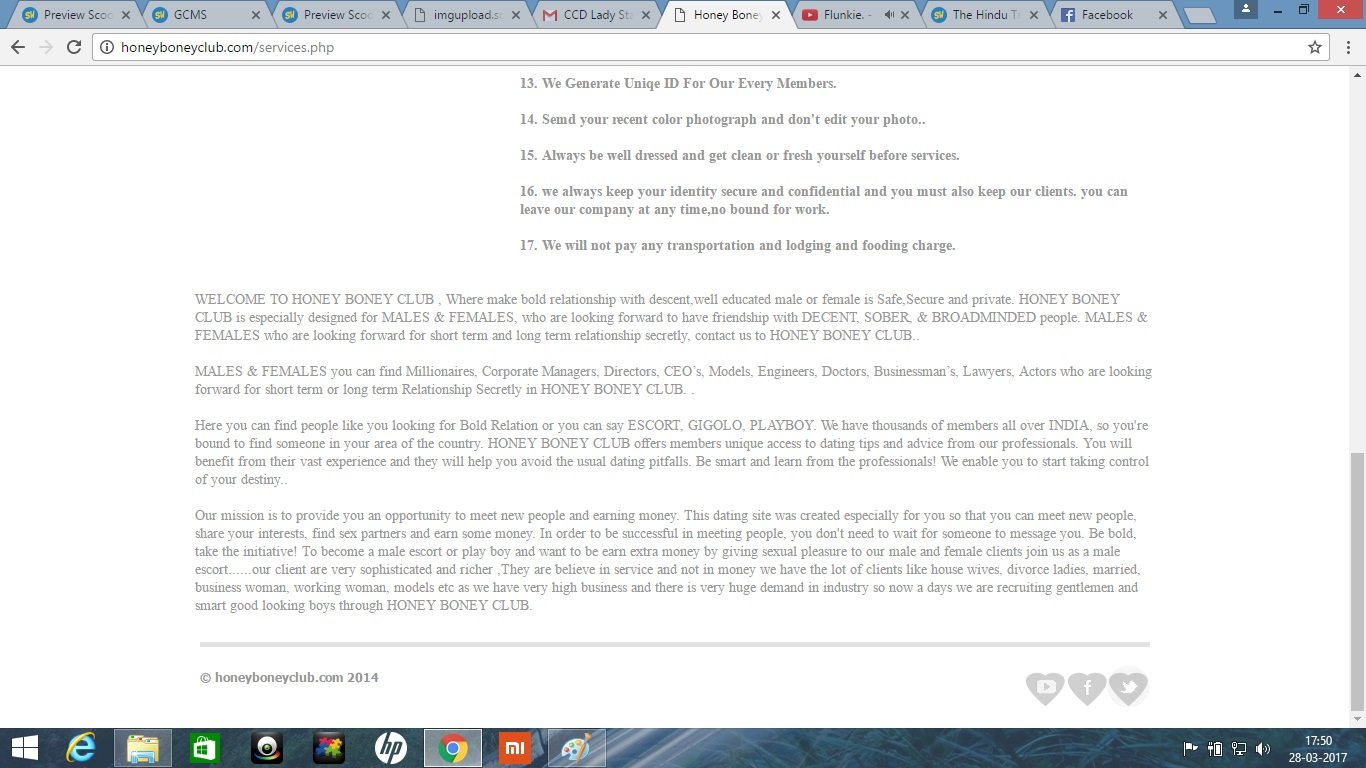 Sex for sale, in 'black and white' in your newspaper.
A few more calls to these 'massage parlours' and 'friendship clubs' and the writing is clear on the wall. That massage parlours that offer 'much more' than just massages, is common knowledge now in this country, it is still alarming to know that not much has been done to crack down on these so called 'parlours'.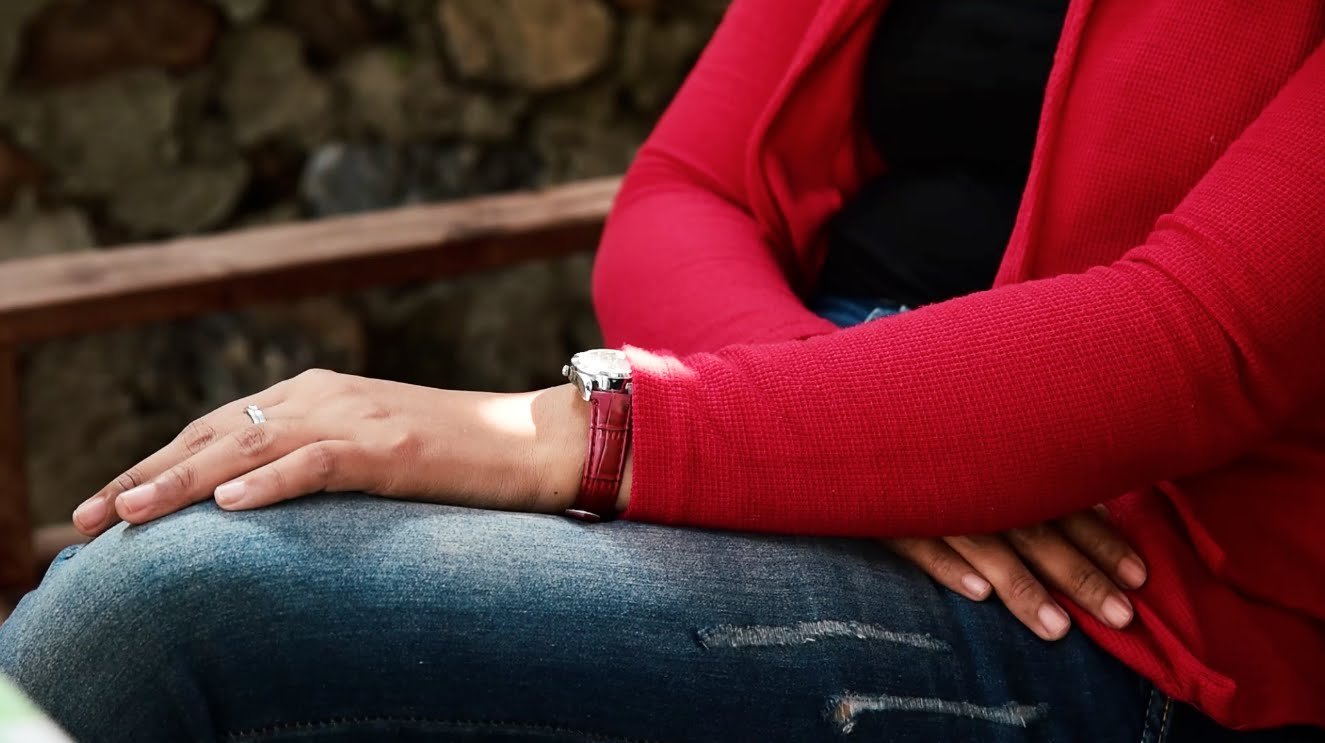 There are so many stories on the net and in the news, everyday about people being duped for money by these advertisements that lure unemployed youth. This is just the tip of the iceberg.
In October last year, a man was abducted by a group who lured him in by posting such advertisements. He contacted them because he wanted to earn quick money to pay off his debt. He was asked to come to Hapur in Uttar Pradesh, where he was beaten up and kidnapped. The group attempted to hold his family to a ransom of Rs 10 lakh.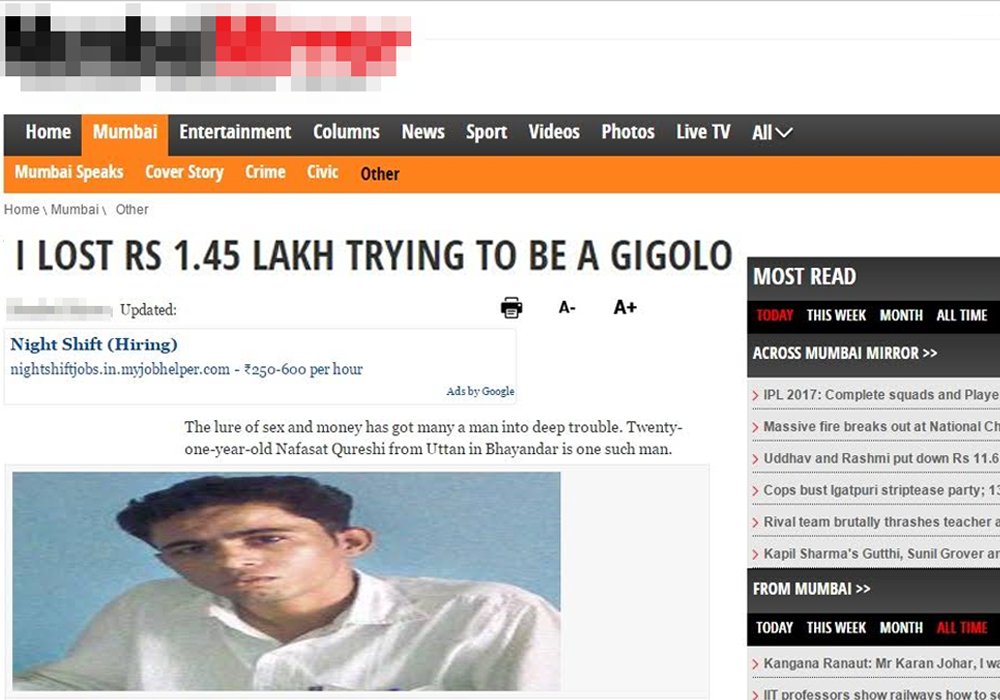 In another case, 21-year-old Nafasat Qureshi from Uttan, Maharashtra lost Rs 1.45 lakh.  Not only did he pay his employers Rs 25,000 as registration fees, he was also asked to deposit money as security by his clients to guarantee satisfaction, repeatedly. Later, he would be rejected and the money wouldn't be returned.
"Such advertisements are mushrooming and are basically fraudulent in nature. They want to attract unemployed youths on pretext of sex but either ask them to deposit money in their account of kidnap them and extort money," the senior officer told Daily Mail.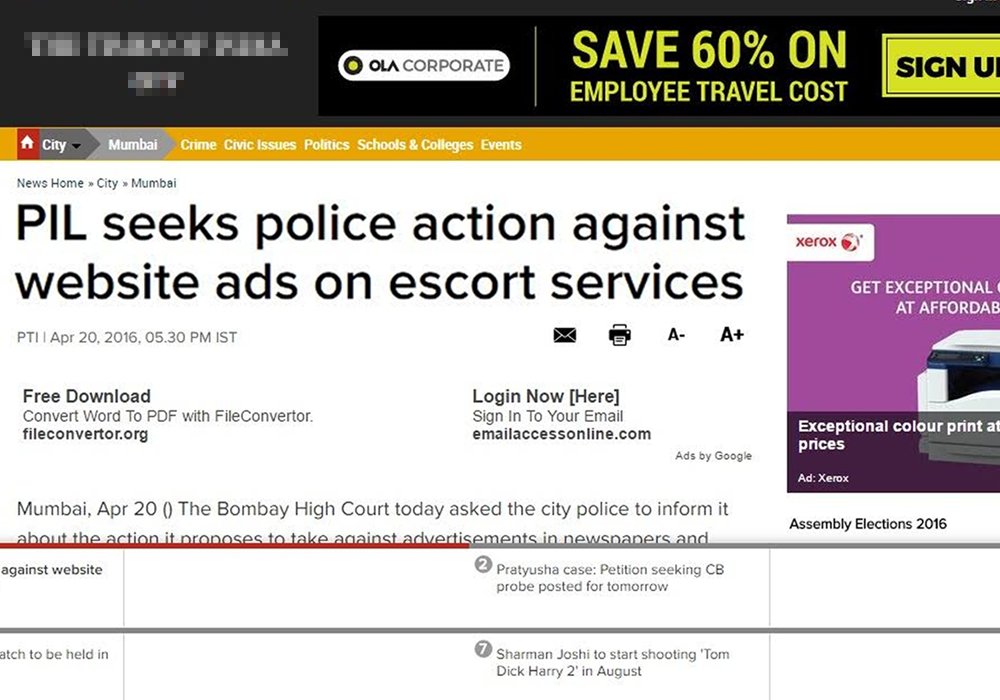 Ali Ahmed Siddiqui, an activist had filed a Public Interest Litigation (PIL) in 2016, stating ads that promote prostitution under the guise of offering escort services of men and women, should be stopped forthwith by the police authorities. 
A list of websites was forwarded to Group Coordinator (Cyber law), Department of Information Technology, New Delhi, informing that the websites were being allegedly used for purpose of prostitution, according to an affidavit filed by Sanjay Salunkhe, Police Inspector of Social Service Branch. However, it appears that till date no website has been blocked or deleted by the authorities.
When I called a 'baba' and told him about my 'cheating' husband, he offered a rather simple and quick solution. 
Once the massage parlour and job offering ads were exhausted, I made a call to a baba, promising to give suggestions for any problems within 3 minutes. I told him my husband was cheating on me and I found 'waisi waali pictures' on his mobile phone. He asked me if I was sure I don't trust my husband. 
Ironically, he said, "Zamaana kharaab hai, beta. Log apne matlab ke liye galat kaam kar lete hain."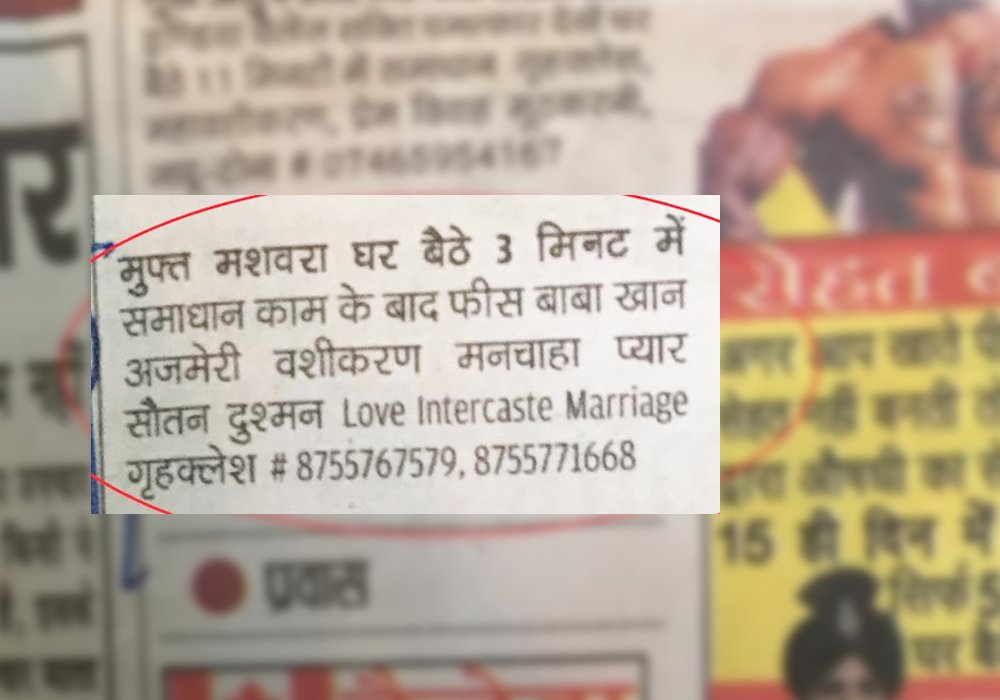 He asked me the names of my husband, mother-in-law and father-in-law, and asked me to call him in 20 minutes. Now, I am not married and the names I gave were randomly selected from my Facebook friend list. But when I called the baba, he confirmed my doubt. My husband was under a spell and doing what he was doing because someone within the family wasn't happy with how smooth our life was. I confirmed if he meant black magic and he agreed. When I asked him what could be done to save my married life, he said, "Beta, loha hi lohe ko kaatta hai."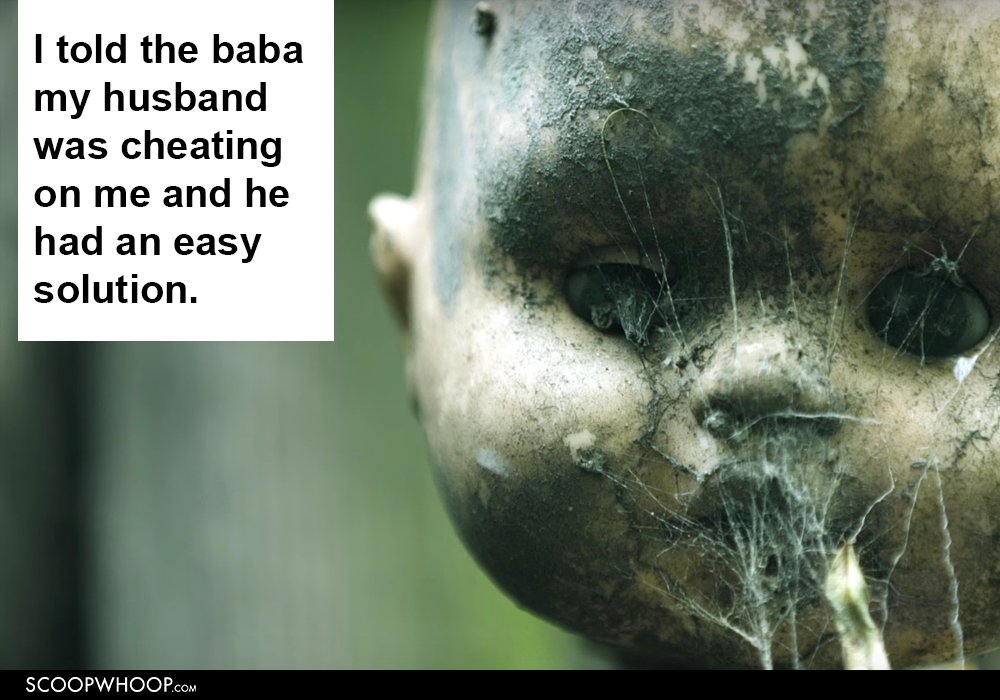 He told me I will have to pay for the saamagri that would be needed in the pooja he would perform and all my problems will 'just vanish'.
What people are getting in the name of pooja, is rape and black magic. We are not saying it, we have reports to prove. 
You and I might find this funny. But this becomes an issue because there have been multiple cases of people being sacrificed in the name of black magic providing solutions. People, even at this age and time, believe in all this. With leading newspapers giving space to such babas, they unintentionally validate their claims, which could lead to more chaos.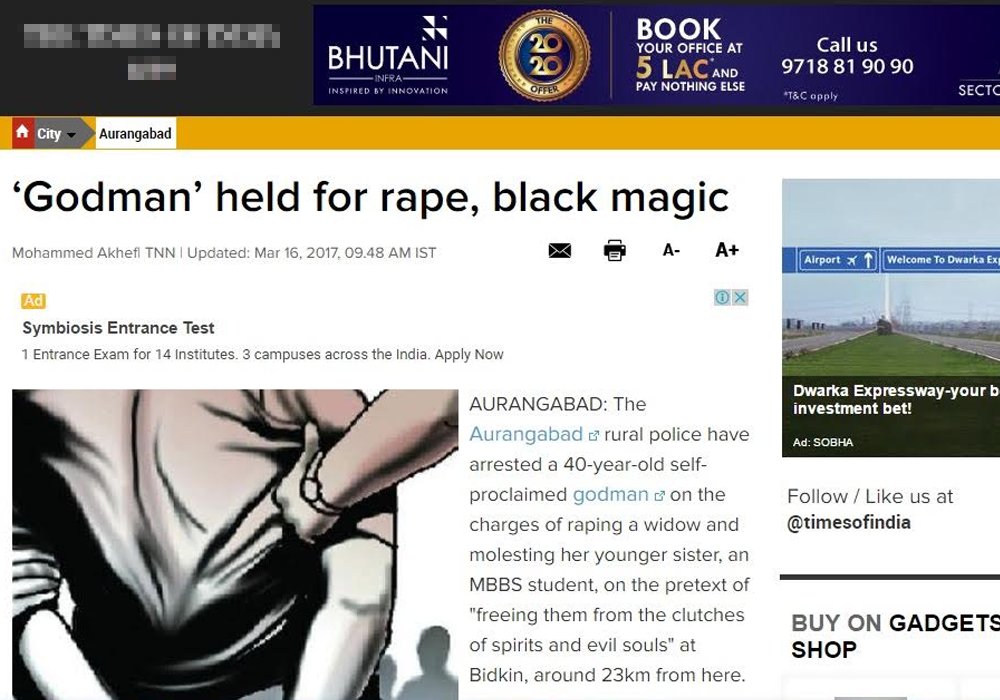 Recently, a 40-year-old self-proclaimed godman was arrested on the charges of raping a widow and molesting her younger sister, an MBBS student, on the pretext of "freeing them from the clutches of spirits and evil souls" in Aurangabad, Maharashtra.
And this is happening even after an Act prohibiting this is in practice. The Maharashtra Prevention and Eradication of Human Sacrifice and other Inhuman, Evil and Aghori Practices and Black Magic Act, 2013, criminalises practices related to black magic, human sacrifices, use of magic remedies to cure ailments and other such acts which exploit people's superstitions. 
According to the law, any person who advertises, promotes, propagates or practices human sacrifice and other practices such as evil and aghori practices and black magic will be punished with imprisonment for a term which will be not less than six months and which may extend for a term of seven years and with fine ranging from Rs 5000- Rs 50,000.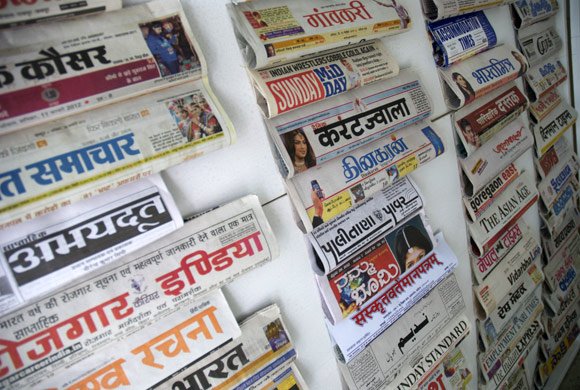 Now, most ads are placed in newspapers through outsourced websites, which have no filters whatsoever. A fan of The Hindu had placed a matrimonial ad in the Times of India, looking for a guy who reads The Hindu because "they read their ads before printing them". 
Expecting newspapers to forgo advertisements would be a stupid suggestion. But shouldn't all newspapers be aware of what they are advertising?