On Tuesday, journalists in a show of solidarity held a protest march against the beating up of media personnel on Monday at the Patiala House Court premises by a group of lawyers. When this entire event was unfolding, the police is alleged to have taken no action. 
Ravish Kumar, the star anchor of NDTV India spoke to Madhu Trehan, Editor-In-Chief of Newslaundry expressing deep disappointment in the way certain sections of the media are going about covering the JNU crackdown.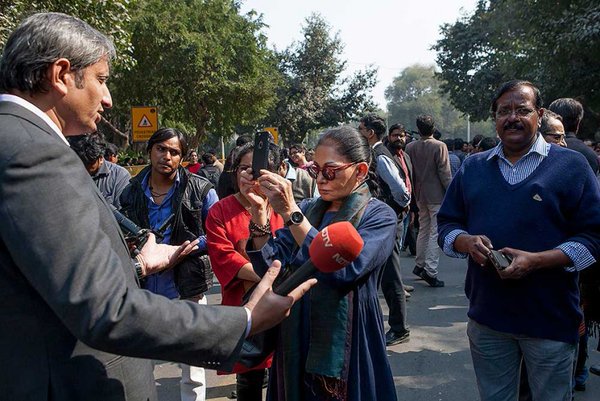 Ravish without naming them, lashed out at some anchors who are not only stifling freedom of speech but also polarizing the audience.
Here are some excerpts from the video: 
'It's a dangerous situation right now. How will a common man feel safe when media is manhandled and beaten up in court premises?'
'You cannot threaten the media. A journalist has to be fearless. The citizen gets empowered watching us take on the establishment.'
'If anchors resort to stifling freedom of speech, then people should stop watching debates on TV'
'Who are these anchors to label anyone as anti-Indian?'
'These are the same anchors who pick up the most frivolous of issues and ignore the ones that truly affect the common man.'
'When was the last time such anchors visited places where people are dying of thirst and hunger?'
'Wearing a suit & getting a camera & prime time slot doesn't mean you can say anything you want.'
'This us vs them style of debates where you polarize the audience is detrimental'