On Tuesday, Doda district in Jammu and Kashmir banned the entry of outsiders without police registration for the period of two months. 
The reason? The recent spate of braid-chopping cases. 
The district administration says braid-cutting incidents have triggered a "wave of terror"  in the region, especially among women. Here's a copy of the order: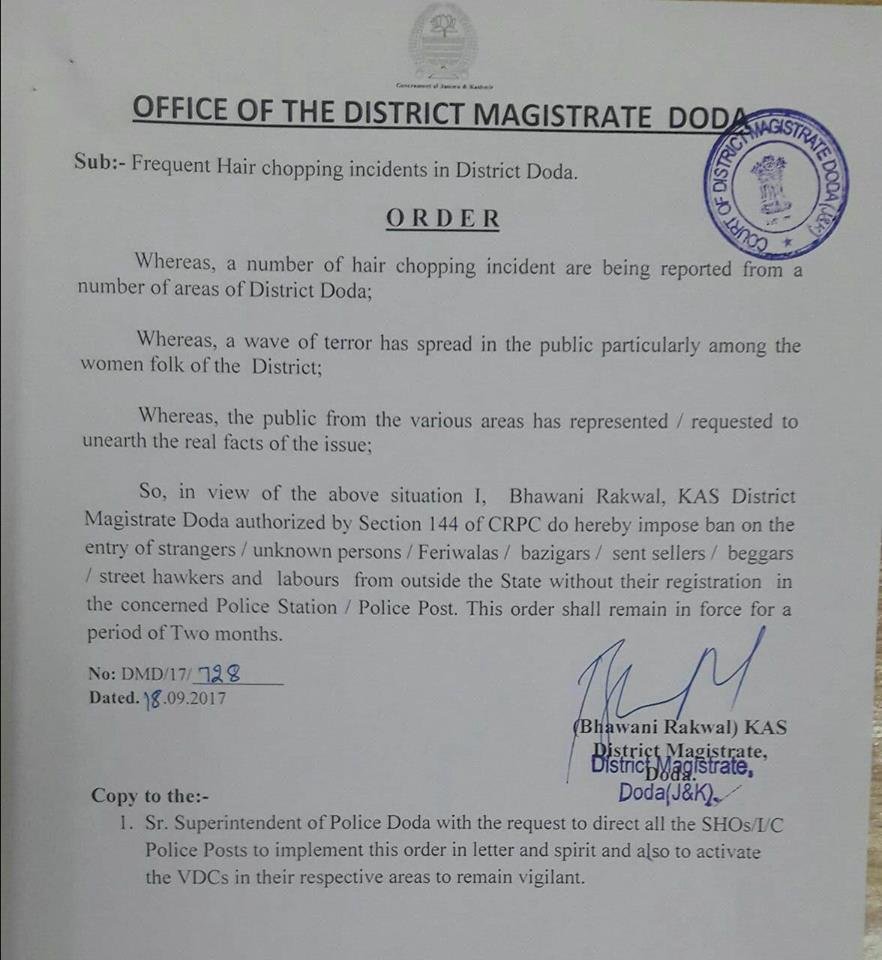 The district magistrate imposed a ban on the entry of "unknown persons, feriwallas, scent sellers, beggars, street hawkers and labourers from outside the state without their registration at the concerned police station/police post''. The order under Section 144 of the CrPC shall remain in force for two months, he said.
Nearly 100 incidents of braid-cutting have taken place across Jammu and Kashmir over the past month. A dozen have been reported in Doda in the last two weeks. However, no formal complaint has been lodged with the police by any victim so far, reported The Indian Express.
Shakti Parihar, MLA Doda, told ScoopWhoop News that mysterious incidents of braid-cutting have caused panic among the residents. However, at this point, no one has been apprehended and the reasons are still unknown, he added.
Faizan Ali Tramboo, a journalist working in Doda town, said that currently most of the incidents are based on hearsay and no concrete "modus operandi" has been established.
When asked why the authorities are only targeting outsiders, he said that some victims reported seeing someone who "looked like an outsider". He also added that people are also suspicious of outsiders because of the recent incidents of mysterious braid-chopping in other parts of India. 
SSP, Doda, declined to comment on the situation.
A problematic solution
As to why the district administration is specifically targeting outsiders based on anecdotal evidence remains unclear. 
The order, apart from reeking of xenophobia, is also problematic in its language. For instance, what is the definition of "unknown persons" and "strangers" mentioned in the order? How does the administration plan to apprehend "unknown persons"? 
Sure, people are panicking about the bizarre hair-cutting incidents, but only targeting outsiders based on rumours is no solution.
(Featured image source: Representational/AFP)