For Mehbooba Mufti's swearing in as Jammu & Kashmir's chief minister on April 4 – the first woman in the state to hold the position – a television channel in the state chose to be quite explicit in expressing its excitement.
Etv Urdu News Network went all out and put up giant hoardings across the city congratulating Mufti, calling her "Abbu ki Ladli, Kashmir ki Beti" (Father's darling, Kashmir's daughter).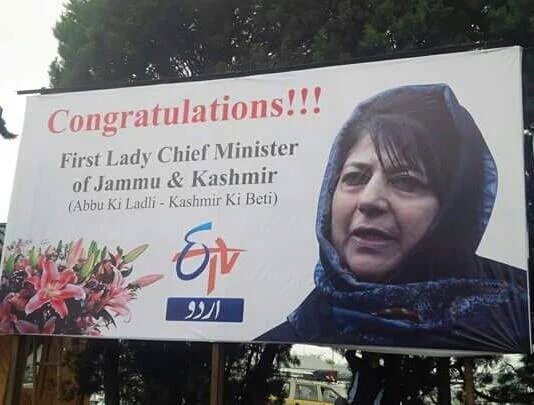 The hoardings attracted criticism from many quarters for "sycophancy". Many took to social media to point out how a media house should be unbiased and not indulge in this sort of cheer-leading. In fact, a day before swearing in, former J & K CM Omar Abdullah took a dig at the hoardings, when he tweeted:
The move miffed a journalist associated with the channel so much that he chose to resign over "principles".
Rifat Abdullah, Special Correspondent with the channel and its employee since 2005, took to Facebook to announce his resignation, saying he can't compromise on his principles and is not in favour of supporting any party of individual.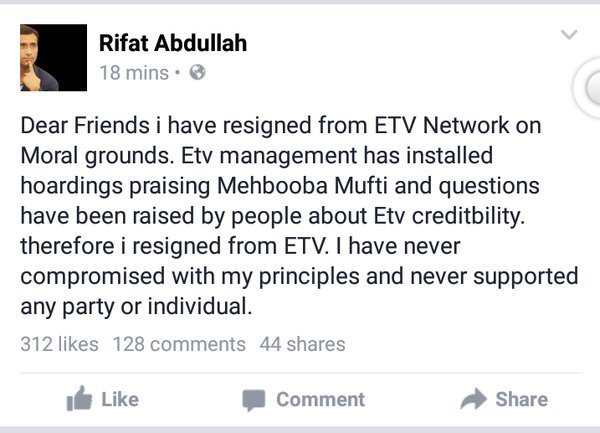 The post was shared more than 1,000 times before Abdullah deleted it. Hours later, he again posted on Facebook, this time telling us that his resignation has been accepted by the management.
Abdullah is an award-winning journalist who was honoured for his "courageous" coverage of floods that ravaged the state in September 2014. He has also been credited with saving at least 300 lives through his work.