Ten minutes into my interview with Vikram Singh Chauhan, my phone, which is kept on the table of the cafe we are in, buzzes. The lawyer, who made national headlines for attacking JNU students' union president Kanhaiya Kumar at the Patiala House court house last year, looks at it. 
The screen lights up with a Facebook chat notification. "Have you slapped him yet?" asks a friend who knows I am interviewing Chauhan.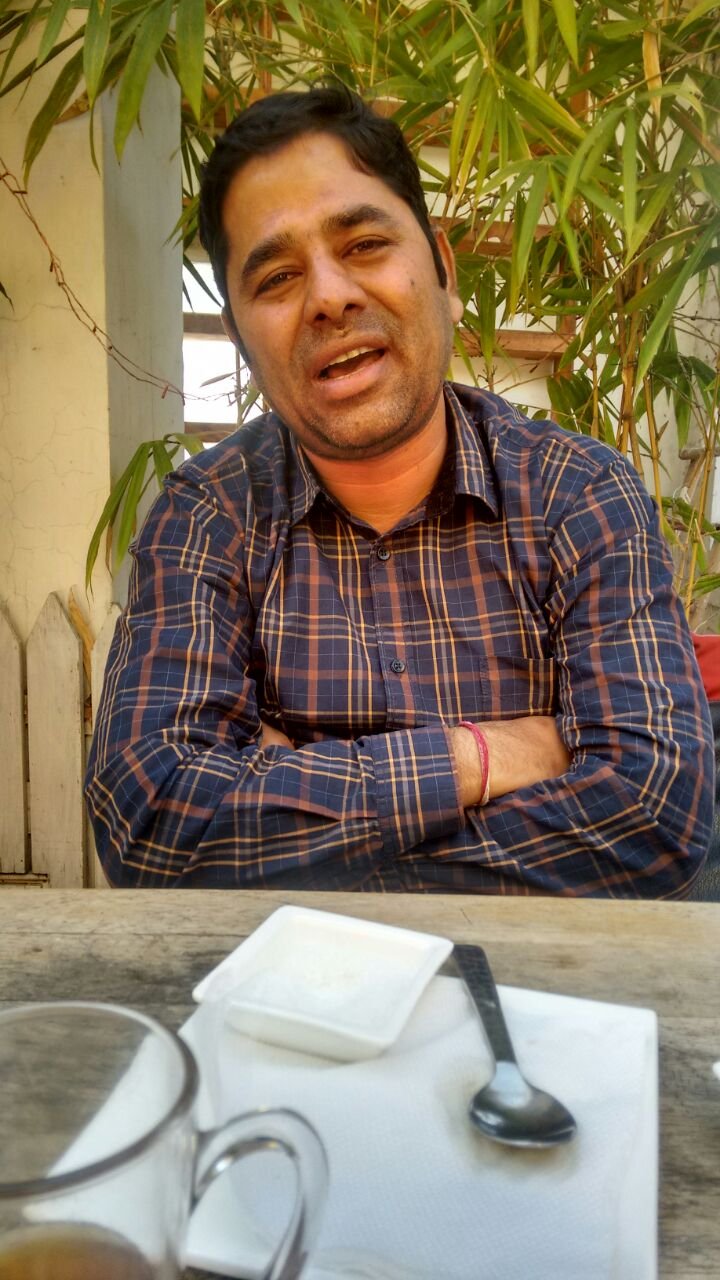 The man looks at me, his brows furrowed. I am suddenly preoccupied by the ugly coffee stains on my mug. 
"Your friend is saying something about me," he says. 
I look up nervously, a part of me wants to run away from the spot. Chauhan is almost double my size. Then, something unexpected happens, Chauhan starts laughing. I join him, half-expecting to be shut up with a slap. 
However, Chauhan clearly has a sense of humour. Since the fateful day at Patiala House, he has been "relentlessly hunted by mediapersons" and has received threat messages, but hasn't given up 'desh bhakti'. 
"My life has changed. Jab se main badnaam hua, mera bahut naam ho gaya (Every since I have become a little notorious, I have become really famous)," he says. 
He couldn't talk much about the incident but did speak about how it changed his life. 
Here are edited excerpts: 
First things first, was the attack on Kanhaiya Kumar planned? Isn't it true that you goaded other lawyers on Facebook to join you in the attack?
I don't want to talk about the incident because the case is sub-judice. But I want to clarify that I did what a true patriot needs to do. I have no shame in admitting that. Anyone who has a family member in the army, will empathise with my stand.
How did your life change after the incident? 
I started getting threat messages from Dubai, Pakistan and the Gulf. I still get threat phone calls (shows his phone). I am not married, so I don't care about these empty threats. These people can't harm me. 
Would you say you are more famous now? Do you have people coming up to you and saying that you did a good job?  
I always had important friends. I am a lawyer in Patiala House. However, I did get a lot of badnaami (bad name) because of this. People do recognise me in public places but I don't give much heed to it. Many media channels have contacted me to take part in panel discussions too. Barkha Dutt has called me several times. But I don't want this cheap adulation.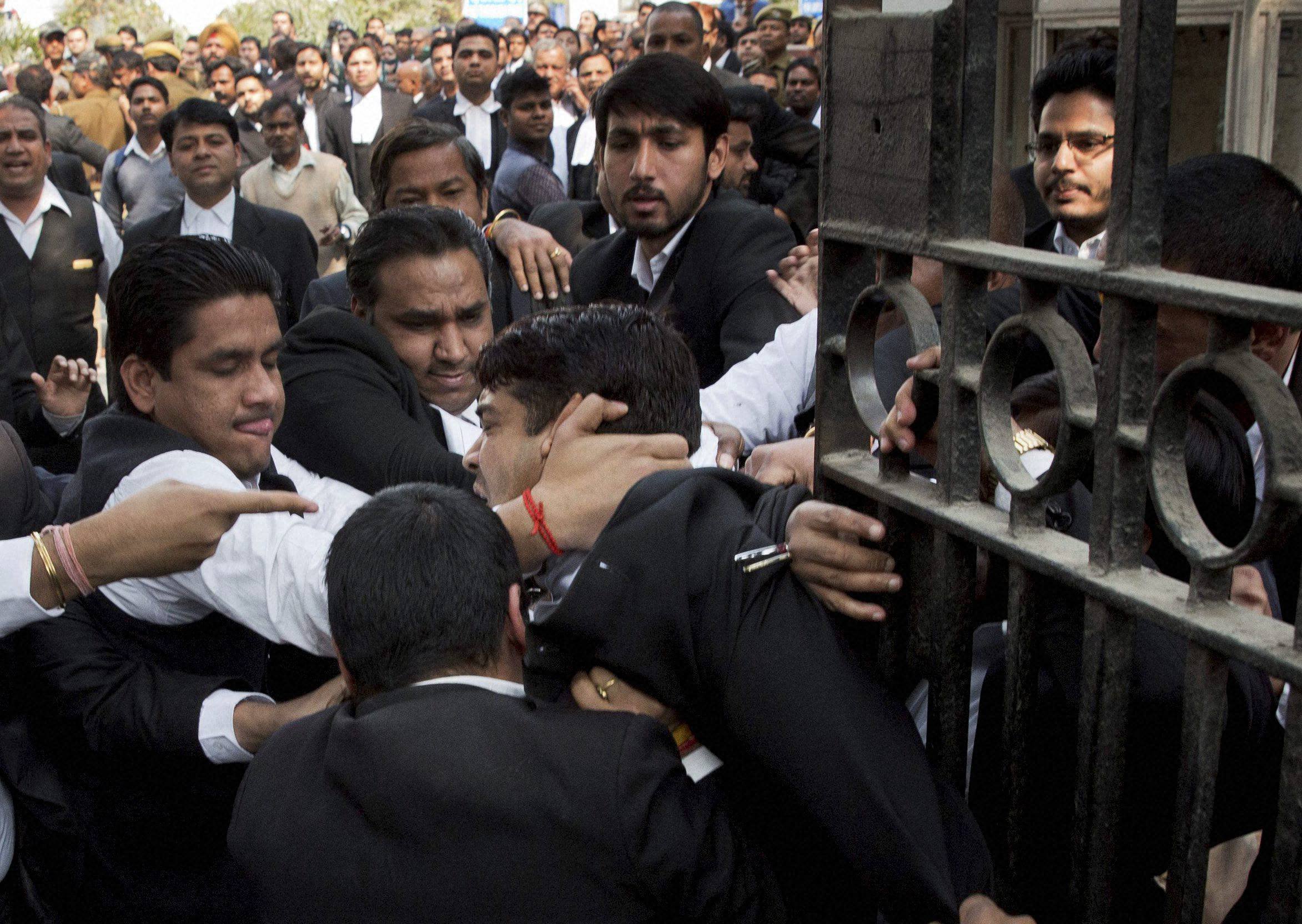 What exactly do you have against Kanhaiya Kumar? 
I have nothing against the boy. It's his ideology that I object to. The professors and students in JNU are like civilised Naxals. I have asked professors why do they spread hate about our nation? Why do they say Kashmir doesn't belong to us? Are they paid to do all this? When the nation mourns the death of soldiers in the border, JNU burns crackers.
Do you think Kanhaiya Kumar has political ambitions? 
He comes from a poor family, doesn't he? His mother probably earns less than 4000 per month. How do you think his family runs? When his father died, Kanhaiya Kumar didn't even spend a week mourning. He was out doing his campaign after a few days. Even a few days back he was spreading hatred in Bengal. 
Many people say you are aligned with the BJP…
That's a joke. I have as many Congress leaders as friends as BJP leader friends. I have selfies with Sheila Dikshit too. However, now they don't acknowledge me. I have no political ambition. I am a lawyer with a roaring practice, I don't want to get into all this. 
As a lawyer, do you think it was fair to take law in your own hands? Many feel  you insulted your profession…
Let me ask you this question. If today you are out with your sister and some miscreants attack her, will you stand quietly and wait for the law to take its course? I did what I had to do. 
You apparently assaulted Kanhaiya till he said "Bharat Mata ki jai'. Do you think merely mouthing those words makes someone a true citizen of the country? 
Yes, I agree that one has to do a lot more to be a true desh-bhakt (patriot). But why can't people say it? Are they ashamed of their own country? 
A year later, if you are in a similar situation, will you slap him again? 
I will do what I have to to save the honour of my country. If that means slapping him, then yes, I will slap him again.