It seems that the long oath-taking ceremonies where ministers are sworn-in get a bit tedious and confusing, and here is a minister who forgot to say his own name during one such.
Ramdas Athawale, one of the 19 new ministers, who joined Narendra Modi's government on Tuesday forgot to say his own name while reading the oath.
However, it was noticed by none other than President Pranab Mukherjee who quickly reminded him and said, "Apna naam boliye (speak out your name)." Athwale suddenly paused and then mumbled "Sorry, sorry," reports NDTV.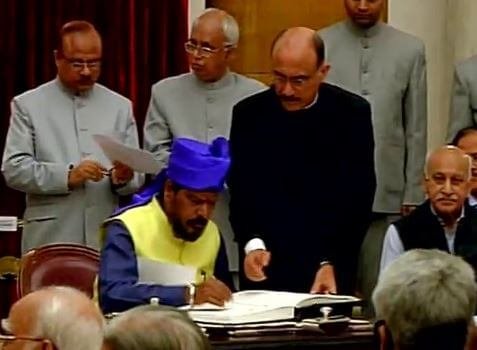 Ramdas Athawale is the president of Republican Party of India-A (an ally of BJP) and is also a prominent Dalit leader from Maharashtra. In his three decades of political career, he has shifted his allegiance from Indian National Congress (INC) to  Nationalist Congress Party (NCP) and finally to Bharatiya Janata Party (BJP), reports Economic Times. He became a Rajya Sabha member in 2015.
(All images sourced from Twitter|ANI News)