In an AIADMK election video, an old lady is in tears as she is having her meal. In an emotionally driven statement, she says "Even my own children didn't feed me. The person responsible for feeding me is 'puratchi thalaivi amma' (revolutionary leader Jayalalithaa)." 
Meanwhile in a ad released by DMK, an old lady fumes, "People who fly high in the sky, how will they understand the ground realities and the sufferings of the poor?" And she says, "Enough is enough."
Strangely enough, it's the same woman who appears in both ads
Don't believe us? Watch the below video:
The lady under the spotlight is 67-year-old GT Kasturi, popularly known as 'Kasturi Paatti', who regularly features in the Tamil cinemas, reports The Hindu.
'Kasturi Paatti' has become an overnight social media star with several memes, videos and articles dedicated to her.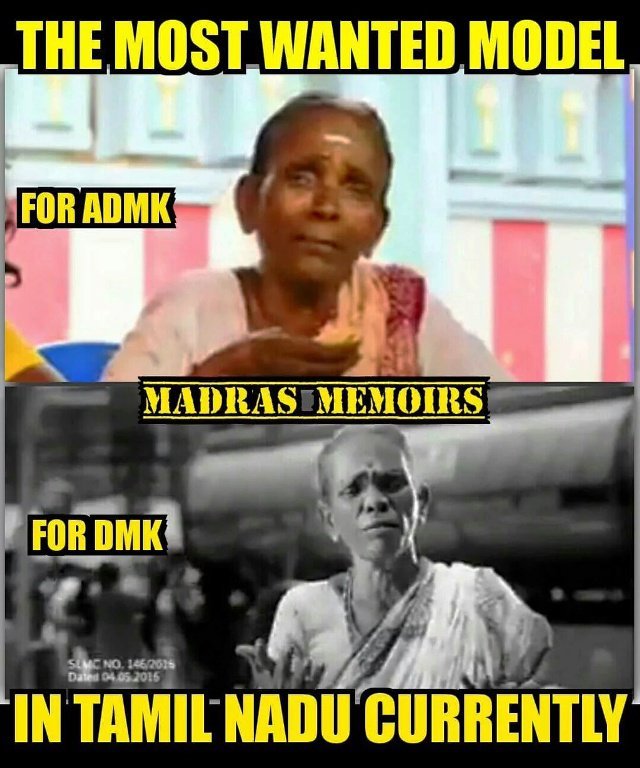 She, however, pleaded ignorance about the videos being an election promo and said that she was clueless she was acting for in a video for DMK.
Speaking to The Hindu, she said:  
"An agent initially approached me to act in the promo for the AIADMK. At that time, I didn't know it was an election promo, but thought it was for a short film. A few days later, another agent approached me asking me to say a dialogue for an advertisement and I didn't know it was for the DMK's election promo,"  
Kasturi further says that since her videos featuring in advertisement of arch-rivals has gone viral, children in her locality are making fun of her.
Speaking to Puthiya Thalaimurai,  she claimed that she was paid Rs 1000 to appear in the DMK video, and was paid the same amount for AIADMK ad.
She claimed that she was politically neutral and not particular about which party should form the come to power. 
"Whichever party comes to power should do good for the people." she says.
(Feature image source: Twitter)