A Saudi Prince reportedly bought tickets of a passenger jet for his 80 falcons. 
A picture of the birds accommodated into an airline has gone viral on Reddit. It shows a flock of blindfolded falcons seated on a plane around the cabin among passengers, each bird seemingly tied securely down to the seats.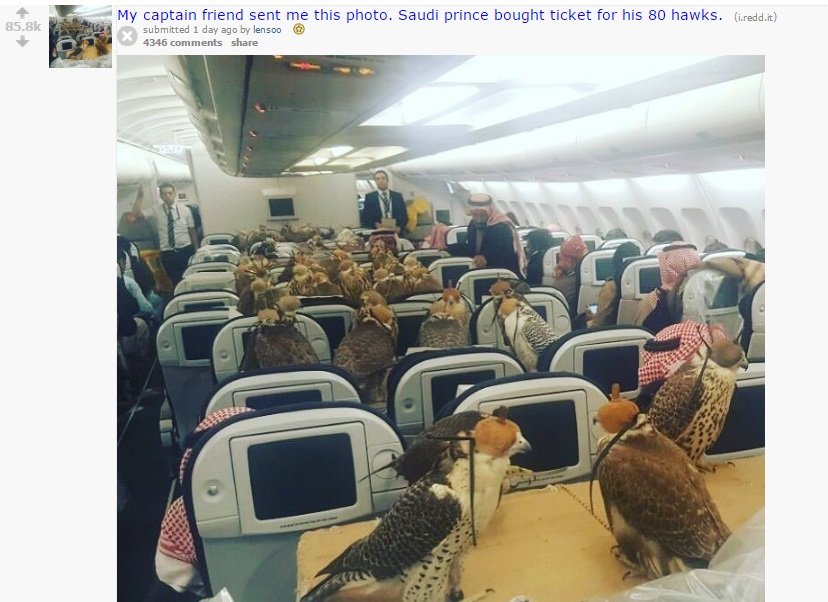 However, flying birds, especially falcons, the national bird of the UAE, on aircraft is not a rare practice in the Middle East. And is definitely not against the rules!
Falcons can get their own forest green passports to fly in the UAE. That passport allows them to travel to Bahrain, Kuwait, Oman, Qatar, Saudi Arabia, Pakistan, Morocco, and Syria.
The passport is valid for three years, according to the United Arab Emirates Ministry of Climate Change and Environment.
A spokesperson for the Airline Flydubai told National that falcons are very special birds and hence allowed inside the cabin of the planes. She said the birds must have their own seat on which a special cloth is spread to avoid accidents. 
Qatar Airways website also states that a maximum of six falcons can be brought on economy class.
(Feature image source: Reddit)