On Wednesday, India Today news anchor Rahul Kanwal invited Hindu Yuva Vahini chief Nagendra Singh Tomar to the studio over the news of a couple allegedly being harassed in Meerut.
Here is Tomar's relaxed face as he waits to present his side of the argument in favor of the incident in Meerut.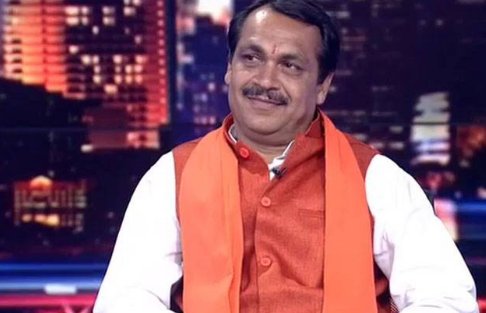 And here is anchor Rahul Kanwal promising to deliver a mature and naunced debate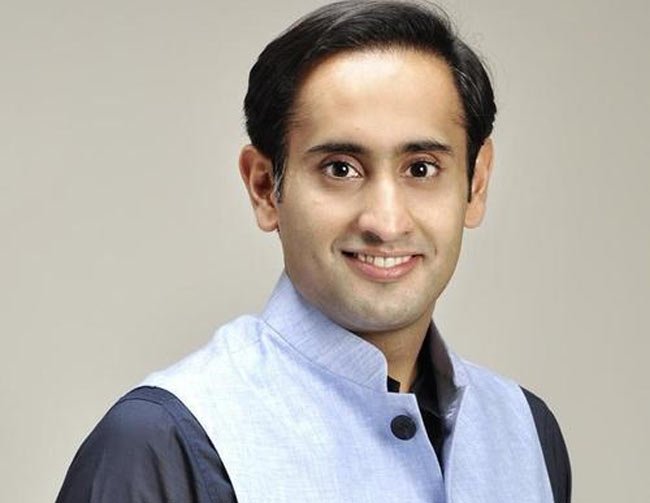 Cut to this!
Where the anchor and the guest both resort to finger-pointing and eye-rolling.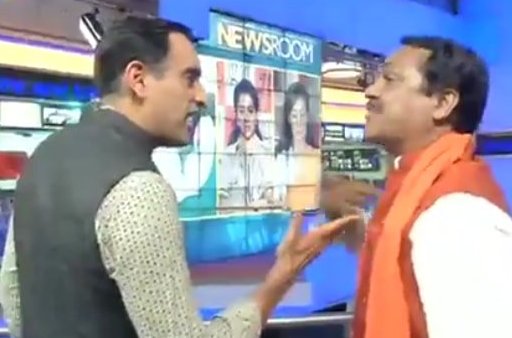 So what happened? 
In the middle of the debate, Kanwal, while slamming the obnoxious 'moral policing' incident lost his cool and shouted at his guest: 'Who are you guys, who are peeping in someone's bedroom?'
Tomar, who clearly didn't take that calmly, retaliated in an even angrier and louder tone and denied entering the couple's bedroom.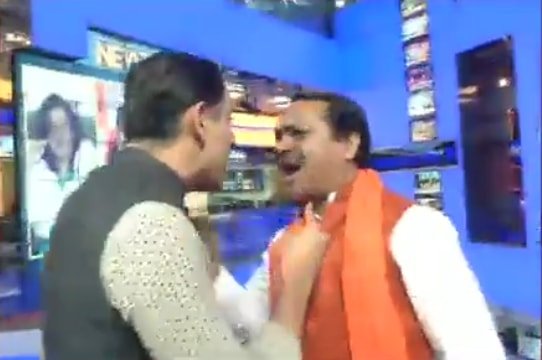 Kanwal then accused him of behaving like a 'goonda', to which Tomar charged back at him saying that the journalist was lying. Seeing Tomar dominate him in the show, Kanwal scolded him and asked him to keep quiet.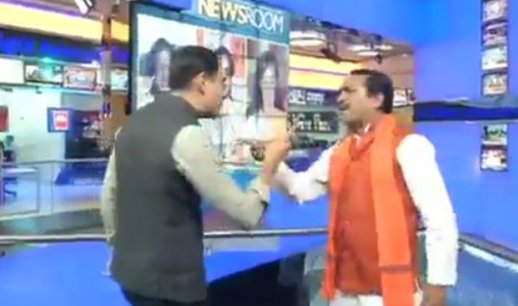 On this, Nagendra Tomar asked him why he called him on his show when he wanted him to keep quiet. 
The brawl got so terrible that anchor Rahul Kanwal finally asked him to leave his show.
Here is the haughty debate:
And here's an India Today report on it, titled 'When Yuva Vahini's leader Nagendra Singh Tomar nearly came to blows with India Today's Rahul Kanwal'.
Meanwhile, Twitter totally enjoyed the showdown and promptly took sides. Some felt that Kanwal's behaviour was uncalled for and that it was against 'journalistic ethics'
@IndiaToday @rahulkanwal Just saw on TV. You call guests on your channel n misbehave with them? Shame. The guest may be right or wrong. But u cant threaten them.

— Amit Bhide (@amit123) April 13, 2017
@IndiaToday @rahulkanwal This is noise with prejudice approach by anchor. Why to shout& force guest to speak ur views. U r just presenter let them speak. Prove wrong

— Rajiv Kumar Singh (@rajivballia) April 13, 2017
Some argued that it was 'pointless' debating with the Hindu Yuva Vahini chief
@IndiaToday @rahulkanwal hehe lol what was it …you cant win from fools…he will understand only if one day her daughter will be dragged out from bed with her lovr

— Richa Sharma (@richastweets) April 12, 2017
@IndiaToday @rahulkanwal 1St time I wish to say thank you to Rahul. Hope Media realised that they were wrong in branding Faulty Product. Fight against Communal.

— sada bansod (@BansodSada) April 13, 2017