Remember the disturbing video of Delhi boy Kamlesh in which he talked how his drug addiction? Yes, the same video that was originally part of a documentary but went viral only for the wrong reasons, thanks to all those insensitive memes and trolling around it.
Well, now another video has emerged which supposedly shows the boy in a 'rehabilitated condition'. In the video, the boy is seen dressed in a school uniform. When asked if he still consumes 'soluchan', the boy says no.
Here is the new video:
The video has been posted by a Facebook page named We5TV. 
Here is what the post says: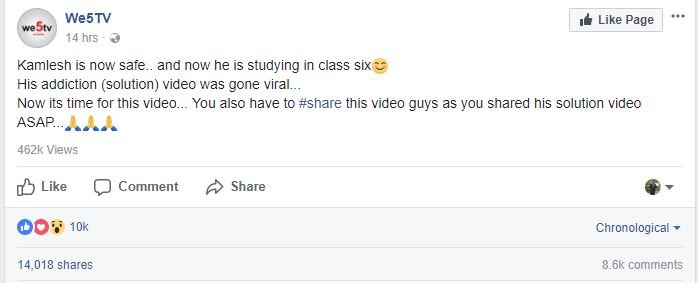 It already has more than 4 lakh views and around 14 thousand shares.
'The boy isn't Kamlesh'
However, when ScoopWhoop News verified the same with the documentary's director Dheeraj Sharma, it turned out that the video is fake. Sharma has confirmed that the boy in the video isn't Kamlesh.
"I made this documentary six years ago. The boy Kamlesh now is eighteen years old. This is an attempt to mislead public to gain fake publicity," he said.
He, however, denied to give out any information or whereabouts about Kamlesh. "I don't want media to run after him now." added.
He also said he is not even allowed to share the boy's details with the media legally.
Sharma also has a message for those people who expressed happiness about the fake video by sharing and commenting online.
"If people are genuinely concerned about him, I would request them to actually help all those Kamleshs who are battling drug addiction in Delhi streets," he said.
The original video of Kamlesh is a part of a documentary named Nashebaaz – The Dying People of Delhi. Its trailer was released on social media in May but only recently it became viral for wrong reasons.