In India, an electrician's job is generally dominated by men. However, a woman in Mumbai shattered this gender-biased perception by paving her way by becoming a line woman a State Electricity Distribution Company Limited. 
All India Radio News shared a video of electrician Usha Jagale, who works in Beed, Maharashtra. In the video, she can be seen climbing poles and fixing snapped wires effortlessly. 
However, even though in the video it can be seen how Usha solved the problem in hand, people were quick to point out how she had to risk her life and perform a task like this without any provision of a helmet, rubber gloves, harness or safety ropes.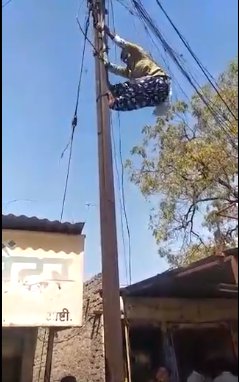 Twitter criticized how no proper measures were taken before going ahead with such a dangerous task. 
Even though it is amazing to see women scaling such heights, the government should take care of its employees with proper measures and procedures.