It's not just theplas and khakras which are synonymous with Gujaratis, as I found out a few weeks back. I came across the Dhebra at Soam, an 11-year-old Gujarati vegetarian restaurant in South Mumbai. The dhebra is a Gujarati version of a puri. Calling it a simple puri does it a disservice though, as the dhebra is quite the intricate dish.
Unlike most other Gujarati restaurants in Mumbai, Soam is not a thali joint. They offer a la carte fare instead. Moderately-sized and air-conditioned, Soam gets pretty packed at lunchtime – but it's worth the wait. The warm service, cheerful ambience and lovely food makes eating at Soam a lovely experience. It is one of my favourite restaurants in town despite serving only vegetarian food. Which is a lot to say, since I love my fish and meat.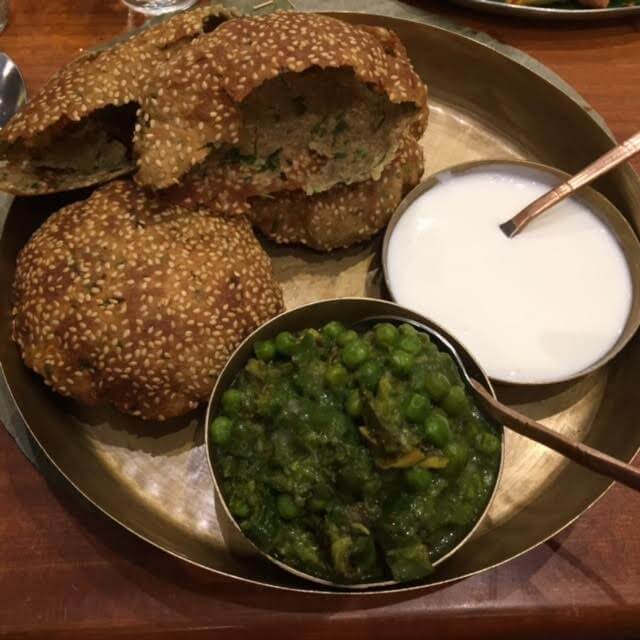 During my last visit to Soam, a young waiter from Odisha strongly recommended that I try the dhebra instead of the puri that I was ordering. He served this with turia patra which is a sabzi made with turia (ridge gourd), patra (colocasia leaves) and green peas. The sabzi had a lovely balance of sweet, savoury and mild chilli heat and the spicing reminded me of the winter Gujarati dish, Undhiyu.
The dhebra looked like puffed-up puris, specked with sesame dots. They were served piping hot, fresh from the pan. I had to wait a bit till I could take my bite because of the heat. When I finally gingerly broke a piece and took a bite. There was an earthy solidity to the texture, which made it feel very wholesome. This came from the bajra (pearl millet) used to make the dough, instead of the usual wheat. This also makes it gluten-free. Spices had been kneaded into the dough which made the dhebra packed with flavour.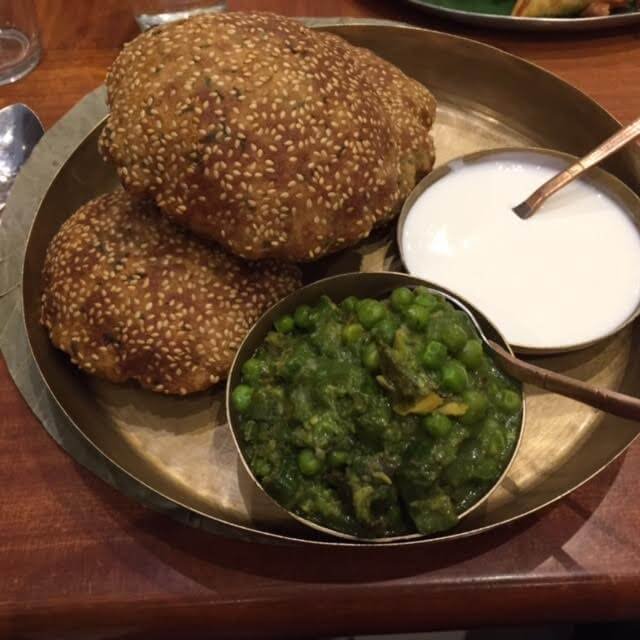 Providing a contrast to the firmness of the puri were the crunchy bites of sesame seeds on top and the two contrasting textures made for a fantastic combination. I was later told that in some cases, the sesame seeds are kneaded into the dough rather than being sprinkled on top. There were these odd bitter bursts which added to the taste. The bitterness came from shreds of fresh methi (fenugreek) added to the bajra dough.
There was a mild and very alluring tanginess to the taste of the puri. Pinky Dixit Chandran, who owns Soam, later told me that this tanginess comes from the curd which is used instead of water to knead the dough. This is done to increase the shelf-life of the dhebra.
The common practice is for Gujaratis to make dhebras at home and then take them on their travels. To be eaten with mango pickles while on the road. They also make for a popular tea time snack at home. At times, being eaten with curd.
While the dhebra that I had at Soam was deep-fried, Pinky told me that there is a version made in Gujarati homes where the dhebra is shallow-fried on a tava like a paratha is. She said that her mother prefers to use jowar (sorghum) in summer for dhebras and bajra in winter, as bajra is considered to be a heaty grain. In the restaurant, they use bajra through the year for consistency
I packed some dhebras for home and ate them in the evening. It's so complete in its flavor, that I didn't need an accompaniment with it. It tasted different from when I ate it hot and wasn't as crunchy, but the flavours packed in the dhebra ensured that it remained tasty even at room temperature. At night I had the last remaining dhebra with, I hope no Gujaratis are listening, Bengali kosha mangsho.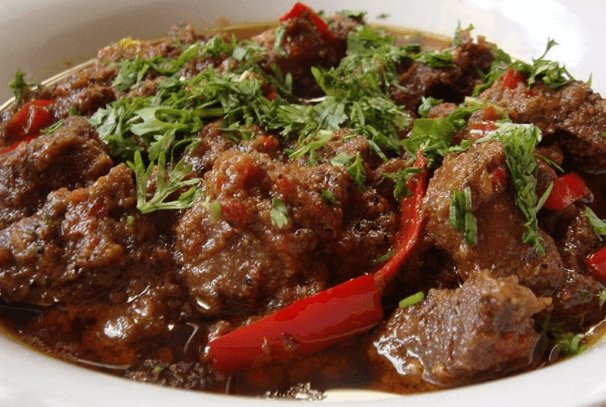 My discovery of dhebras at Soam that afternoon sums up everything that I love about life in Mumbai. The fact that an Odiya helped a Bengali discover a Gujarati dish in the heart of the city. For me, Mumbai is the city where all boundaries dissolve.
Over the next installments of these series I will be writing about some of my favourite restaurants across India and the dishes that I love there. So you can eat your way through India, like I am.
Note: A plate of dhebra which includes 3 dhebras and a bowl of curd costs Rs 160 at Soam. 
(Feature image source: Youtube/ INDIANCOOKINEVERYDAY)