From Tezaab to Ram Lakhan to Dilwale Dulhaniya Le Jayenge to Kya Kehna and even Prem Ratan Dhan Payo (everybody makes mistakes), we grew up with Anupam Kher influencing a major part of us with his presence on the big screen.
However, some of the off-screen statements made by the actor are so contradictory that it might make you feel like walking into a wall. As indelicate, as it may sound, it is but the truth. Unless you were dawdling in hibernation, there have been many instances where Anupam Kher has conveniently (and neatly) contradicted his own statements. 
Bringing you some, for your daily thrill of 'un-reel' entertainment,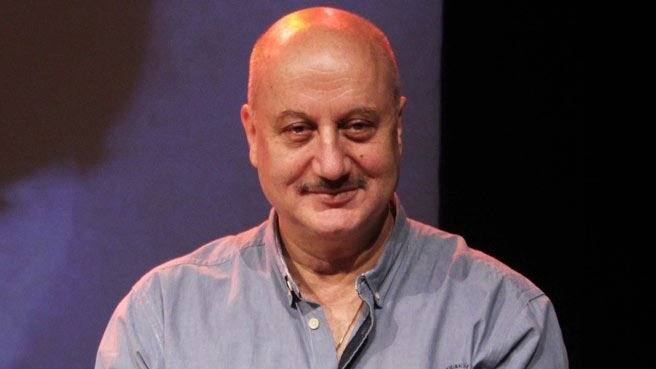 1. After hitting out at Aamir Khan for calling India 'intolerant', the 'tolerance activist' (read: Anupam Kher) mimicked the same sentiments
So much for dialoguebaazi. You know, there's only so much you can stomach at times in life outside Bollywood. After lashing out at Aamir Khan on Twitter and other media platforms, Mr. Kher revealed that he had similar reservations. A matter of convenience maybe, or just Kejriwal-revisted, let's have a look at this 'blast' from his (pretty questionable) past. 
On Twitter, Anupam Kher expressed his joy on receiving the Padma honour and managed to get trolled by users for a tweet he posted six years back that dismissed the awards as inauthentic. Well, the internet never forgets. Too bad on you Mr. Kher, you did not remember internet-etiquettes.
AWARDS in our country have become a mockery of our system.There is NO authenticity left in any one of them.B it films, National or now PADMA

— Anupam Kher (@AnupamPkher) January 26, 2010
Happy, Humbled & Honoured to share that i have been awarded The PADMA BHUSHAN by the Govt. of India. Greatest news of my life:) #JaiHind

— Anupam Kher (@AnupamPkher) January 25, 2016
3. Anupam Kher expressed his disappointment when he was was denied a Visa to attend the Karachi Lit Fest. But when the Pak High Commissioner offered him a visa, he expressed his regret because he already committed those days to something else
Anupam Kher who was denied a Visa, even before he thought of applying for it, expressed his disappointment on Twitter regarding the same. But later when everything got sorted and he received a phone call from the Pak High Commissioner offering him a visa, his social calendar blocked the Karachi Lit Fest. Tit-for-tat is such a fun game, just saying. (I wanted, they didn't, everyone wanted, they didn't, they did, I want, I can't, PHEW!)
Sad to have been denied visa on second time in a year. While around 17 people will participate in the Karachi Literature Festival as guests.

— Anupam Kher (@AnupamPkher) February 2, 2016
I feel bad for all those people who were looking forward to meet me in Pakistan and vice versa. Sorry to them. Hopefully one day …

— Anupam Kher (@AnupamPkher) February 2, 2016
And then, 
Thank you Mr. @abasitpak1 for your call & offering me visa to visit Karachi. I appreciate it. Unfortunately i've given away those dates now.

— Anupam Kher (@AnupamPkher) February 3, 2016
4. Anupam Kher, the face of the 'there-is-NO-intolerance' brigade, threw a rant on Twitter wondering if his visa got denied because he speaks of India being tolerant. Maybe revising what happened at the Tata Lit Fest can give us a clue as to just why his Visa may have been denied
In the Tata Lit Fest, soon after Kher rose to speak, he was booed after he recalled Shobha De's past as an editor of a film magazine "which printed gossip about which film star slept with whom."
You wish he stopped, but sadly enough he went on to saying, "people have an agenda and cannot handle a chai-wala becoming a PM."
So much for (in)tolerance towards everyone who do not want to yap about tolerance! 
Has my visa been denied because I speak about India's rich tradition of tolerance or I am a Kashmiri Pandit who may expose Pak terror nexus?

— Anupam Kher (@AnupamPkher) February 2, 2016
The former being more probable, just suggesting (rationally).
5. Playing the Kashmiri Pandit card, Anupam Kher conveniently forgot he left Kashmir in 1970. Not-one, not-two, but twenty years before the exodus of the Pandits
It is easy to walk into screens and on the stage to receive awards year after year where the spotlight is always on you while thousands of Kashmiri refugees (the real ones) struggle to go back to their own land. 
It is one thing to stand with the Kashmiri Pandits because you strongly feel about the issue, and another to speak up about it '(only)because you are ALSO a Kashmiri Pandit' (who was not really there during the exodus). That's an old trick but then again, it is not easy to resist the temptress called attention!
Quoting Mr. Kher, 
"How is it not possible that even if we go and live in those areas, that some separatist will not tell people or a mob 'go and kill them again'"?
You left Kashmir in 70s, way before Pandits migrated. Then why do you play the KP victim card? #AskAnupam

— Junayd. (@junaidrafiqi) January 30, 2016
6. In a war of words with Shashi Tharoor, the sanskaari actor insulted Tharoor by calling him a 'Congi-chamcha'
In a heated argument with Shashi Tharoor, (of course, on the famous tolerance-intolerance debate. I mean is there anything else people are talking about nowadays?), Anupam Kher did not shy away from insulting Tharoor by calling him a 'Congi-Chamcha'. Calling names must be so much fun – who does not want to relive their juvenile days! 
Here's some (contradicting) gyaan:
"A wise man is superior to any insults which can be put upon him, and the best reply to unseemly behavior is patience and moderation.":)

— Anupam Kher (@AnupamPkher) February 1, 2016
Just, in case you were wondering, not like the smart-witted Tharoor did not write an Opinion Piece on it.  
7. The 'anti-award-wapsi and tolerance activist', who attacked Arundhati Roy for returning her award, felt she is 'not even an Indian'
Anupam Kher, lashed out at Arundhati Roy and expressed his worry (and parallel doubt) about her not being an Indian. Maybe, yes, she does not fit into his image of being an Indian, but according to his tweet, we wonder whose character it reflects on. Maybe, if we are lucky, Mr. Kher might just clarify someday when he wants to take a break from spinning in U-turns.
According to this report, Anupam Kher said, 
"Arundhati Roy has always insulted India whenever she has gone abroad. Whenever I listen to her speeches, I wonder if she even is an Indian in the first place."
And, he also said,
"A person never discloses his/her own character so clearly as when he/she describes another's.":)

— Anupam Kher (@AnupamPkher) January 24, 2016
He was too quick to remark on Nandita Das coming across as a 'Spokesperson of Pakistan', when she just expressed how shocked she was to learn that Pak High Commission did not grant Anupam Kher a visa and suggested there must be some misunderstanding. 
I mean (unless pigs can fly) whoever gets a visa without applying for it! 
The Pak High Commission for India tweeted,
It may be clarified that PHC never received Mr Kher's visa application. So the question of issuing or denying him visa does not arise.

— PakNewDelhi (@Paknewdelhi) February 2, 2016
But then, Anupam Kher happened –
Get busy being tolerant or get busy telling 'Indians' from 'non-Indians/agents'. (Lifegoals)
Above all, what worries us the most is when Chetan Bhagat also starts to make sense.
Apart from current role of apolitical Gov cheerleader, any other negative roles you are doing these days? #AskAnupam

— Sir Chetan Bhagat (@chetan_bhaqat) January 30, 2016
Don't worry too much – relax, this is a parody account. Last we checked, he is still the good old Chetan Bhagat that he always was. (We can only hope for things to not get worse)
Aakhir woh *insert noun (just any will do for the time being)* hi kya, jo khudko contradict na kare.