The result is as clear as the April sky: Pakistan won. India lost.
It might be a bitter pill to swallow, but we live in a nation which has a High Court Judge who believe peahens are impregnated by tears. If we can live with that, we can live with one loss. 
Cricket is a game and one can't always be the winner. The ICC Champions trophy is over. But why is it so hard for some media houses to brush off this defeat?
While it's always important to reflect on the performance of a team to understand where things went wrong, it seems some major TV news channels have found an additional parameter to judge a team's performance – solidarity with soldiers. 
On Monday, a Times Now reporter tracked down Indian all-rounder Hardik Pandya and Yuvraj Singh in London and asked them why didn't Indian cricket players wear black armbands in solidarity with dying soldiers in Jammu and Kashmir, like their colleagues in hockey team had done in their match against Pakistan.   
Here, the timing of question is important. Did the news channel track down any Indian player with the same question when India beat Pakistan in their first match of ICC Champions Trophy in Edgbaston? One might argue Indian hockey team hadn't played Pakistan then but why didn't the channel clamour for such solidarity at the first place at the beginning of the tournament?
Even the Zee News couldn't implement its self-imposed boycott of India-Pakistan cricket match on its networks.  
Surprisingly, when Pandya tells the reporter "I won't be answering. We are not allowed to talk", The Times New anchor blamed BCCI for preventing players to express their feelings!
The channel also ran a prime time program titled 'Kohli & company let our braves down' on the same issue. It also called Indian players "ornamental patriots." Never mind the tickers: No time for salute and soldiers & #Cricketersforgetbraves. 
The channel also dragged in J&K Police in its criticism of Indian cricket team. According to the channel, the decision by J&K police cops to donate one-day's salary for the family of their slain colleagues killed recently, should act as a lesson for Indian cricketers. It looked like the channel felt short of asking players from their match fees for soldiers' welfare fund!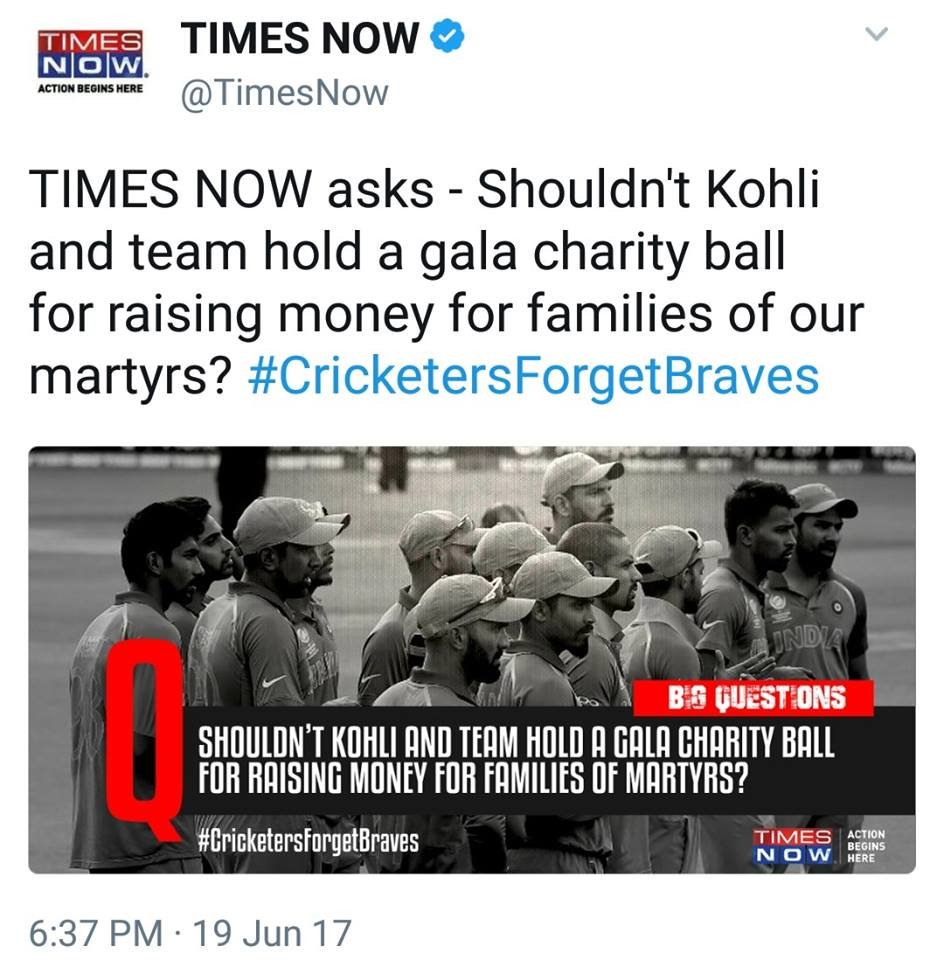 That the Indian team thrashed major bigwigs in the tournament to reach finals of a world championship certainly didn't count for the channel! Who cares! 
Which brings us to the most obvious question. Would the news channel have unleashed its reporters on Indian cricketers if they had defeated Pakistan in the finals? Does losing to Pakistan warrant this kind of witch-hunt? 
While Times Now based its coverage on the alleged lack of solidarity of cricket players with the soldiers, another news channel ABP based blamed a Pakistani journalist's selfies for causing India's loss.  
This pertains to a segment which Hindi news channel ABP news aired on Monday. According to the channel, the reason behind India's loss in Champions trophy final was Pakistani sports journalist Zainab Abbas, who according to ABP news, is a 'panauti' (curse).
Which, we think, is the sanest thing we have heard in this media trial. 
The theory goes like this: whosoever clicks a selfie with Abbass is bound to lose his game! Yes. To make its point, the channel showed Abbas's selfies with Indian skipper Virat Kohli, Yuvraj Singh and Rohit Sharma. It also showed Abbas's selfie with South African skipper AB de Villiers and Sri Lankan players – all of them did lose. 
Interestingly, prior to the match, the news channel's reporter interviewed Abbas for her "unique" selfie-way to ensure Pakistan's win. 
Such was the belief of the ABP's reporter in the theory that he clearly told her he won't click any selfie with Abbas.