Few football-crazy fans today may be aware that India was once called the 'Brazil of Asia'. Or that the competition between East Bengal and Mohun Bagan is ranked among the top fifty club rivalries in the world. Brilliant players, world-class coaches and passionate fans-including political leaders and film celebrities-once combined to make India a football-worshipping nation. A major source of sports entertainment in India, football has thrived in several places apart from Kolkata. The game has also been inextricably linked to community identity, shrewdly used towards political ends and contributed richly to our cultural heritage.
In Barefoot to Boots, renowned journalist Novy Kapadia reveals Indian football's glorious legacy through riveting descriptions of on-field action, stories of memorable matches, lively anecdotes, and exclusive conversations with legendary players and officials. Having witnessed the evolution of the sport for over fifty years, Novy charts its eventful journey up to the present, to enthral old and new fans alike. The book will offer invaluable insight into the future of the game as the Indian Super League dramatically changes the face of domestic football and India hosts the FIFA U-17 World Cup for the first time.
Here's an excerpt from the book
Foreign Academies
For nearly a decade now, foreign clubs have been scouting for young hopefuls in India. Arsenal, in collaboration with Tata Tea, has organized inter-school tournaments in different metropolitan cities to scout for talent since 2007. The chosen players are taken to Arsenal's academy for specialized coaching. Mark Seagraves, who was associated with Arsenal Soccer Schools, then branched off on his own and set up an academy with an Indian business partner to train young players in Goa. Seagraves has three decades of playing and coaching experience with top English clubs. His Indian business partner is Sushila Tiwari, a young entrepreneur with expertise in business development, marketing and advertising.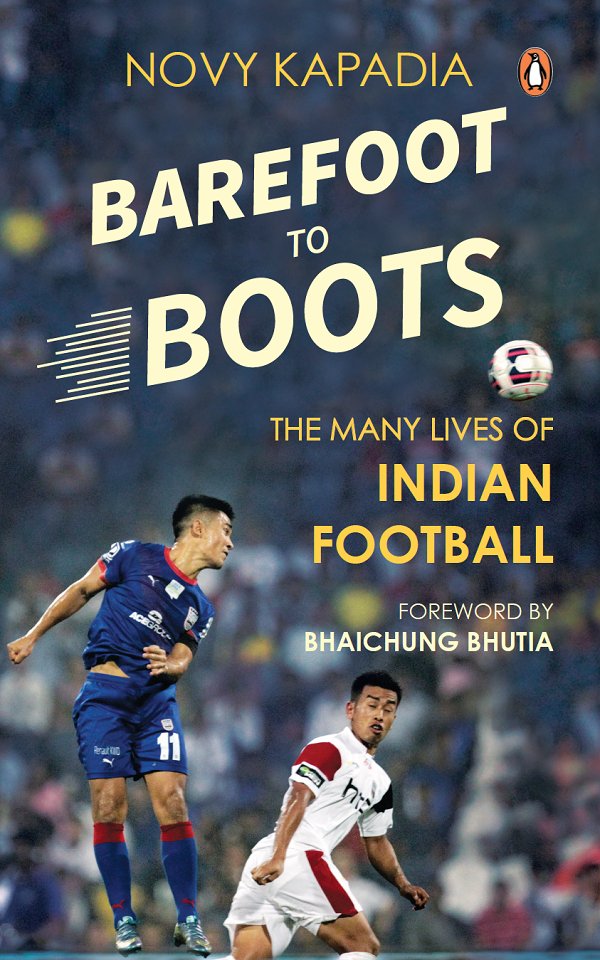 Following Arsenal's example, many renowned foreign clubs like Barcelona, Liverpool, Everton, Crystal Palace, Bayern Munich, Sporting Lisbon and Celtic have started academies or training schools or begun selecting players for training in their academies.
New Initiatives by the AIFF
In August 2016, three U-19 players of the AIFF Academy, Anirudh Thapa (Dehradun), Prosenjit Chakraborty (Bengal) and Jerry Lalrinzuala (Mizoram) were selected to train with French club FC Metz. 'The three boys already have international experience and we hope to develop them into better players. We want to give them an opportunity to train and see European football from close quarters,' Denis Schaeffer, the director of FC Metz had said.
The long-term preparation of age-group national teams is now a regular feature in Indian football and can lead to more confident players. For the U-17 World Cup to be held in India for the first time, in October 2017, a squad of talented youngsters including eleven from Manipur have been training for two years.
The AIFF has left no stone unturned to prepare them for the event. Former chief coach Nicolai Adams had chalked out an extensive training schedule. On exposure trips to Dubai, South Africa, Brazil and Europe; as well as training camps, tournaments, kits and diet; the AIFF spent nearly Rs 8 crore in two years since Adams took over in July 2015.
Tournament experience was provided in 2016. In the AIFF Youth Cup in May 2016, they competed against quality teams like South Korea and the US. Pitted in the 'group of death' in the AFC U-16 Championships in September 2016, alongside the UAE, Saudi Arabia and Iran, India lost narrowly to Saudi Arabia, and held UAE to a thrilling draw, but lost 0-3 to Iran and failed to reach the semi-finals.
Adams's commitment was evident as he did not return home to attend his father's funeral during the Asian U-16 championships. However, in February 2017, Adams and the AIFF agreed to part ways by mutual consent. There were over a hundred applications for the vacant post including famous former international from England, Stuart Pearce. However, the AIFF finally opted for the sixty-three- year-old Portuguese coach Luís Norton de Matos who has coached the Benfica B team and the national team of Guinea-Bissau from 2010–12, and was strongly recommended by José Mourinho, the manager of Manchester United. India's U-17 team has good potential and is playing possession football, relying on speed and building from the back.
In the second decade of the twenty-first century, academies and coaching centres for football are flourishing in India, along with visits to foreign countries by age-group teams. Corporate sponsorship too is increasing. However, long-term objectives and patience are required. Owners seem to think that success and crowd support can be obtained instantaneously.
A classic example is Pride Sports of Madhya Pradesh. They joined the I-League second division with much fanfare in January 2017 but did not fare well and were bottom of the group before the penultimate round of matches took place in the last week of February 2017. Disappointed at the mediocre results, the club owners left their outfit in the lurch and did not pay their players and the Portuguese foreign coach Paulo Pedro.
'Barefoot to Boots' is published by Penguin Random House India. The book is available in stores. 
Feature image source: Penguin Random House India