(Warning: Disturbing language in the article)
Did you write to Telecom Regulatory Authority of India for showing support to Net Neutrality?
Caution: Your email id is now public and is available to just about anyone.
Amid the ragging debate about ensuring Net Neutrality in the country, Telecom Regulatory Authority of India has made public email-ids of over a million people who dropped support emails in favour of Net Neutrality in the TRAI's inbox.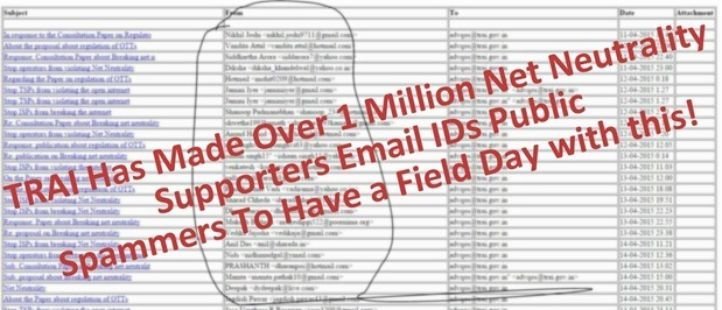 While the concerns of adhering to transparent functioning might have led the body to disclose the email addresses, the move is being seen as a serious breach of privacy. The detailed email id list is also seen as a gold mine for spammers and business houses to flood your inbox with ads, promotions, updates and all that what you don't want to see in your inbox.
The list is published on its website and has emails categorized by date; the data is available for all dates between March 27 and April 24, except April 14 and 15. The document can also be searched via keywords, Times of India reports.
On March 27, TRAI had put up a consultation paper on its website asking users to give their views on Net Neutrality in India. With deadline for responses ending on April 24, over a million Internet users across India had sent their responses in support of treating Internet access equally across all platforms.
The regulatory body has divided the comments into three blocks — 'comments from the service providers', 'comments from the service providers' association' and 'comments from other stakeholders' (this includes individuals, organizations, consulting firms etc).
Meanwhile, TRAI's website is down since the disclosure of comments. Apparently disturbed with public release of data, a hacker group Anonymous India brought down Indian telecom regulator TRAI's official website for sometime.
The group had also warned that the TRAI website will be hacked soon.
This looks like, while netizens might have been successful in pushing for Net Neutrality, TRAI has failed them by publicly disclosing their contact details.