"You are getting liquor sold like this" "No sir, I am not getting liquor sold. This is a wrong thing to say. You cannot humiliate like this." "Go from here. Get out from here! Leave!"
"Why? I will not leave. What is this?"
"You will not leave? Then I'll leave." This was the heated exchange of words between Haryana health minister Anil Vij and IPS officer Sangeeta Rani Kalia who was the superintendent of police of Fatehabad till this morning.
By mid-day the news had emerged that Kalia was to be removed from her post and her future posting will be announced shortly.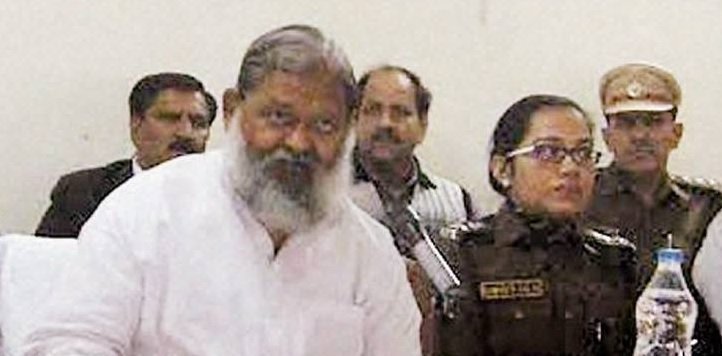 Official sources said government has decided to transfer Kalia from her current post as Fatehabad SP, adding formal orders will be issued soon.
Chief Minister Manohar Lal Khattar on Saturday told reporters in Karnal that he had taken cognisance of the matter and it will be dealt with appropriately.
Who is Sangeeta Kalia?
For Kalia, the transfer means she will no longer be the superintendent of police of the area that she grew up in.
The daughter of a painter with the police, Kalia had told the Tribune after taking charge that she had been inspired by the television show Udaan to join the police force.
"Also, when my father used to tell me that IPS officers were like demi-gods, my resolve to become one grew stronger," she told the newspaper.
Before she joined the Indian Police Service, Kalia did her masters in Economics and wrote the UPSC examinations three times before she finally made it into the Indian Police Service. She worked as an assistant professor as she studied to ensure that she got through the IPS cadre.
In an interview with Livemint in 2012 , Kalia had said that she believes there are two kinds of people in the world : those who get tired of their dreams when they don't come true and others who are driven by failure
"Maro-pado, magar karna hai (do or die) — that's my motto," she told the newspaper.
Since this incident she has not released any official statement.
Kalia gets support
The issue drew sharp reactions from various quarters, with opposition parties slamming Vij for his comments. Chairman of National Commission for Scheduled Castes, PL Punia, demanded that the minister should be sacked.
Former Chief Minister Bhupinder Singh Hooda said that the minister should have maintained decorum while speaking to a lady officer.
Congress leader Manish Tewari said the minister acted in a "crude manner.""For the simple reason, you don't behave with a lady in this manner irrespective of whether she is an officer or not. There is certain decorum which you must observe," the Congress leader said.
Even on Twitter, many came out in praise of the IPS official for standing her ground:
Very few IPS officers usually have spine like Fatehabad SP Sangeeta Kalia.

— Bemused (@make_itpossible) November 28, 2015
But then there were some who questioned whether she had gone too far
I am from Haryana & I can tell you, transfer of Fatehabad SP Sangeeta Kalia is right decision. (1/n)

— Office Of DG (@OfficeOfDG) November 28, 2015
It is clear from the footage that Haryana Min Anil Vij pulled up Fatehabad SP Sangeeta Kalia for failing in her responsibilities. 2/n

— Priti Gandhi (@MrsGandhi) November 28, 2015
(with inputs from PTI)