A truck ploughed into a crowd in the French resort of Nice Thursday, leaving at least 75 dead and scores injured in an attack after a Bastille Day fireworks display, officials said.
The driver of the truck was shot dead after barrelling two kilometres (1.3 miles) through the crowd on the palm-lined Promenade des Anglais, sending hundreds fleeing in terror and leaving the area strewn with bodies.
"An individual drove a truck into the crowd. He was killed by police," said interior ministry spokesman Pierre-Henry Brandet.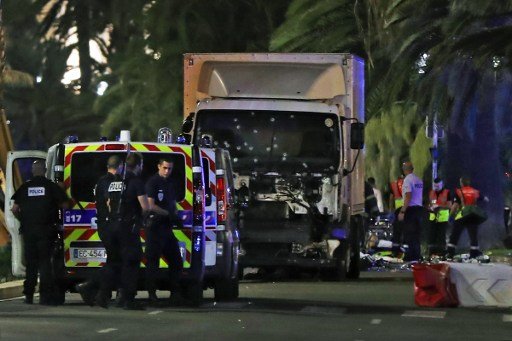 A photograph showed the front of the truck riddled with bullet holes and badly damaged, with burst tyres.
US President Barack Obama condemned "what appears to be a horrific terrorist attack", although no group had claimed responsibility for the incident.
Robert Holloway, an AFP reporter who witnessed the white truck driving at speed onto the seaside road, described scenes of "absolute chaos".
"We saw people hit and bits of debris flying around. I had to protect my face from flying debris," he said.
A lawmaker for the Alpes-Maritime region, Eric Ciotti, said at least 75 people had been killed and another 15 were in a "critical" condition.
Hours after the attack, dozens of bodies lay on the ground covered in white sheets.
Prosecutors said the probe would be handled by anti-terrorist investigators.
"Investigations are currently under way to establish if the individual acted alone or if he had accomplices who might have fled," the interior ministry spokesman said, but he denied reports that a hostage-taking incident had taken place.
President Francois Hollande's office said he would preside over a meeting of the country's defence and security chiefs on Friday.
'People were tripping over'
The bloodshed comes eight months after Islamic State jihadist attacks on Paris nightspots left 130 people dead, dealing a hard blow to tourism in one of the world's top destinations.
Islamic State has repeatedly singled out France as a prime target, and the country has been under a state of emergency ever since the November 13 Paris attacks.
The Mediterranean city of Nice, with its pebble beaches and clear blue water, has been a magnet for sun-seekers and the jetset since the 19th century.
An Australian citizen, Emily Watkins who was caught up in the chaos told the Australian Broadcasting Corporation that while she saw the truck, she did not realise what had happened.
"There was a lot of screams coming from ahead of us where the truck was, and people just running towards us and without really knowing what was going on we turned and ran as well.
"People were tripping over and trying to get into hotel lobbies and restaurants or car parks or anywhere they could to get away from the street."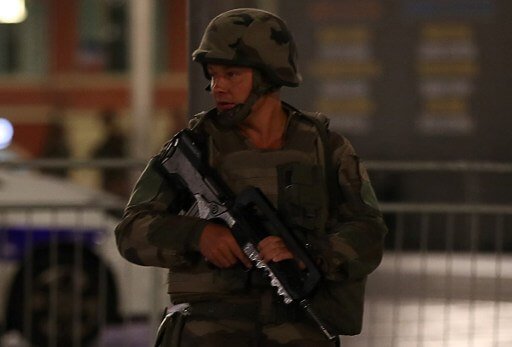 The assault came just hours after France announced that a state of emergency declared after last November's attacks would come to an end later this month.
Hollande said the decree would not be renewed beyond July 26, because a law permanently bolstering security in France was adopted in May.
'Stay in your homes'
Thursday's bloodshed came after a day of revelry as France celebrated its national day, Bastille Day, which began with military pomp and ceremony as the pride of its armed forces, tanks and fighter jets swooped down the Champs Elysees avenue.
The holiday typically ends with spectacular fireworks over the Eiffel Tower in Paris, as well as cities around the country.
However celebrations were quickly overshadowed.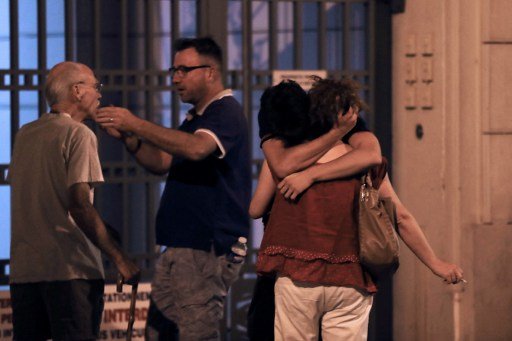 Images on television showed the Promenade des Anglais sealed off, crawling with police and ambulances as authorities from the local Alpes-Maritimes prefecture urged residents to stay indoors.
"The driver of a van appears to have killed dozens. Stay in your homes for now. More info to follow," said Nice Mayor Christian Estrosi.
Over the past week France had been breathing a sigh of relief after successfully hosting the month-long Euro 2016 football championship, which passed off without incident.
US Republican presidential hopeful Donald Trump postponed announcing his pick for running mate because of the events in France.
"In light of the horrible attack in Nice, France, I have postponed tomorrow's news conference concerning my Vice Presidential announcement" Trump posted on Twitter Thursday.