Twin Taliban blasts struck near the Afghan parliament in Kabul Tuesday, killing at least 21 people and wounding 45 others in the rush-hour attack that shattered a relative lull in violence in the capital.
Taliban insurgents immediately claimed responsibility for the bombings, which struck as employees were exiting the parliament complex.
#update Suicide #bombings rocks the capital city of #Kabul , #Taliban took the responsibility#Afghanistan #AlQaeda #isis #Kabulexplosion pic.twitter.com/bSnLMmMOJM

— ASME LNMIIT (@asme_lnmiit) January 10, 2017
"The first explosion happened outside the parliament… a number of innocent workers were killed and wounded. It was caused by a suicide bomber on foot," Zabi, an injured parliament security guard, told AFP.
"The second one was a car bomb. It was parked on the other side of the road and flung me back when it detonated," he said.
The blasts left 21 people dead and 45 others wounded, most of them civilians including parliament employees, a security official told AFP, requesting anonymity.
Another security official said the explosions had left "dozens of people dead".
Around 70 wounded people had been rushed to hospitals, a health ministry spokesman told AFP.
The blasts went off near a parliament annexe, which houses offices of some lawmakers.
But Taliban spokesman Zabihullah Mujahid said the explosions targeted a vehicle belonging to Afghanistan's main intelligence agency.
The Taliban are pressing ahead with nationwide attacks despite the onset of winter, when fighting usually ebbs, as international efforts to jumpstart peace talks falter.
Repeated bids to launch peace negotiations with the Taliban have failed, with a fierce new fighting season expected to kick off in the spring.
Earlier on Tuesday, a suicide bomber blew himself up in Lashkar Gah, the capital of the volatile southern province of Helmand, killing seven people, the local police chief said.
The attacks underline concerns over growing insecurity in Afghanistan, where around 10,000 US troops are assisting struggling Afghan forces to combat a resilient Taliban insurgency along with Al-Qaeda and Islamic State militants.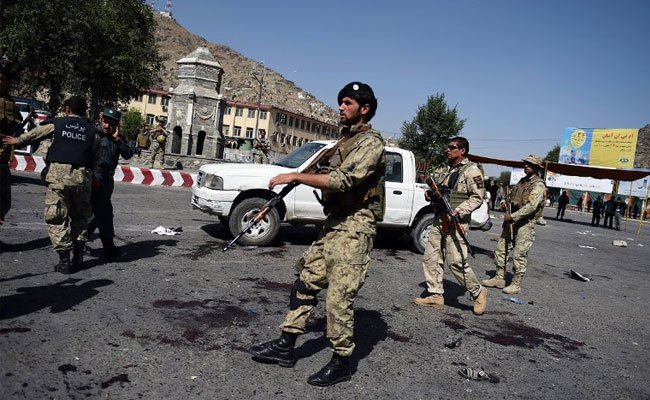 Afghanistan last week welcomed the Pentagon's decision to deploy some 300 US Marines to Helmand, where American forces engaged in heated combat until their mission ended in 2014.
The Marines will head to the poppy-growing province this spring to assist a NATO-led mission to train Afghan forces, in the latest sign that foreign forces are increasingly being drawn back into the worsening conflict.
Afghanistan got scarcely a passing mention in the bitterly contested US presidential election — even though the situation in the conflict-torn country will be an urgent matter for the new president.
President-elect Donald Trump has given few details on his expected foreign policy, with even fewer specifics on how he will tackle the war in Afghanistan.
Feature Image Source: AFP