It was a different sort of "aerial survey" conducted by Madhya Pradesh Chief Minister Shivraj Singh Chouhan, who was carried over ankle-deep water over by policemen and officials in the Panna district of the state on Sunday.
Chouhan was undertaking an inspection of flood-hit districts in the state, where there have been fifteen deaths in rain-related mishaps over the past couple of days. 
The image shows the chief minister sitting on a make-shift chair created by two policemen, with Chouhan wrapping his arms around their shoulders for additional support. He managed to keep his shoes dry even as the police officials and other officials waded through a stream. 
NDTV quoted unnamed sources in the government as saying that the district collector and policemen "couldn't risk getting the chief minister hurt or being bitten snakes" due to which they had insisted on carrying him.
Oh and it doesn't end there. One more picture emerged around the same time where the chief minister is seen walking barefooted on a muddy surface with a security personnel carrying his shoes for him. Because he had to keep his pants from getting muddied.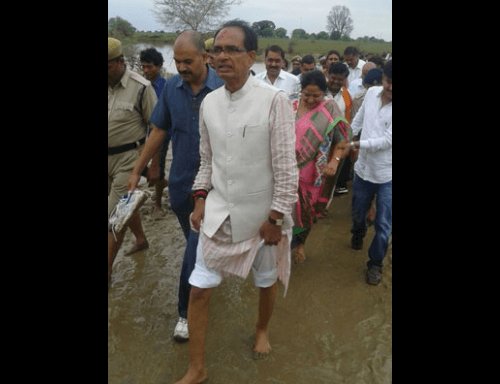 A senior officer in the chief minister's office speaking to Hindustan Times said Chouhan had trouble walking after his foot hit a hard object in the mud. The chief minister had reportedly insisted that he would carry his own footwear by the security personnel carried it anyway.
Twitter was unsparing of Chouhan, who was at the receiving of some serious trolling:
(Feature image source: Twitter)