The authenticity of an educational degree has always been a bone of contention in India. Our very own political leaders are known for questioning each other's academic credentials to score political points. The importance of a 'valid' educational degree cannot be thus diminished.
According to the University Grants Commission (UGC), India has 707 recognised universities. And there are the fake ones. Fake universities with no recognition from certified institutions have been flourishing in India, fleecing students and parents alike.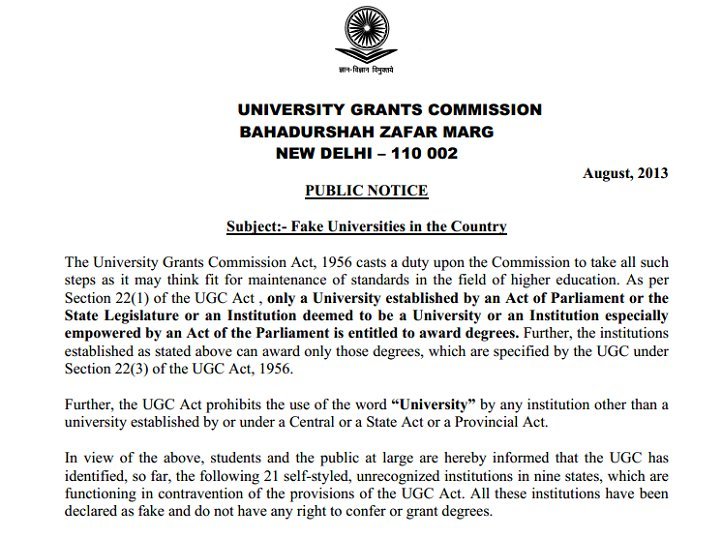 Source : Glinkzone
Union Human Resource (HRD) Minister, Smriti Irani, in a written reply in Rajya Sabha on April 28, 2015, Tuesday, said that the UGC has initiated several actions against the fake universities which are in contravention or violation of the UGC Act, 1956. The HRD Minister, Smriti Irani, has also said that actions have been taken against such institutions. Various reminders have been sent to different state governments, UT's and local governments about such institutions. Numerous cases have been filed by the UGC in the interest of students.
The UGC clearly mentions a state wise list of fake universities as on May 2014 on its website which are as follows :
Maharashtra : Raja Arabic University , Nagpur
Bihar : Maithili University/Vishwavidyalaya , Darbhanga, Bihar
Delhi : Commercial University Ltd. , Daryaganj , United Nations University , Vocational University , ADR-Centric Juridical University , Indian Institute of Science and Engineering
Karnataka: Badaganvi Sarkar World Open University Education Society , Gokak, Belgaum
Kerala: St. John's University , Kishanattam
Madhya Pradesh: Keserwani Vidyapith , Jabalpur
Tamil Nadu: DDB Sanskrit University , Putur, Trichi, Tamil Nadu
West Bengal: Indian Institute of Alternative Medicine , Kolkata
Uttar Pradesh:
Varanaseya Sanskrit Vishwavidyalaya , Varanasi / Jagatpuri, Delhi; Mahila Gram Vidyapith Allahabad, Gandhi Hindi Vidyapith , Prayag, National University of Electro Complex Homeopathy , Kanpur, Netaji Subhash Chandra Bose University (Open University) , Achaltal, Aligarh, Uttar Pradesh Vishwavidyalaya , Kosi Kalan, Mathura, Maharana Pratap Shiksha Niketan Vishwavidyalaya , Pratapgarh, Indraprastha Shiksha Parishad , Institutional Area, Khoda, Makanpur, Noida Phase- II, Gurukul Vishwavidyalaya ,Vrindavan, Bhartiya Shiksha Parishad , Lucknow, UP (the matter is subjudice)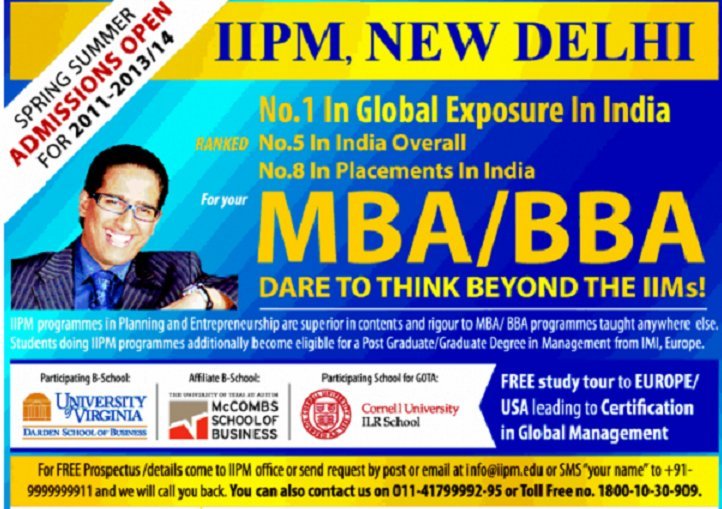 An advertisement of IIPM. Source: Morung
Arindam Chaudhuri's Indian Institute of Planning and Management (IIPM) is among one such institute. UGC had posted on its website in July, 2012 about IIPM being unrecognised and its degrees being invalid. IIPM, on the other hand, had accused UGC of indulging in corruption to purposely hurt its business interests.
Such institutions have been in place for years despite UGC's repeated warnings. A UGC official claimed, "We have no power to take any action on these centres. The police can take action only if someone lodges a complaint with them," thus reducing the scope to crack down on the fraudulent practices. Some institutes dupe the public with grand names such as the 'Indian Institute of Science and Engineering, New Delhi', making it look no less than a government run 'certified' organisation.
It's time for UGC to do all the required checks and balances with an iron hand so that fraudulent practices can be stopped.