Uggie, the energetic Jack Russell terrier who captured hearts when he appeared in the Oscar-winning silent movie The Artist , has died in Los Angeles at the age of 13, his owner, Omar von Muller, said on Wednesday August 12.
The white and tan dog, who charmed audiences and the media in red carpet appearances to promote the movie, had a prostate tumor and was put to sleep last week.
We regret to inform to all our friends, family and Uggie's fans that our beloved boy has passed away. We were not…

Posted by Omar von Muller on Tuesday, August 11, 2015
The presence of Uggie had added a special essence in Michel Hazanavicius's film The Artist alongside other cast and crew members like Jean Dujardin and Bérénice Bejo. Uggie won the Palm Dog Award in 2011 at the Cannes Film Festival. His stunts and tricks led to numerous television appearances and in 2012 he became the first dog to have his prints cemented outside Grauman's Chinese Theatre in Hollywood, alongside acting legends such as Elizabeth Taylor, John Wayne and Judy Garland.
As per reports of CNN , Jean Dujardin had introduced Uggie on stage at the 2012 Golden Globes. Fans of Uggie conducted an unsuccessful campaign to have him nominated for an Oscar in his own right.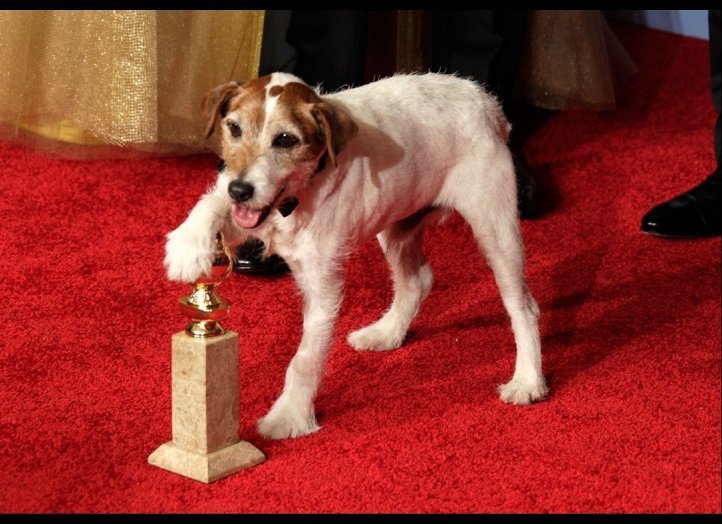 As reported by Variety , British Academy of Film and Television Awards (BAFTA) had issued in a statement, "That as he is not a human being and as his unique motivation as an actor was sausages, Uggie is not qualified to compete for the BAFTA in this category".
Here is a glimpse of Uggie on the stage when he went to receive his award:
Source: slvtnplt
Another glimpse of Uggie giving his 'bytes' after the success of The Artist :
Source: TheCelebFactory
Uggie, who also appeared in the movies Water for Elephants and The Campaign , retired in 2012.
Affectueuses pensées pour mon partenaire hors du commun. R.I.P Uggie…
(With inputs from Reuters)