It's certainly not easy to contain your excitement when you get hold of a fish as big as this! 
Dubbed as the 'big aquatic catch', this giant fish caught by the villagers of Enolo village in Uttarakhand's Almora district was the talk of the entire area on Monday.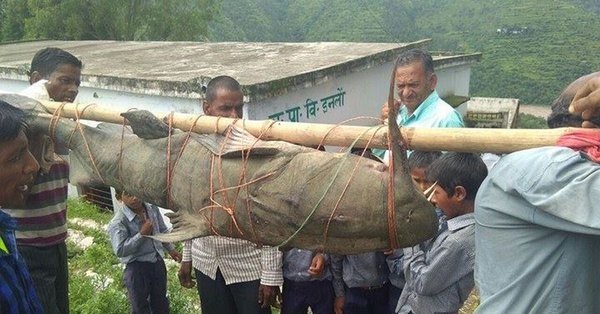 And why not? It was for the first time that such a huge cat fish was caught from the river. 
Excited villagers happily posed with the huge catch while others clicked selfies and made videos. After two men paraded it around on a bamboo pole, they decided to feast on their big prize.
Meanwhile, as the pictures and videos made their way to the social media, the forest department officials also got alerted and a team of forest officials was swiftly sent to the village to investigate the case. 
"The fish could not be weighed as the villagers ate it. Based on people's description and the video, we think it will be around 125 kg," Almora divisional forest officer SR Prajapati told Hindustan Times.
However,  as the officers further probed the matter, the excitement of villagers fizzled out soon. 
Turns out that prior permission to catch fish from the Ram Ganga river was required which was probably not taken by the villagers. 
Another big dampener was that the fish they hunted belonged to a protected specie. Forest officials ascertained that gonch, also known as the 'Devil Catfish', is a protected specie under schedule I of the Wildlife Protection Act, 1972. (showing that it requires utmost protection)
The International Union for Conservation of Nature also has put this "near-threatened" species on its red list. Their population has been on the decline and are rarely spotted in the rivers nowadays.
Besides that, the catfish plays a pivotal role in the Ramganga ecosystem, the lifeline of Corbett. 
On Tuesday, the forest department in Uttarakhand's Almora region, filed an FIR against villagers in Enolo from Almora district for allegedly killing a 'near-threatened species', The Times Of India reported.
Villagers have denied hunting the fish, but a 44-second video has allegedly emerged which shows few people from Enolo being involved in the incident.
Four of the accused persons have been identified and a team of forest officials and police officials has been sent to the village to ascertain the identity of others involved, Prajapati said.
Since killing of protected species is prohibited, the offenders will be arrested, he added. Anybody found guilty of violating the Wildlife Protection Act can serve a jail term of up to seven years.