Seems like someone is mighty pissed with Pakistan Prime Minister Nawaz Sharif. That's why an anonymous user has put him on sale for 66,200 pounds (Rs 62 lakh approximately) on British e-commerce website eBay describing him as 'Useless Pakistani PM Nawaz Sharif'. And we are not kidding!
Interestingly, there a lot of excited buyers as well who have expressed interest in bidding on him.The Pakistani premier has so far 100 bids made on him and there are still six days to go.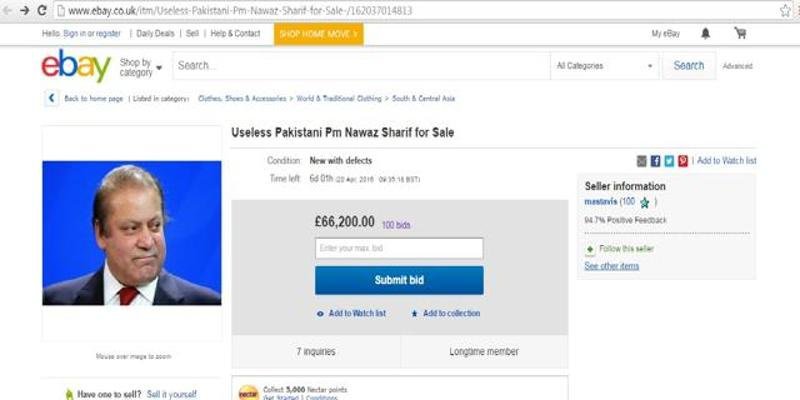 Have a look at the harsh description and the interesting choice of words:
"Used Pakistani Prime Minister Nawaz Sharif for sale. No longer needed. Needs a bit of TLC. No box or instructions. Buyer must collect. Seller not prepared to touch item. Pick up from central London today, address will be supplied on completion of sale. Buyer must arrange own transport."
It further adds his 'properties'
"Not in working condition. It never worked. It was faulty and corrupt by birth. The whole range of the product and its family is Genetically defected and corrupt. Take it away and rid us of this disease."
Oh there is a Buy one, get one free policy too!
"Buy this and a similar item in smaller pack Mr Sharif will be given for free with it and that item is good with drama and passionate speeches but no use too."
And the concluding lines are even more hard-hitting
"Usually found in England, America and turkey more than in Pakistan. All business, properties and family in London but still wants to be a prime minister in Pakistan. Currently in London consulting an ex corrupt president of Pakistan on how to save his corrupt assets and save his ass."
No return policy
"Anyone placing bid for the item certainly needs be careful, as once purchased the buyer will not be able to return it."
As for post, it's free. There's just one caution: 'May not post to India '. 
Well, this is not the first time that such an offer has been made. A few days ago, a similar listing had been made for British PM David Cameron, which seems to have been taken down since.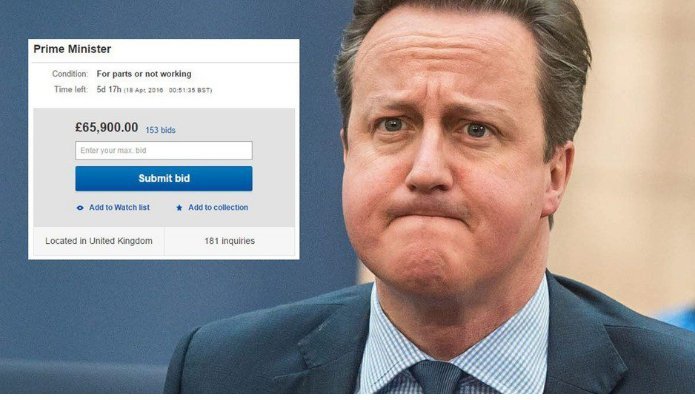 The Pakistani Prime Minister has recently attracted controversy after his family's name featured in the Panama Papers leaks and the scandal revealed that members of his family were found to have off-shore companies. Coincidentally. Cameron's name was similarly dragged in the Panama controversy.