Former BJP leader and ex-Union Minister M Venkaiah Naidu was on Friday sworn in as the 15th vice president of India. President Ram Nath Kovind administered the oath of office and secrecy to Naidu, 68, at a ceremony in the Durbar Hall of Rashtrapati Bhawan.
Soon after he was administered oath as the 15th Vice President of India, Naidu took over as the Chairman of the Upper House.
Prime Minister Narendra Modi said it is a tribute to the Indian democracy that people rise from humble and rural backgrounds to the highest constitutional positions, as he joined members of Rajya sabha in welcoming M Venkaiah Naidu as the Chairman of the House.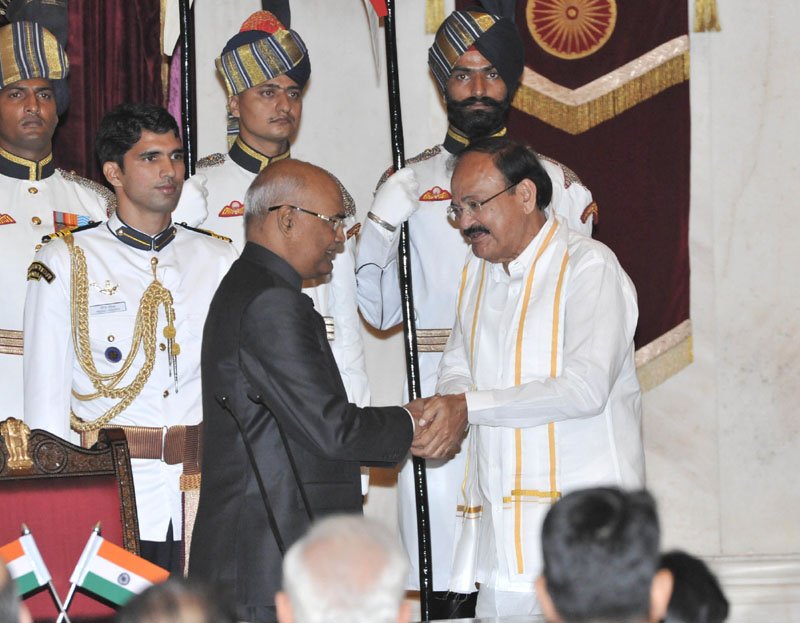 Naidu, he said, is the first Vice President to be born in independent India. Besides having long experience, he is well-versed with the intricacies of parliamentary procedures and the functioning of the House, Modi said.
A son of a farmer, Naidu joined the student movement on a call given by J P Narayan and has since risen from the ranks to lead the second highest constitutional position in the country, he said, adding that issues concerning farmers and the poor have always been dear to his heart.
"All constitutional positions today are occupied by poor or sons of farmers or commoners," he said referring to President Ram Nath Kovind also coming from a similar background.
Recalling his long association with the new Vice President, the Prime Minister said Naidu has always been sensitive to the needs of rural areas, poor and farmers and his inputs on these issues have been of immense value.
Even as a minister for urban development, he gave more inputs on rural and farmer issues, Modi said, adding that Naidu was the one who gave the Pradhan Mantri Gramin Sadak Yojana – a scheme most sought after by the MPs for development of their constituencies.
He is also possibly the only Vice President who has spent so many years of his life amongst the people, he said.
Modi said Naidu was known for coining acronyms and since he is one who has spent so many years in the Rajya Sabha, there might be an initial discomfort, similar to the one faced by lawyers when one of them becomes a judge.
He expressed confidence that Naidu would rise to the occasion and his conduct would win him accolades from opposition benches as well.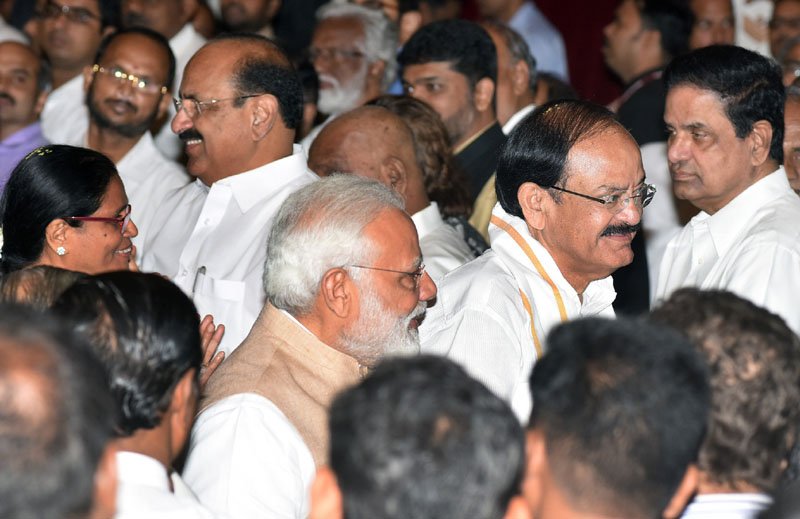 Naidu was born in Chavatapalem in the Nellore district of Andhra Pradesh on July 1, 1949, and is the second Vice-president from Andhra Pradesh. A swayamsevak in the Rashtriya Swayamsevak Sangh (RSS) and Akhil Bharatiya Vidyarthi Parishad (ABVP) in during his college days, he entered politics with his participation in 'Jai Andhra Movement'.
 He has won assembly elections twice from Andhra Pradesh and has been a Rajya Sabha member three times. He was serving as the Minister of Housing and Urban Poverty Alleviation and Information and Broadcasting in incumbent Narendra Modi government.
(With inputs from PTI)
(Feature image source: PIB)