The recent incident of a suicide committed very publicly by a farmer in Delhi has reignited the never ending issue of the plight of farmers in India. The farmer from Rajasthan, Gajendra Singh committed suicide by hanging from a tree branch at a rally organised by the Aam Aadmi Party (AAP) at Jantar Mantar, home to protesters all the year round.
The string of actions and reactions that have followed have been disastrous and depressing, in equal measures.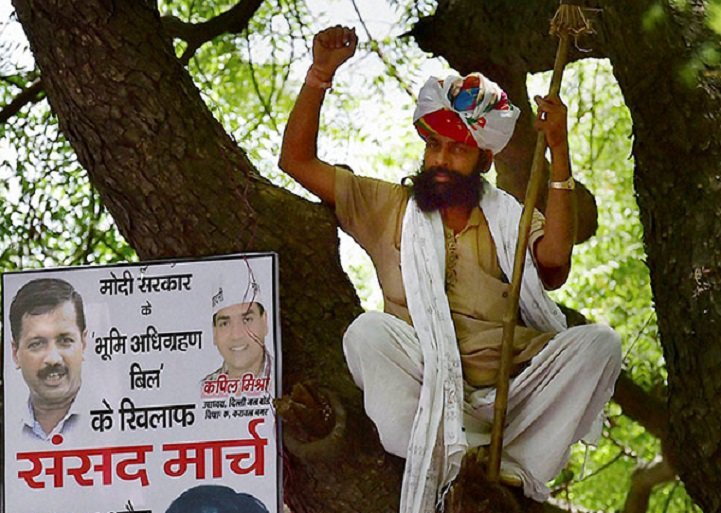 Source : Hindustan Times
AAP, which holds the distinction of performing street theatrics as is, had organised the rally to 'protest' against the Modi government's Land Acquisition Bill.
But the farmer's suicide at the venue found AAP members reeling from an unexpected turn of events. AAP leaders, including its chief, Arvind Kejriwal have been accused of continuing with their speeches even after the farmer was pronounced dead.
Apologies and the expression of regret from its leaders have been outright rejected by the people. AAP spokesperson Ashutosh's crying for forgiveness from the farmer's daughter on a television news channel, had no takers. His remorse has been labelled a cheap stunt.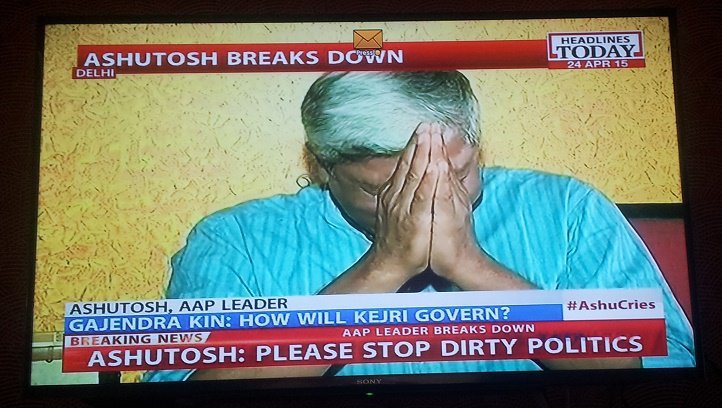 Source : TV Grab
Delhi Police officials who were there at the venue have been accused of being mute spectators to the incident. AAP leaders have repeatedly maintained that police could have stopped the farmer from committing the suicide.
Other political parties, including the Congress and the BJP, have been accused of scoring political points over the issue, by directly blaming AAP. The media has been accused of being highly insensitive and directionless throughout the coverage of this suicide.
Why must a suicide be 'covered' at all? Journalists fell to substandard levels while questioning the farmer's daughter. "W hat should have been done when your father climbed the tree?", "Do you think his death is being politicised?" were some of the questions asked to the child.
Sadly, the issue of farmer suicides has never really been addressed in India. According to National Crime Record Bureau, 2, 96, 466 farmers have committed suicide between the year 1995 and 2013. It has also been said that this issue resulted in such a hue and cry only because it happened in Delhi. The Vidarbha district in Maharashtra has countless such cases. The farmers of Bundelkhand in Uttar Pradesh fare no better.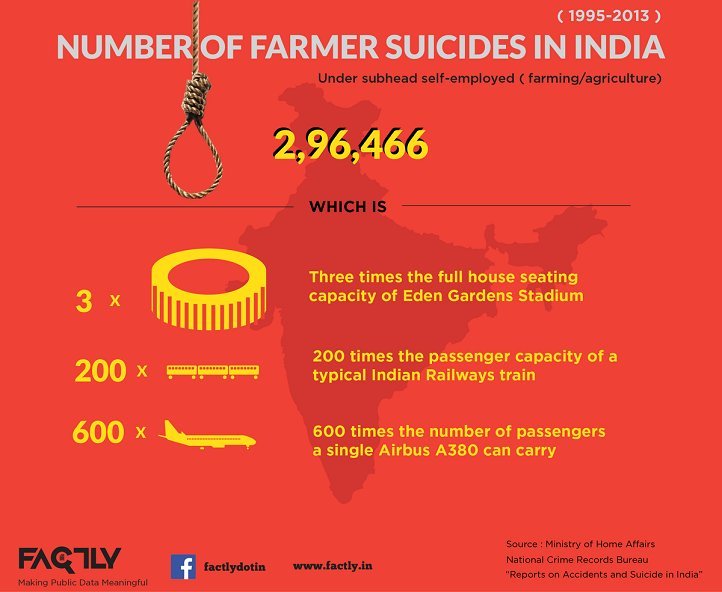 Source : Factly.in
More accusations may follow, the blame game will go on. Political leaders, including the Union Home Minister Rajnath Singh and Congress leader Mallikarjun Kharge have battled over the issue in Parliament. A demand for a judicial probe has also been made.
However, the real issue continues to remain inadequately addressed.
Feature image source : The Financial Express
Read more: