Recently, a photograph showing four-five cops beating an elderly woman in Madhya Pradesh, carried by a Hindi daily, had gone viral.
While many initially questioned its veracity, the image sparked outrage on social media for the sheer brutality of the police.
Here is the image: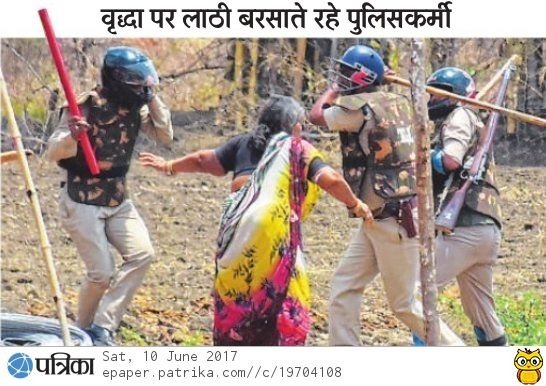 The act was also criticised by Congress Vice-President Rahul Gandhi in a tweet:
Many speculated that the image was photoshopped:
However, multiple reports have now emerged that the image is for real and the cops indeed beat up an 80-year-old woman in Madhya Pradesh, even ending up breaking her bones.
As per a report by DNA, Kamlabai Mewade, 80, is a resident of Phanda Kala. She says that amid the farmers' agitation in Madhya Pradesh, she was dragged out of her home by the police and thrashed. 
The reason? The cops accused her of hiding stone pelters inside her house.
"Our house is on a farm behind Phanda petrol pump. Chased by police, some protesters ran through the courtyard of my house and into the farms behind us, but neither I nor any member of my family was pelting stones at police. We were all sitting inside the house since we knew that the situation in the village was tense," TOI quoted her as saying.
She told the newspaper that the cops shouted 'Buddhi pathrav karva rahi hai, aag lagwa rahi hai (old woman, you are provoking stone pelting and torching of vehicles)'.
As per reports, the cops took her and six other members of her family to Khajuri police station and arrested her grandsons. The woman is currently nursing a fractured arm.
Now that reports have confirmed that the brutal incident did happen, social media has been condemning it, blaming the state government:
In MP, cops break 80-year-old woman's bones https://t.co/B5KI8HY9ge Unimaginable monstrosity! Cops must face consequences for their actions.

— Sreemoy Talukdar (@sreemoytalukdar) June 11, 2017
"Buddhi aag lagwa rahi hai?" shouted cops & broke her bones. Battered MP woman speaks. No, image wasn't photoshopped https://t.co/16lp1BgWTO

— Shekhar Gupta (@ShekharGupta) June 11, 2017
.