It's been exactly one year since the Narendra Modi government's decision to demonetise old Rs 500 and Rs 1,000 notes. While demonetisation, or "notebandi", introduced chaos into the lives of many Indians who faced a severe cash crunch, many also supported Modi's move as a "surgical strike" on black money.
Many experts and common people point out the shoddy way demonetisation was implemented, with the RBI issuing as much as 50 notifications in a month, further highlighting the government's unpreparedness.
As many as around 100 people reportedly died as an indirect or direct result of the noteban – some due to fatigue while exchanging old notes in serpentine queues, some because hospitals, pharmacies, and others refused services in exchange of old notes.
The fact that almost 99 per cent of demonetised notes made their back into the system also reflects the pointlessness of the demonetisation episode. 
On the other side of the fence are those who say the exercise will go a long way in tackling black money, curbing terrorism by choking terror financing, reducing corruption, enhancing digital transactions, thus increasing transparency.
So, after a year what has changed? Well, despite government's tall claims, nothing much has changed, with the Indian economy, taking a turn for the worse. On the jobs front, the situation looks even bleaker, with the Labour Bureau's employment survey reflecting a sharp decline in jobs after demonetisation.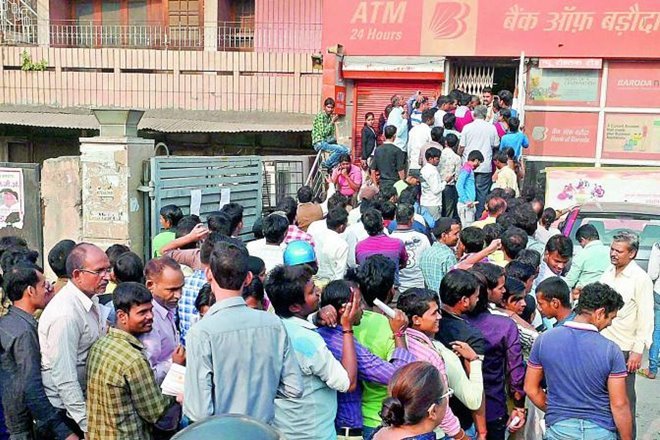 However, people are divided in their perception of demonetisation as a failure, or if it will, indeed, have any long-term benefits. This is also being witnessed on social media with a slew of hashtags trending on Twitter – #AntiBlackMoneyDay, #DemoDisaster, #DhokaDiwas, to name a few.
Here's all the action from Twitter, the new battleground for politics:
Arvind Kejriwal's AAP denounced the one-year anniversary as #DhokaDiwas and even asked people to change their display pictures, to mourn those who lost their lives due to demonetisation:
Other people on Twitter were also unforgiving in their critique of the government's noteban exercise:
Unsurprisingly, BJP leaders, including the prime minister, have gone all out by relentlessly posting videos, columns, surveys, and so on trying to spread the positives about demonetisation. They are "celebrating" the occasion as #AntiBlackMoneyDay.
The Opposition, including the Congress and other parties, also didn't miss out to remind the public of the government's massive "failure", that was demonetisation.