Leader of the opposition in the Delhi assembly, BJP MLA Vijender Gupta, was on Monday dramatically taken out of the House with marshals carrying and then dragging him out even as he attempted to cling on to furniture.
Speaker Ram Niwas Goel initially asked Gupta to leave the House till 4 pm after he entered into a war of words with AAP's women MLAs over the issue of his party MLA OP Sharma's remarks against AAP MLA Alka Lamba.
When he refused to budge, marshals were called in who took Gupta out forcibly.
The BJP MLA resisted attempts by the marshals to remove him and tried to hold on the bench, but the staff managed to pry his fingers loose and evicted him from the House.
Video Courtesy : Times Now
The incident occurred on a day Deputy Chief Minister Manish Sisodia was scheduled to introduce the Delhi Janlokpal Bill 2015 in the House.
Before his eviction, Gupta accused the Speaker of being partial towards AAP alleging that the three BJP legislators were abused and assaulted by AAP members.
"But no action has been taken against them," he claimed.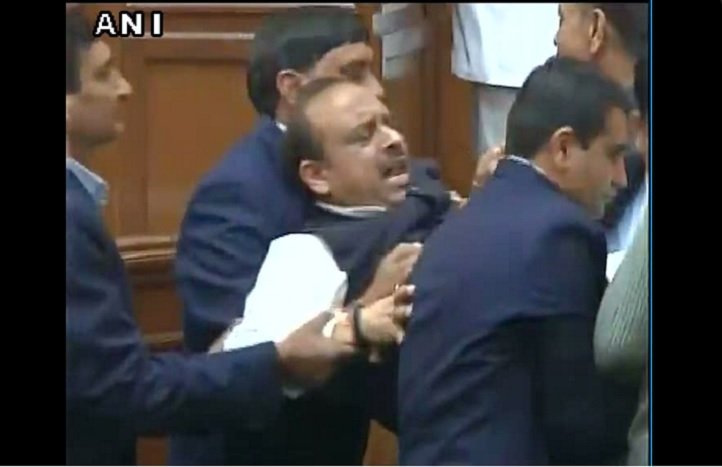 BJP member Jagdish Pradhan also walked out of the House following Gupta's eviction.
BJP MLA OP Sharma has already been suspended by the Speaker for the rest of the session over his remarks against Lamba. Rebel AAP MLA Pankaj Pushkar will also be unable to take part in the proceedings of the day as he was suspended till November 30.
Earlier, the woman MLAs of AAP had accused Sharma of making derogatory remarks against Lamba during a protest in the Nihal Vihar area of the city on Monday. They demanded his permanent expulsion from the house and police action against him.