After spending more than three weeks in custody over sedition charges, JNU students's union president Kanhaiya Kumar is finally back on the university campus. As darkness descended on the JNU campus on Thursday, Kanhaiya was given a rousing welcome by hundreds of JNU students who had gathered near the university's administration block in order to celebrate his return from the jail. 
Addressing a massive gathering of JNU students, Kanhaiya's fiery speech reverberated with the slogans of Lal Salaam (Red Salute) and Aazaadi (Freedom). 
"We don't want freedom from India, we want freedom in India," Kanhaiya thundered in his speech, drawing long pauses of claps and Leftist sloganeering from the audience.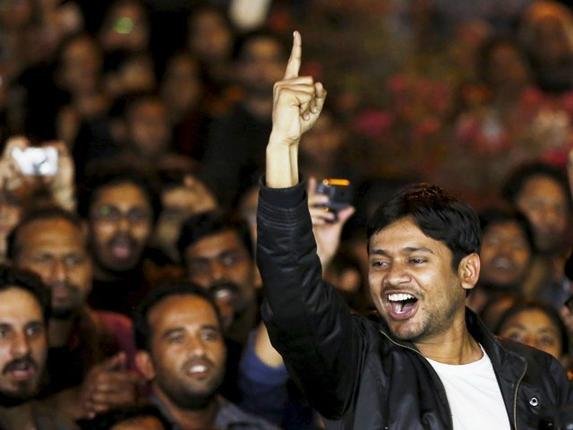 Wearing a black jacket and jeans, Kanhaiya told the gathering the ruling BJP government is trying to divert the attention of people from the real issues like farmer suicides, discrimination against Dalits, corruption, black money etc., and is trying to de-legitimize those voices who talk about those issues. 
Refraining from commenting on the sub-judice case of two other jailed JNU students – Umar Khalid and Anirban Bhattacharya – Kanhaiya said it's upon judiciary to decide, however, JNUSU will continue its struggle against the targeting of JNU by right-wing forces. 
"Our fight is not over yet. Some of our comrades are still in jail and JNU will continue to take its struggle forward, even if it's a long one," he said. 
Delivering the speech in his signature style, Kanhaiya's whole speech was peppered with jokes, poetry couplets and "his experience in his jail," during last few weeks. 
While sarcastically remarking that ABVP members in JNU are "more rational" than those outside, Kanhaiya reaffirmed his faith in the Indian constitution and democratic setup. 
"The ABVP is not our enemy. They are our opposition,"he said. 
Taking a dig at Prime Minister Narendra Modi's radio program, Kanhaiya remarked he always talks about Mann (soul) ki baat but never listens to his own soul. 
Also attacking Human Resource Development Minister Smriti Irani in his speech, the student leader also complimented Irani for her speech on Dalit scholar Rohith Vemula's death in Parliament few days back by calling it "great acting." 
"When I saw the speech, I was baffled whether the TV channel is Lok Sabha or Star Plus," Kanhaiya said, evoking bouts of hooting and laughter from the crowd.     
Watch the full video of his 52 minute speech
Feature image source: PTI