Manchester United and England striker Wayne Rooney challenged a brash 6ft 7in WWE wrestler named Wade Barret to a fight in front of thousands of wrestling fans on Monday in Manchester. And what do you know… he gave an Oscar-winning performance.
The Manchester United and England captain attended the Raw show along with Ryan Giggs and former team-mate Darren Fletcher.
But things soon turned "heated" for Rooney as he arrived at his ringside seats with his six-year-old son, Kai.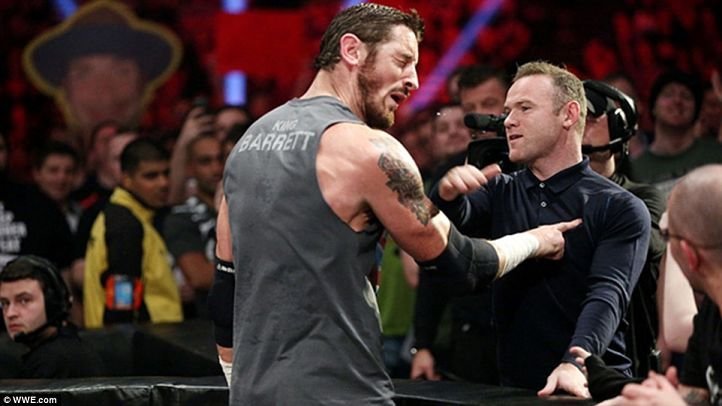 After spotting the record England goalscorer in the front row, Manchester-wrestler Barrett directed some choice words towards the 30-year-old striker.
Barrett taunted the England international, saying: "In this ring are two men who can be easily be described as championship material. Which is, of course, more than can be said of Wayne Rooney and Manchester United."
Then, he made it personal.
He said, "I'd hate for your little boy to sit there and watch his own father fail. Because let's face it, he gets to experience that every single time you step on a football pitch."
That prompted Rooney to challenge the one-time bare knuckle boxer Barrett to a fight. And moments later the pair came to blows with Rooney landing a thumping slap across the wrestler's face.
That slap worked the crowd into a frenzy and they chanted Rooney's name after his blow left Barrett sprawling on the floor. The incident – in true professional wrestling fashion – was of course scripted and England skipper Rooney "revelled" his role.
Rooney, of course, is no stranger to "pretend" fighting after a video of him apparently being knocked out by Phil Bardsley went viral in March. But this fight must have surely left his son with some pretty good memories, let's just hope the little one doesn't go around slapping people now.