Reacting to Union Finance Minister Arun Jaitley's tweet on freedom fighter Subash Chandra Bose, West Bengal Chief Minister Mamata Banerjee said that she was shocked and hurt by the tweet.
She tweeted this:
Today is Raksha Bandhan I don't want to hurt anybody. But shocked with @arunjaitley Ji hurtful tweet this morning on Netaji.We're all hurt

— Mamata Banerjee (@MamataOfficial) August 18, 2016
Earlier on the day, Jaitley had tweeted about the legendary freedom fighter which he deleted later after the tweet drew flak from several corners pointing out his 'error'. 
It is believed by many that Netaji Bose lived even though there are claims that he died in an air crash in Taiwan in 1945.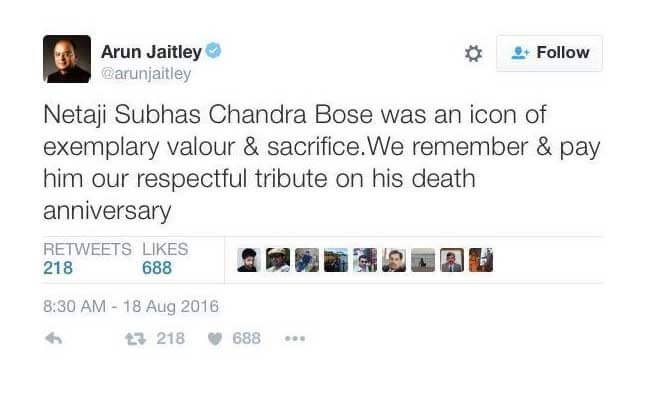 The mystery surrounding Netaji's death is yet to be resolved. While some assume that he lived for years after the Taiwan tragedy, disguised as 'Gumnami Baba', two government inquiries suggest that he died in the plane crash.
In 2015, the Narendra Modi government had started declassifying documents related to Netaji Subhash Chandra Bose. Several files on the leader were released in batches. These documents were uploaded online and are accessible on netajipapers.gov.in