West Bengal secretariat's 14-storey building was evacuated and Metro rail service here stopped for over half-an-hour after an earthquake today struck West Bengal but there was no immediate report of any major damage or loss of life.
"We have not received any report of any loss of life or any major damage to property in the earthquake. It might be because the epicentre was in Myanmar," said a senior official at West Bengal Disaster Management Department at the secretariat.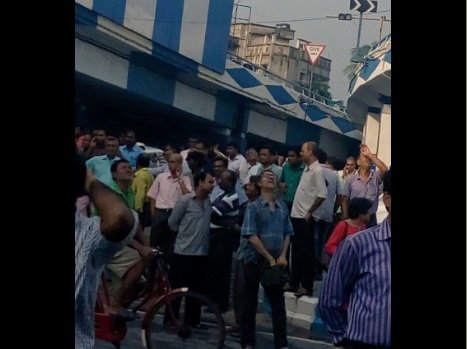 There were no reports of any damages of casualty to life even from the districts or the hill areas, he said. Asked whether cracks had developed in old buildings, the official said the department would run a check on the old and heritage buildings as well as high rises.
Metro rail service in the city was stopped from 4.08 PM to 4.40 PM and the authorities checked the tracks keeping in view the safety of the passengers, Kolkata Metro CPRO Indrani Banerjee said. "We evacuated passengers and ran empty trains from Kabi Subhas to Nowapara to check track fitness. 
Simultaneously, we ran trains on those tracks but in lesser numbers. There have been no report of any damage," she said. The state secretariat building 'Nabanna' was evacuated soon after the earthquake and work was called-off for the day keeping in view the safety of the employees. 
In the city, people ran out to open spaces. In the I-T area in Salt Lake, people rushed out of their office on to the streets. Besides West Bengal, the powerful 6.7 magnitude earthquake that shook other eastern and north-eastern states.