The supporters of Freedom of (online) Speech can take a breather. For Supreme Court has scrapped that pesky Section 66A of the Information and Technology Act that was employed to control voices of dissent on the internet.
According to the act, any person who sends, by means of a computer resource or a communication device:
(a) any information that is grossly offensive or has menacing character; or
(b) any information which he knows to be false, but for the purpose of causing annoyance, inconvenience, danger, obstruction, insult, injury, criminal intimidation, enmity, hatred or ill will, persistently by making use of such computer resource or a communication device,
(c) any electronic mail or electronic mail message for the purpose of causing annoyance or inconvenience or to deceive or to mislead the addressee or recipient about the origin of such messages, shall be punishable with imprisonment for a term which may extend to three years and with fine.
The internet is exploding with joy, of course.
Glad to know that I live in a free country. No #Sec66A as SC strikes it down. Super happy. Go on, troll away.

— Chetan Bhagat (@chetan_bhagat) March 24, 2015
Kudos to law student Shreya Singhal and her supportive mother for filing the #Sec66A case in SC when many were dithering from doing so

— Shivam Vij (@DilliDurAst) March 24, 2015
Even rival media houses are taking digs at each other.
I would like to use this glorious opportunity to tell @TOIChaiWala to go fuck himself #NoMore66A

— HT Coffee Machine (@HTCoffeeMachine) March 24, 2015
Well the celebratory mood is well and good, the real question is that do we know all there is to know about this Section?
While the removal of this act permits us to dislike our government and make it clear on Facebook, Twitter in as verbose a manner as we like, it also means hate speech can flow freely on the internet now.
As Hindustan Times notes, "Section 66A provides punishment for sending "grossly offensive" messages through communication services, including text messages, images and video."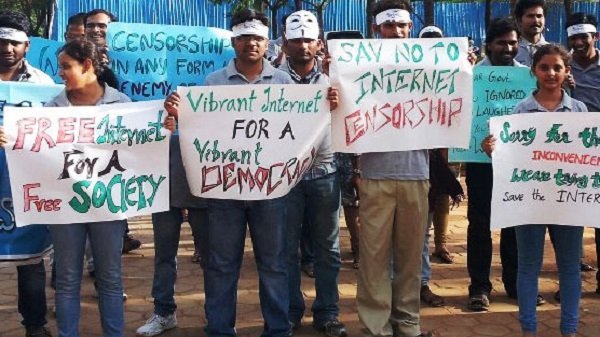 What constitutes "grossly offensive"?
We don't know. The law doesn't define it.
So maybe, before we begin waving our banners of freedom, we need to rethink what this 'scrapping' stands for. Would this mean more cyber abuse?
While arresting people on the basis of comments made on Facebook is ENTIRELY absurd, complete removal of a Section too seems unnaturally hurried.
"Prima facie, Section 66A of the IT Act appears to violate the fundamental right to freedom of speech and expression as the restrictions it seeks to impose can't be said to be reasonable as required under Article 19(2) of the Constitution," HT notes.
Agreed. However, there's also this aspect.
The implementation of Section 66A was as hurried as its removal. Why make such laws in the first place?
"As far as posting of picture and comments that hurt religious sentiments are concerned, there are enough provisions in the IPC to deal with them," the article reads.
But all's well that ends well? Only time will tell.