On the capital's GT Karnal Road near Bhalswa, the first sign that you're approaching Delhi's biggest landfill is the presence of a putrid, and all pervasive, stench. Cars and trucks whiz past the hill of garbage with windows closed, while pedestrians use handkerchiefs or any other clothes in their possesion.
In Delhi's soaring summer, the garbage dump, sends waves of heat and dust on the road. But presently, the landfill is currently at the centre of a controversy, because it has been on fire for a week and is said to be ruining the Delhi government's odd-even scheme for vehicles.
We went to the top of the landfill to see what it was like: 
But for residents who live nearby, it's nothing they haven't seen before. 
"This is not a new thing for us. It happens every year, mostly during summers," says 58-year-old Jhansi Lal, a resident of Bhalswa dairy region told ScoopWhoop. He was among the many residents who refused to speak on camera. 
Lal, is among five lakh residents living in the vicinity. He said it's only because of the odd-even scheme that the condition of long neglected dumping sites has begun making headlines. 
"We've been breathing this methane-filled air since years now. It's become a habit now. We are just used to it," Lal said.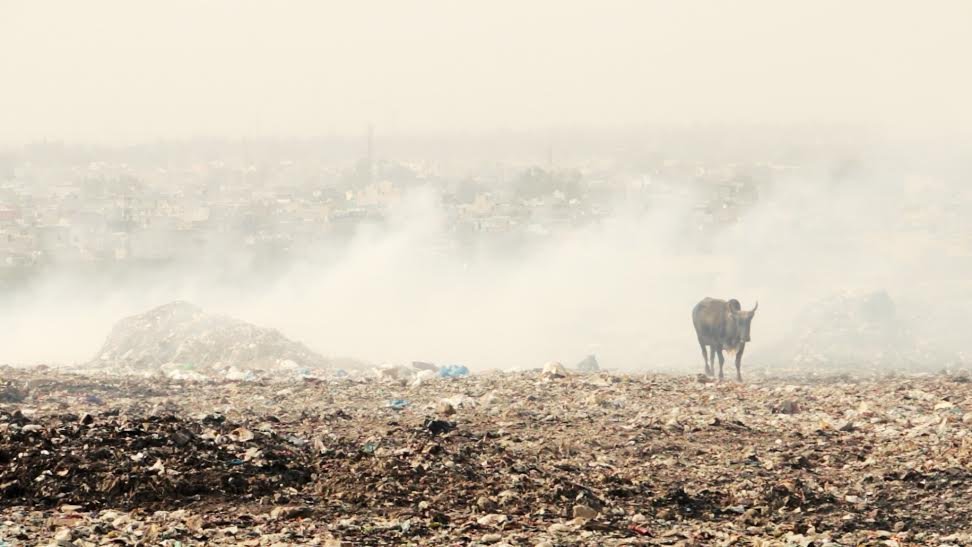 The toxic fumes from the landfill fires have been taking a toll on residents nearby. 
"There's no home around here which does not have masks and a bottle of cough syrup," Yadav Kumar, a local shopkeeper, said. 
"We are ill. Our children are breathing poison. But we have no option," he said, citing a lack of resources to move to a better place.  
Locals say most of common ailments in the area fall under the category of respiratory problems and skin infections. A long queue of patients wait for treatment at a local dispensary.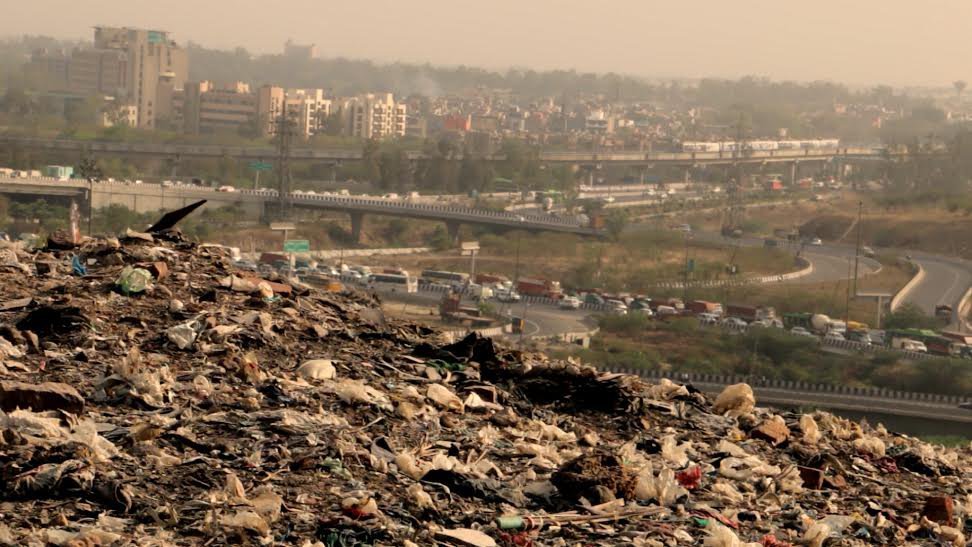 Priyanshu, a 26-year-old local resident and is a student of physiotherapy, said the government doesn't seem to have have any idea of the health crisis in the area. 
"A cough syrup or an antibiotic tablet may give temporary relief to a patient but the particulate matter in the smoke enters lungs of every living being. It's carcinogenic," he said. 
The Bhalswa dumping site, which was commissioned in 1994, should ideally have been shut in 2006. But around 2700 metric tonnes of garbage (27 lakh kg) is still estimated to find its way daily to the landfill. Officials of Municipal Corporation of Delhi (MCD), which manages the dumping site, admit to having exceeded the ground's capacity, but say they have no alternative.  
"We have no option as there is no land available in the capital where the garbage can be dumped," an official said. 
The fires have sparked political bickering between Delhi's Aam Aadmi Party government and the Bharatiya Janata Party, which controls the civic body that runs the landfill. Early this week, the Delhi government even registered an FIR against unknown persons for starting fires at the landfill. 
But no one's holding their breath expecting anything to come of it.  
"What will an FIR do? Will it stop the fire or put locks on the gates of dumping site?" Raju, a local juice vendor, said.
Feature image source: ScoopWhoop/Ahmed Kamal Saifi