After a Dubai-bound Emirates jetliner from Thiruvananthapuram crash-landed in Dubai international airport on Wednesday, an amateur video has surfaced on social media which shows some passengers trying to save their belongings rather than their lives. 
Moments after all 300 passengers and crew were evacuated safely, an intense blaze engulfed the already-smoked-filled plane, killing a firefighter. It also brought the world's busiest international airport to a grinding halt for several hours.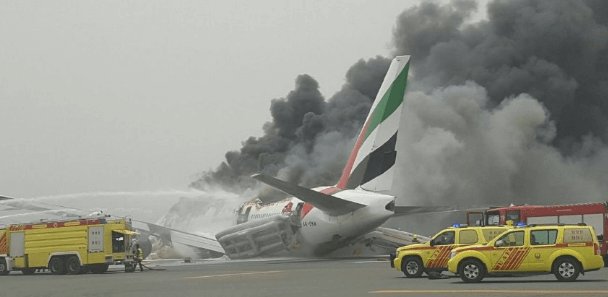 In the video, a passenger can be heard shouting "laptop, laptop" even as others try to get their bags from the overhead storage bins before they evacuate the plane. Other panic-stricken passengers can be seen desperately making a a run for the door. 
An male voice of someone from the aircraft crew is heard telling passengers to "leave their bags, jump on the slide… this way this way". 
Another female voice, who might be a flight attendant, is heard yelling, "Jump, jump jump… leave your bags behind, jump the slide."
Watch the video below which is captures the terrifying moments after the plane suffered a hard belly landing on the tarmac: 
The Dubai carrier's first significant accident happened after the pilots of the aircraft apparently attempted to abort its landing during a second attempt. There were also unconfirmed witness reports about landing gear problems.
"It was actually really terrifying. As we were landing there was smoke coming out in the cabin," said passenger Sharon Maryam Sharji. "People were screaming and we had a very hard landing. We left by going down the emergency slides and as we were leaving on the runway we could see the whole plane catch fire. It was horrifying."
Another passenger leaving the airport with his family said there had been a problem with the landing gear.
(Feature image source: Twitter | @rehanquereshi)