After a three-hour wait, I was stamping my foot, tearing my hair out and calling up the senior BJP leader who had set up my interview with cricketer-turned-politician, Navjot Singh Sidhu who had been convicted under section 302 of the IPC for murder, the day before. This was in 2006. Sidhu had been found guilty of culpable homicide not amounting to murder.
From the living room, I was ushered into the bedroom by a suitably fawning aide of paaji. The sight that greeted me is hard to forget. There was Sidhu, with his open hair – which was longer than mine – flowing around him, wearing a sleeveless T-shirt, tucking into breakfast, surrounded by newspapers. He beamed at me and waved, unfazed, from the bed, while offering me a piece of bread. "I will need an hour to get camera ready. You should understand", waving a finger at my hair.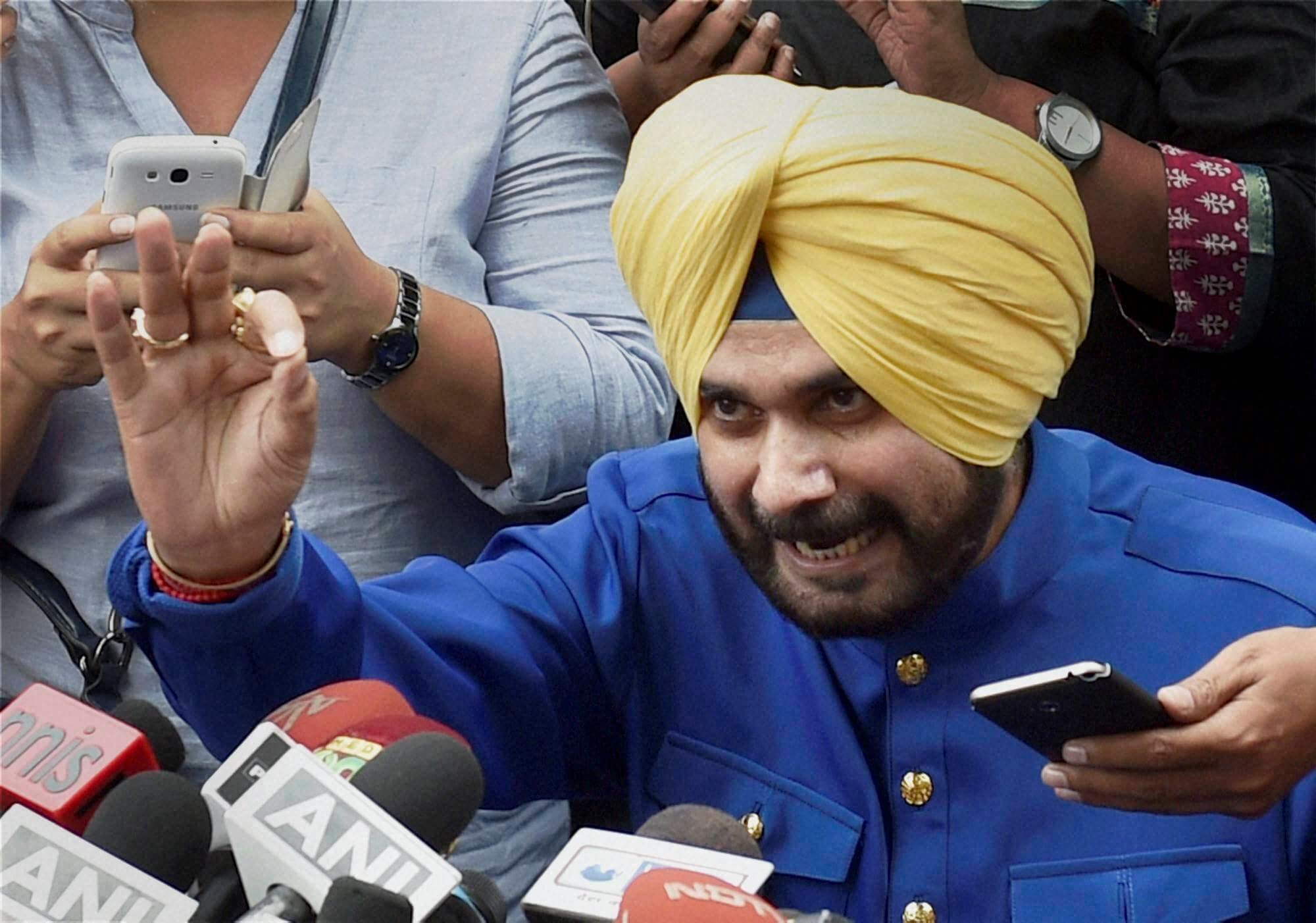 I grinned weakly and was ushered out. Exactly an hour later, a natty – if flashy – Sidhu emerged and gave me a cracker of an interview before surrendering and going to jail.
Another time, Sherry – as he's called – asked me to come to Chandigarh for an interview. I reached, only for him to disappear while I spent hours chasing him around various sectors of the city. After the camera was shut off, he said, "I do take people on a spin".
Sidhu during his cricketer days had performed an unprecedented walkout from an English tour in 1996 because he felt that then-skipper, Mohammed Azharuddin was abusing him. Sidhu just upped and vanished. He thought that Azharudin was using cuss words, which was apparently not the case. The two patched up later and both entered politics. Driving home the point that with Sidhu – and other politicians – there are no permanent friends or enemies.
That Sidhu takes people for a spin is quite the understatement coming from the master of one-liners who just did a Sherry, by hitting the BJP's nomination Rajya Sabha cherry for a six.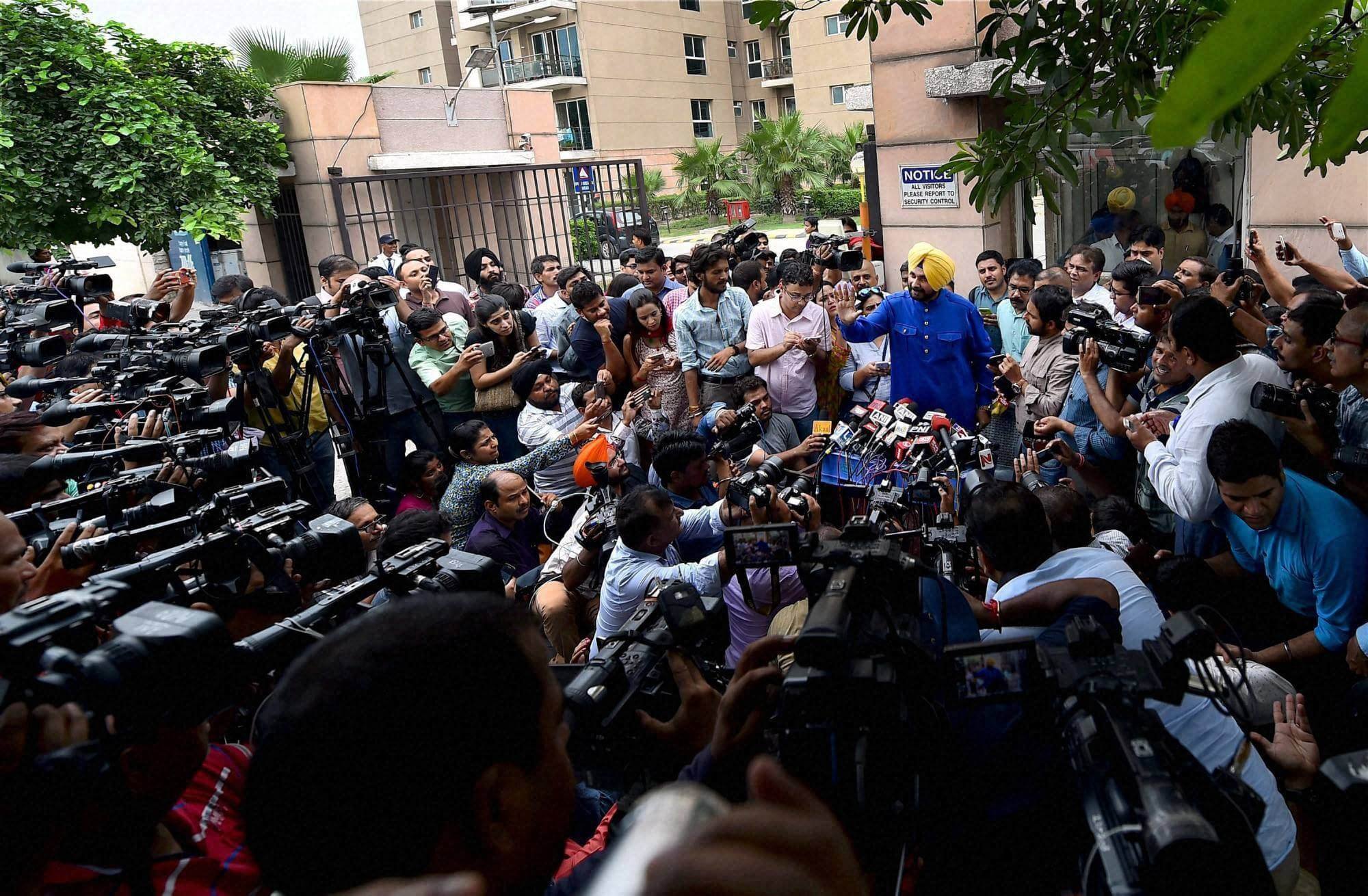 The Jat Sikh is a drama king and adored in Punjab for it. The only Sidhu-ism that has remained consistent is his visceral antipathy and consistent opposition to the Badals. A relationship which has made him an icon for a huge section of Punjab which is fed up with the blatant corruption and cronyism displayed by the Badal family.
Besides this, Sidhu is consistently inconsistent. He can't decide whether he wants to earn big moolah judging inane comedy shows or be a 24/7 politician. As he once told me, his dream is to be chief minister of Punjab, and he blames one-time mentor, finance minister Arun Jaitley for his departure from the BJP.
That Sidhu is firmly out of the BJP has been confirmed, especially after his press conference yesterday. As he said dramatically, "Modi leher aayi aur mujhe hi dooba diya" (the Modi wave came and drowned me) referring to the fact that he was made to give up his Amritsar seat to Jaitley – who lost by a record margin. Sidhu's wife, the confusingly-named Navjot Kaur who is a doctor, has not quit the BJP saying that she does not want to desert her constituents half way.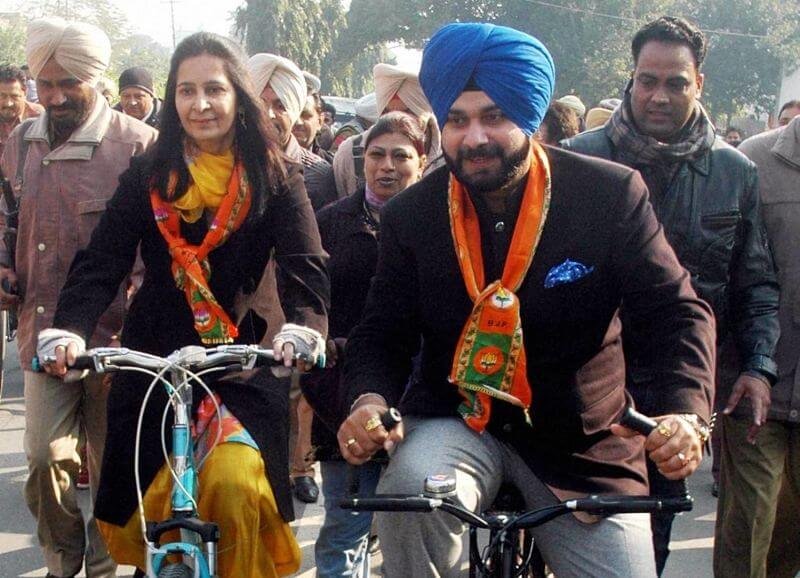 Sources tell me that Sidhu recently had a meeting with Captain Amarinder Singh who also publicly invited Sidhu to join the Congress. Even here the Badal factor reared its head as estranged Badal cousin, Manpreet Badal – who is known to be close to Rahul Gandhi – objected.
Sidhu would be a huge catch for any party in Punjab specially after his dramatic "mera vatan" performance. Amarinder Singh and Sidhu share an emotional bond besides their Jat Sikh lineage, and Sidhu pays due homage to the Patiala legacy. I can exclusively reveal that a meeting between the two took place recently post-midnight to keep it under wraps.
Sources tell me that Sidhu has had two meetings with AAP chief and Delhi Chief Minister, Arvind Kejriwal and the resignation on the first day of the session was a well thought-out master blow to the BJP. Contrary to speculation, Sidhu has not made any overt demand to be the AAP Punjab CM face to Kejriwal, although its what he wants.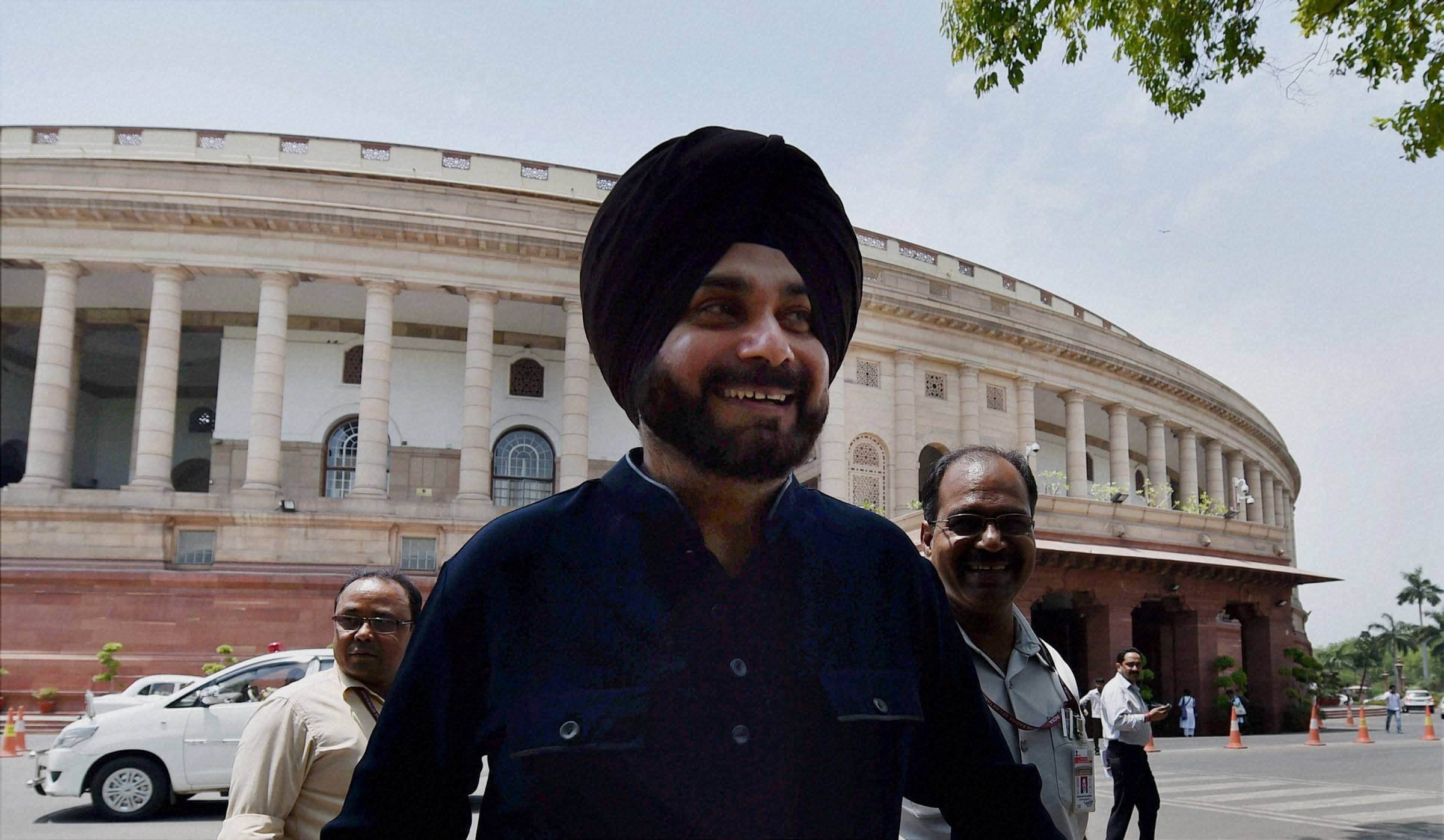 Sidhu is also a natural fit for AAP, which is a party in search of a candidate. But, an AAP leader told me, "we want to merge like two rivers imperceptibly. Not have a collision like two trucks on a Punjab highway" in an allusion to the larger-than-life personalities and inflexibility that marks both Kejriwal and Sidhu.
Both Sidhu and Kejriwal are aware that the day he joins AAP, a vindictive Centre will re-open his old murder case in which current nemesis Jaitley was his lawyer. It was said to be a case of road rage, but Amit Shah can be counted on to make it an albatross around Sidhu's neck.
A senior AAP leader told me, "BJP has done two stings on us before the Delhi assembly election. We know their dirty tricks". Sidhu is therefore understandably wary of the Badals and BJP trying to embarrass him publicly. But, his signalling is unmistakable. The yellow turban favoured by AAP was what he chose to wear on the day he attacked Modi and Jaitley and swore fealty to Punjab.
Kejriwal's comment that everyone in AAP has to be an "aam aadmi" was also public signalling. Yet, a confident Sidhu who always knows his value is acting "pricey", according to an AAP leader who was privy to the negotiations.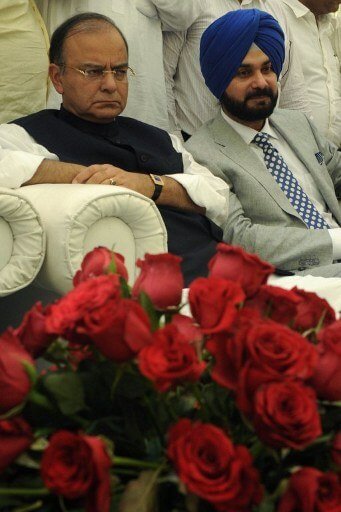 But time is running out for this waiting game as Sidhu needs to commit to a party soon to maintain his credibility. Sources close to Sidhu say that he plans to end the suspense soon and hopes to be CM of Punjab. They maintain that he was not hankering after a job in Modi's Cabinet, saying, "what would be the point? Who has authority there except Jaitley? The rest are just ciphers".
It is true that Sidhu was touched when Modi tweeted get well messages to him when he was hospitalised with a brain aneurysm, but soon realised that Jaitley who blamed him for his record defeat in his electoral debut in Amritsar would be an implacable block in the BJP. Sidhu had also wanted the BJP to break its alliance with the Shiromani Akali Dal and go it alone in Punjab with him as CM face. Instead, he was snubbed and told not to even look at Punjab.
A spurned Sidhu vowed revenge.
And, says a source close to him, "Guru has just started. He will now speak on the Badals' drug nexus and how the BJP is keeping mum and participating in SAD's corruption. He will speak about Majithia and Jaitley and how he's shunned their luxe lifestyles to be an aam aadmi in the Pind, instead of setting up base in Dilli".
So wait and watch for the next act in the Sidhu chapter – the Sardar in the Pind. Watch this space for more exclusives.