Celebrations  began early outside Arvind Kejriwal's home in Delhi this morning, according to this NDTV report, but it doesn't take a some astute political analyst to understand why it dimmed considerably and faded out after the results came in.
We can now safely say that  Aam Aadmi Party's ambitions of coming in power in a second state after Delhi are dashed. It has lost both Punjab and Goa, states that it was banking on, to the Congress. 
How Punjab was lost 
In Punjab, the party came in a distant second with 22 seats.  It made everyone believe that AAP will upstage the ruling Akali-BJP alliance, especially after it won 4 seats from the state in the 2014 Lok Sabha elections. 
The Akali-BJP alliance was upstaged, but not by Arvind Kejriwal's party. Captain Amarinder Singh of Congress, who conceptualised and executed the party's campaign earned that honour. 
AAP defeat in Punjab tragic as it dashes hope of millions of Punjabis. Shows you can't oppose falsehood with halftruth.

— Yogendra Yadav (@_YogendraYadav) March 11, 2017
According to columnist Chitleen K Sethi in Hindustan Times, the primary reason of AAP's poor show in Punjab is because it alienated the urban Hindu and moderate Sikh voter.
'Kejriwal chose to stay in the house of a former militant during his last leg of campaign. The Maur bomb blast ahead of polling on February 4, which killed five people, including two children, was a grim reminder of the dark decades of militancy that the state went through in the 1980s.'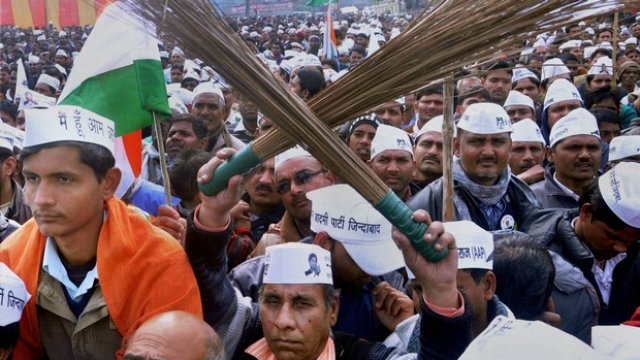 Go, Goa, Gone 
Most exit polls had predicted that AAP will open its account in Goa. The party had run a high-profile campaign in the state, with Kejriwal attending several rallies there. In fact, the Election Commission in January directed the state poll officials to file an FIR against Kejriwal after he had asked people to accept money given by rival parties, but vote for the Aam Aadmi Party.
In one of his campaign speeches,  Kejriwal had claimed that AAP would win 35 out of the 40 assembly seats. 
AAP didn't manage to win a single seat in Goa. The AAP's chief ministerial candidate. Elvis Gomes,  came fourth in the contest for Cuncolim in south Goa, losing by a margin by 2,964 votes to Clafasio Dias of the Congress. 
According to this piece in Scroll,  AAP's campaign was flawed because its chief ministerial candidate Elvis Gomes, a former bureacrat, trails at fourth place in his constituency in Cuncolim. The party was hoping Gomes' "clean candidate image" would help it make an inroad in the coastal state's political scenario. In the run up to the elections, however, Gomes had been summoned by the anti-corruption bureau. Denying the charges levelled against him, Gomes and his party had accused the ruling BJP of targeting him.
According to Sudeep Chakravarti, columnist with Mint and a long-time resident of Goa who has written books like Red Sun: Travels in Naxalite Country and Highway 39: Journeys through a fractured land, the AAP campaign was pitched more at "upper and middle class". "I feel the AAP campaign was well-intentioned but a little esoteric. It was pitched more at the upper and middle class. Most candidates who won seats from both Congress and BJP had a strong base in their constituencies. AAP candidates didn't have a base in their constituencies," he says.