Before surrendering to a Bengaluru jail, VK Sasikala made a stop at Jayalalitha's memorial on Wednesday.
Dressed in a red saree, Sasikala offered flowers at the memorial slab and then seemed to say something before bending down and hitting the slab with the palm of her hand. 
She did this multiple times, and as far as anyone knew it wasn't part of any known ritual. Which might explain why the internet had a ball with it. (Twitter Has A Field Day After Sasikala's Bizarre Ritual At Jayalalithaa's Grave) 
But turns out, what Sasikala was more theatrical than it seemed at first glance. So what was she doing?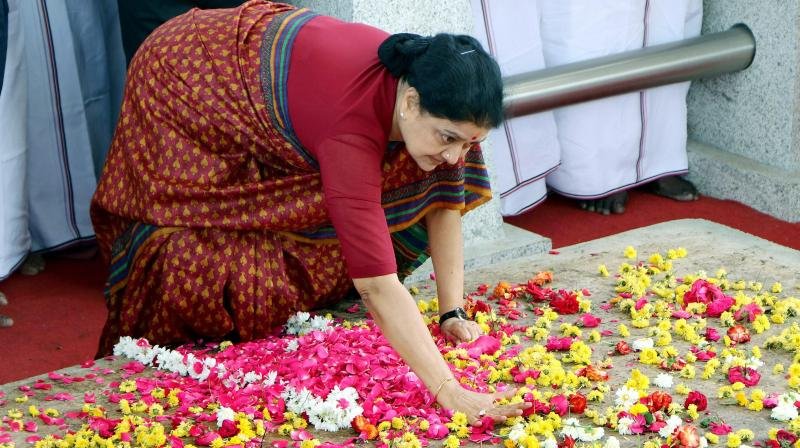 According to the Hindu, it is a ritual practised in Tamil Nadu where the person slams the ground of a person's grave and vows to take revenge against enemies. 
Sahitya Akademi award winner Su. Venkatesan also told Hindu that such pledges take place in graveyards and were done to pledge revenge for the killing of the king or warrior.
It turns out there are multiple references to such a ritual in Tamil folklore, and none of it is good news for the AIADMK general secretary's opponents after her loyalists form the next government. 
The News Minute reports that while carrying out the ritual, Sasikala pledged that she will redeem herself from conspiracy, betrayal and difficulty and would destroy O Panneerselvam and other enemies.
The AIADMK leader, who was locked in a bitter tussle with AIADMK's O Panneerselvam for Tamil Nadu's chief ministership, took the inevitable journey to Bengaluru after the Supreme Court refused to give her further time to surrender.  
(Feature image source: PTI)