The Uttar Pradesh police has come under a lot of fire recently after a Swiss couple was brutally attacked by a mob in Fatehpur Sikri in Agra on October 22. 
After the news of Quentin Jeremy Clerc and Marie Droz being thrashed by locals in Agra went viral sparking a lot of outrage, UP Police swung into action. So far, Agra police have arrested two men and apprehended three minor boys for allegedly being involved in the attack, reported The Indian Express.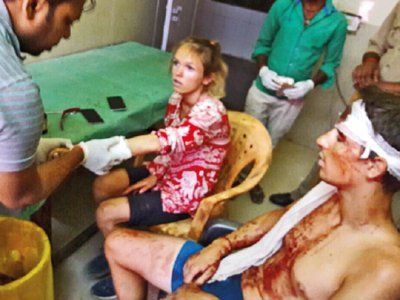 Not just that, more than 50 "anti-social elements" have been rounded up by the police around historical monuments in and near Agra, reported Times Now.
It came as a big embarrassment for the UP government with even the Embassy of Switzerland expressing concern for the health of the couple. In an ironic turn of events, the attack on the couple came to light only on October 26 – the day the state's Chief Minister Yogi Adityanth was touring Agra to "promote tourism".
UP police, it seems, has taken it upon itself to correct this negative perception of the state's law and order situation. A senior Uttar Pradesh police officer has come up with an unusual method of doing this. He asked people on Twitter to send 'get well soon' wishes for the Swiss couple, currently undergoing treatment at Indraprastha Apollo Hospital in Delhi.
Rahul Srivastav, PRO to the DGP, who's quite active on social media, alerted peope on Twitter about the arrests of the accused and send their wishes for the injured couple.
He even started a hashtag: #GWSMarieandJeremy. (Get well soon, Marie and Jeremy, in case you're wondering.)
Many users on social media appreciated Srivastava's initiative and sent "get well soon" messages to the injured couple.
However, many others are questioning the move saying what measures the UP police has taken for the safety of tourists in the state. With social media being used in every walk of life, including by government officials, it raises the question if it's police's job to send get well soon messages or actually maintaining law and order on the ground.
Meanwhile, the effect of the attack on the Swiss couple has been felt in other states also. Taking no chances, Uttarakhand has stepped up protection of foreign tourists visiting the state. Uttarakhand police has issued directions, including setting up of special tourist police in tourist spots, to ensure safety and security of tourists, reported The Times of India.