An African national was assaulted in South Delhi on Saturday. This was how Minister for External Affairs Sushma Swaraj reacted: 
I have spoken to Shri Raj Nath Singh ji and Lt Governor Delhi reg attack on African nationals in South Delhi yesterday./1

— Sushma Swaraj (@SushmaSwaraj) May 29, 2016
They assured me that the culprits will be arrested soon and sensitization campaign will be launched in areas where African nationals reside.

— Sushma Swaraj (@SushmaSwaraj) May 29, 2016
I have asked Gen V.K.Singh MOS and Secretary Amar Sinha to meet #Africanstudents who hv announced demonstration at Jantar Mantar.

— Sushma Swaraj (@SushmaSwaraj) May 29, 2016
This is how Home Minister Rajnath Singh reacted: 
Spoke to CP Delhi regarding the incident of physical assault against certain African nationals in New Delhi. Such incidents are condemnable.

— Rajnath Singh (@BJPRajnathSingh) May 29, 2016
Instructed CP Delhi to take strict action against the attackers & increase police patrolling in these areas to ensure security of everyone

— Rajnath Singh (@BJPRajnathSingh) May 29, 2016
And this is how Minister of state for external affairs General (retired) VK Singh reacted: 
Had detailed discussion with Delhi Police and found that media blowing up minor scuffle as attack on African nationals in Rajpur Khurd

— Vijay Kumar Singh (@Gen_VKSingh) May 29, 2016
Why is media doing this? As responsible citizens let us question them and their motives

— Vijay Kumar Singh (@Gen_VKSingh) May 29, 2016
Just in case you've forgotten, the general-turned-minister has had a long standing running feud with the Indian media. Perhaps the first minister to openly call mediapersons and channels "presstitutes", the minister has never shown any remorse for a lack of decorum against the media or media houses. And he's been widely supported for that with many backing him. 
However, this case is different. A Congolese man was beaten to death a few weeks ago in the national capital.
The incident he was tweeting about landed another foreign national from an African nation in hospital. Envoys of different African nations threatened to boycot the government's official Africa Day celebration over the treatment of people from the entire continent in India following incidents of violence across in different parts of the country.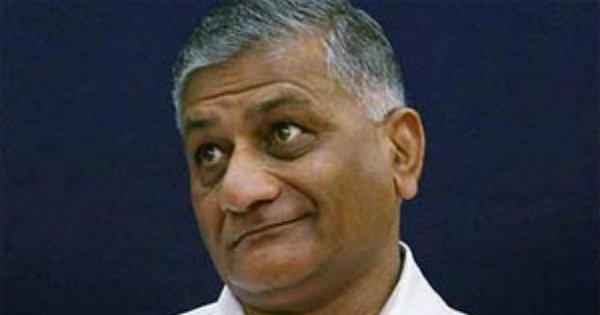 Let's not forget what the honourable general is. He's a minister who's the face of the nation for Indians abroad and other nations. The representatives are not seeking much, just that the letter of the law be followed when a national from their nation faces any kind of attack. It's exactly the same the Indian government would seek when an Indian is attacked in a foreign nation.  
Simple example: If a Indian student is attacked in Australia would we be okay with a response from their minister who said it was a minor incident blown out of proportion? 
But for reasons unexplained, the honourable minister would rather go off on a tangent in his now documented pastime of media bashing. Admittedly, every attack may not be a racial attack.
The minister is perfectly right to point it out if there's no evidence to suggest a racial attack. But given the anguish of the envoys of different African nations to such incidents, the minister's response seems petulant and it's not really clear how it's meant to help India's cause.